Sofia Boutella Cast As Lead In Zack Snyder's 'Rebel Moon'
Posted On November 2, 2021
---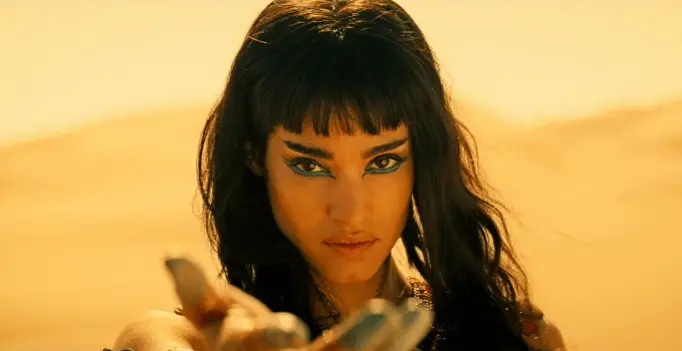 Fresh off his first two films under Netflix, Zack Snyder has begun the process of his first movie in his first-look deal with the streaming company, Rebel Moon. According to Deadline, Sofia Boutella has been cast as the lead in the film. The film will be directed by Snyder, who is also joined by Shay Hatten and Kurt Johnstad as screenwriters.
Snyder will produce the film alongside his wife and longtime producing partner Deborah Snyder and Wesley Coller for Stone Quarry. The group signed the first-look deal after they settled on releasing Army of the Dead on Netflix and creating the universe there. Eric Newman and Sarah Bowen will produce the film for Grand Electric. This will be Snyder's first female-led film since Sucker Punch.
The synopsis of the film is very simple – "The people of a galaxy sends a young woman to seek out warriors from other planets to help them from the tyrannical armies that are terrorizing their peaceful colony."
Newman and Snyder are finally being reunited after years. Newman and Snyder worked on Dawn of the Dead for Universal. He hired Snyder on as the director for the Universal Studios film as he was the vice-chairman at the time. Snyder has since worked for Warner Bros. where he directed 300, Watchmen, Man of Steel, Batman V. Superman: Dawn of Justice, and Justice League.
Boutella came about in the Kingsman series, and since had roles in The Mummy with Tom Cruise and Atomic Blonde with Charlize Theron. Snyder had been meeting with talent for months and cut the group down quickly. He zeroed in on Boutella and she became the star.
This will be the second film Snyder directs for Netflix, and the third he produces. He also has his Norse Mythology series Twilight of the Gods and the anime Army of the Dead: Lost Vegas. Both of which will also be produced under Stone Quarry.
What do you think? Are you looking forward to the latest project from Zack Snyder? Let us know your thoughts in the comments below!
—–
Did you enjoy this article? If so, consider visiting our YouTube channel, where we discuss the latest and greatest in pop culture news.
---
Trending Now