Snyder Cuts: 'Watchmen: The Ultimate Cut' Presents An Alternate Reality
---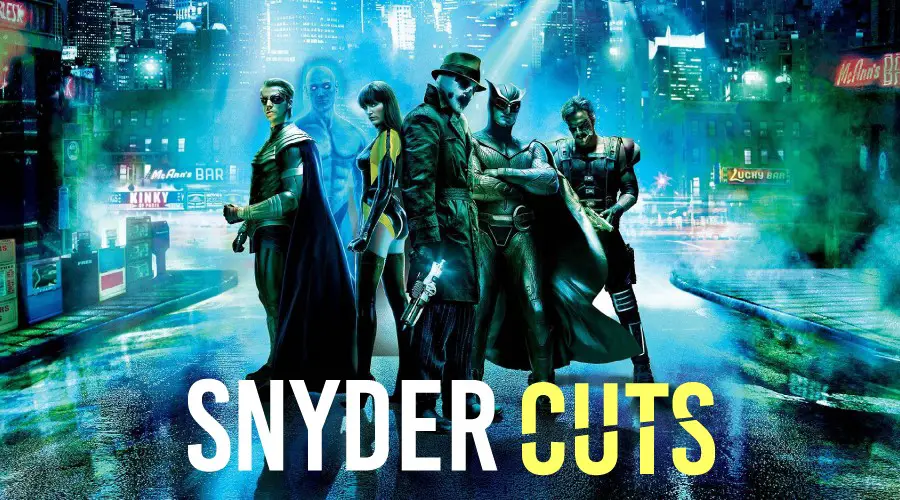 In honor of the release announcement of Zack Snyder's Justice League, we here at Full Circle decided it was time to do a retrospective of the polarizing director's films. So began the idea of "Snyder Cuts", a weekly series of reviews looking at all of his directorial efforts. And yes, we will review a director's cut when necessary. We continue our journey to 2009 with Watchmen: Ultimate Cut, his second successful stab into the comic book realm.
Zack Snyder is not someone to hold back with his movies. He takes chances with every film and looks to advance the medium every time he creates something new. In 2009, he would take another crack at comic book sub-genre, Alan Moore's Watchmen. Unlike 300, there was something more to Watchmen: The Ultimate Cut. Instead of barely scratching the surface, Snyder dug deeper.
Watchmen: The Ultimate Cut stretches the film from 162 minutes to 215 minutes. In the added time, it ties together any plot holes that may be in the original version. Furthermore, it adds more action sequences, additional footage, and the animated version of the Tales of the Black Freighter comic which has several parallels with the main story. Thanks to these parallels and more, Snyder manages to craft a masterful comic book movie.

Watchmen: The Ultimate Cut follows a group of heroes: Dr. Manhattan/Jon Osterman (Billy Crudup), The Comedian/Edward Blake (Jeffrey Dean Morgan), Silk Spectre II/Laurie Jupiter (Malin Åkerman), Rorshach (Jackie Earl Haley), Ozymandias/Adrian Veidt (Matthew Goode), and Nite Owl/Dan Dreiberg (Patrick Wilson). Following the murder of Edward Blake, Rorshach begins an investigation on who's trying to murder masked heroes. The clues lead him down a rabbit hole of lies deception.
His investigation also brings up some very haunting past instances from murder to attempted rape. He quickly finds out how easily good people can be compliant or corruptive. He writes all of this in a journal and tries his best to expose it all. On the other hand, you have Dr. Manhattan and Adrian who are trying to figure out how to stop World War III… Or are they? The two men are working on a nuclear deterrent that could cease all war and bring peace. Laurie is trying to find herself in the midst of the chaos along with Dan Dreiberg. They both get sucked out of retirement and back into the superhero life trying to help Rorshach piece together the puzzle.

Meanwhile, the film cuts between that and the Tales of the Black Freighter story. This tale is about a sailor (Gerard Butler) trying to warn his village that deadly pirates are coming to murder them. As the tale goes on, he realizes that all they want is his soul. The parallels that run between this and the Watchmen film are kind of amazing. It's all about the realization that we are the monsters that we try to save the world from.
Snyder has become a masterful filmmaker by the time 2009 rolled around. He has an action horror film and comic book film about ancient European warriors under his belt. Now, he's putting together a film about one of the most controversial comics of all time. After all, Watchmen: The Ultimate Cut shows an alternate reality where Hitler still loses and the Vietnam War still happens, but it goes down vastly different. There is no Justice League here, no Superman, no Batman, none of them. The only superheroes in this timeline are Dr. Manhattan and the Watchmen.

Screenwriters Alex Tse and David Hayter do a masterful job with the writing here. This is one of the greatest screenplays in that decade. 300 cinematographer Larry Fong would return to shoot this film, and once again he does it brilliantly. Although this film takes place in 1985, it definitely wasn't filmed to fit the aesthetic. The sets, the outfits, everything except for the cinematography fits the era. Which makes it stand out more. This is classic Snyder though, as slow-motion action scenes and extremely slow pacing build towards a cataclysmic event. And given its 215-minute runtime, this is the only way it could be born.
Of course, the aforementioned cast is incredible. The co-stars also do a wonderful job meshing the film together. Carla Gugino (Silk Spectre/Sally Jupiter), Stephen Mchattie (Hollis Mason), and Robert Wisden (Richard Nixon) among others all play an intricate role in bringing Snyder's vision to fruition. There's a certain type of genius you have to get your casting right, and Snyder absolutely has that within him.

There's a lot of deep-seated issues that an alternate reality can help you put on display. Of course, the comic is far more political than the film, but the film still hits a giant issue. The Cold War was one of the craziest times in world history because the entire world was on edge. Nobody trusted each other, and the probability of nuclear war was high. It was a scary time to be alive, and it never truly ended. Throughout the film, it highlights the fears, dangers, and consequences of a nuclear Holocaust.
The opening credits also do a great job showing how similar but different this reality is. Bruce Wayne's parents are saved, but JFK still gets assassinated. This film would settle Snyder in with DC Comics and put him on a verge down a great path. He slowly continues to change the film game and fight for creative direction. He takes these classic stories and tells them in his remarkable and unique way. For all of those reasons, Watchmen: The Ultimate Cut is my favorite comic book movie of all time. – Rascal F. Kennedy
Rating: 10/10
Watchmen: The Ultimate Cut is now available on Blu-ray and Digital HD.
The film stars Jackie Earl Haley, Patrick Wilson, Jeffrey Dean Morgan, Billy Crudup, Matthew Goode, and Malin Åkerman.
---
Trending Now