'Army of the Dead' Spoiler Review: "Unraveling The Hidden Mysteries"
---
The following review will contain spoilers for Zack Snyder's Army of the Dead. For our non-spoiler review, click here.
I had fun with Army of the Dead. Initially, that's all I could muster saying. As a longtime fan of Zack Snyder, I was happy to see him branching out and working in his own wheelhouse with the full backing of Netflix. Hell, after the whole Justice League saga, the man deserved a clean slate. Nonetheless, unlike the eventual director's cut of that film (which I loved), Army of the Dead feels somewhat disposable. A neat romp that I respect more than I enjoy.
Then, the reactions came pouring in. People raved about it. Not only that, they were talking about robots, UFOs, alien babies, and time loops. What did I miss?! So, I watched it again. Out of the other side of that experience, I still came out with it as not particularly my favorite out of Snyder's work, but appreciative of the universe it's building. Therefore, it seems only fit to divide this full spoiler review into two sections: the bulk of the movie and the mythology behind it.
Part I: The Meat & Potatoes

The first 30 or so minutes of Army of the Dead are everything you want out of this sort of movie. After a collision with a car driven by a newlywed receiving a blowjob (yes, you read that right), a government truck hauling an undead creature accidentally releases said creature. This leads to a montage where this creature creates a horde of zombies that take over Las Vegas, causing it to be quarantined off.
Set to a cover of "Viva Las Vegas" by Richard Cheese & Allison Crowe, this sequence is classic Snyder. Gore aplenty, a mini-story within a story. Impressively, Snyder manages to introduce the majority of our main players while also weaving in the theme of loss that he will (with mixed results) employ throughout the film. It's a slam dunk that carries over throughout most of the first half-hour. Bly Tanaka (Hiroyuki Sanada) recruits mercenary Scott Ward (Dave Bautista) to put together a team to recover $200 million from a vault in his casino before the US government drops a nuke on the whole town of Vegas.
What a concept! And the whole period of recruiting the team builds off of the intrigue. The soldier Vanderhoe (Omari Hardwick), Scott's friend/mechanic Maria Cruz (Ana de la Reguera), internet zombie hunters Guzman (Raul Castillo) and Chambers (Samantha Win), and smuggler The Coyote (Nora Arnezeder) make for a colorful collection of rogues. My personal favorites are the dry helicopter pilot Marianne Peters (Tig Notaro) and German safecracker (Matthias Schweighöfer). Both of them are like cartoon characters, in a good way. They know exactly what type of movie they're in and are having a blast with the material.

After that 30-minute mark is when the movie struggles. It really becomes two movies after a certain point. One of them is consistently fun, the other is half-baked. Let's talk about what worked. The heist plotline sizzles whenever it's the focus. We go from action scene to action scene as Snyder throws whatever crazy scenario he can at our heroes. There's a zombie tiger that violently mauls a man's face off, for god's sake!
It has all the hallmarks of a great heist. Members of the crew are picked off at a rapid-fire clip. A scene where a zombie twists Maria's head all the way around is nightmare fuel. Every character gets their moments (some more than others). And of course, there's a betrayal- this time by Tanaka's right-hand man, Martin (Garrett Dillahunt), who cuts off the head of an alpha zombie and leaves the team for dead- revealing that his real mission was to recover the head of such super-powered zombie.
Oh yeah, there are superpowered zombies in this movie! More specifically, "Alphas" as they're referred to. The Coyote brokers a deal with an Alpha woman to get passage, which Martin betrays by cutting off her head. The only thing is: she was pregnant by the Alpha we saw at the beginning of the movie, Zeus (Richard Cetrone), leading him to command his army of the dead to go after the team.
This all leads to an explosive climax where Scott sacrifices himself for his daughter Kate (Ella Purnell). It's a bombastic end that should hit hard because of its emotional relevance. But the main problem here is Kate. This is of no fault to Ella Purnell; she does her best with the material given. The simple fact is that her storyline, which involves her as a worker in a quarantine zone who goes into Vegas to save her friend Geeta (Huma Qureshi), is a big old nothing burger.
The father-daughter relationship on paper should work as a nice supplement to the high-octane heist. In practice, it's a wet blanket on the proceedings. Bautista and Purnell almost save this thread with a genuine pathos that's smothered by repeated redundant conversation. In other words, they often tell us rather than show us their relationship. Whenever Scott sacrifices himself to kill Zeus, leaving Kate with some money to help Geeta's family, it's supposed to be the big emotional moment. When all is said and done, it's simply perfunctory.

Clearly, this thread is important to Snyder, who lost his daughter in 2017. No one is disputing that the feelings behind it are real. His temperament as a screenwriter just isn't there to be able to properly convey what this more grounded thread about loss needs. Moreover, it's plain boring. Kate's mission to find Geeta smothers tension out of the great parts of the film, leading to something that's "merely" good in sum total.
The failings of this aspect of the film draw attention to the film's other faults. Namely, Zack Snyder spreads himself a little too thin by attempting to do everything in this film. His work is typically best when he's the spearhead, entrusting talented individuals to carry out his vision. By having his hand in the writing and cinematography, his vision isn't as clear as it usually is. His camerawork, save for a few money shots, isn't anything to write home about. And his screenplay is more hit than miss, but it's still inconsistent.
Army of the Dead is a fun movie that battles its inconsistencies. It's lower on my rankings of Snyder's films, but it's still a damn good time. Or, at least, I thought that's all it was. Until I watched a second time…
Part II: The Lore Beneath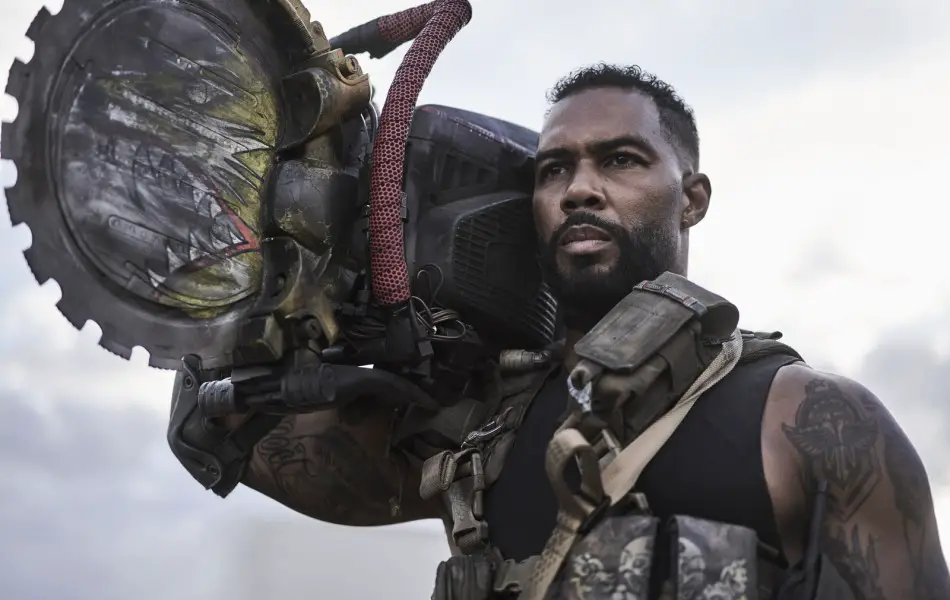 This section is going to be significantly less long than the previous because so much of what we're going to be talking about is rapid-fire observation and speculation. We start off hot at the very beginning of the film. The soldiers escorting Zeus mention that they're coming from Area 51, theorizing on what their payload could be. This successfully distracts from the fact that in the background, two UFOs clear as day zip by.
Seeing as how they're coming from Area 51, my assumption is that those are experimental spacecraft, perhaps reverse-engineered from that of extraterrestrial origin. It's possible that Zeus himself could be an alien. My theory is a little more out there. Due to his dog tags, I think Zeus was a top-brass military man who got exposed to some kind of alien particle, mutating him into an Alpha. Therefore, the zombie outbreak is most likely of alien origin.
With that sentence, Army of the Dead becomes a much more interesting film. Back when Robert Kirkman pitched The Walking Dead, he fooled executives by telling them that the zombies were going to originate from aliens. It seems as if Snyder has taken that duplicitous idea and ran with it, making it into his own thing. The alien influences are clear throughout the film, from the glowing blue eyes to the high intelligence of the Alphas. It's unclear how the Alpha woman is related to this extraterrestrial influence, but it's certainly something to ponder.
One must also consider Zeus and the woman's unborn child. The child is rife with the blue hue, looking almost like a full-blown alien. Is Zeus an alien himself, with that being a half-alien/half-"human" offspring? Or does he have the ability to impart his Alpha intelligence upon others and his child? These questions are an immense amount of fun to ponder.
But then there's another element: the Time Loop. When Vanderhoe and Dieter are in the vault, they see a dead crew by the vault wearing the same clothes as them. Vanderhoe theorizes that they're in some kind of time loop situation and that this time they have a chance of getting it right. Now, this is where things get dodgy. It's unsure if Vanderhoe is merely trying to calm Dieter down or if there's something to this. This kind of far-out concept is not out of the question for Snyder.

After all, the ending of the film shows Vanderhoe, thought dead, emerging from the vault in the nuclear fallout. He takes a large sum of cash and books a private plane to Mexico City. On the plane, he notices a bite mark and shows a knowing panic. Does Vanderhoe actually have knowledge of a time loop? Did they fail this time and need to do it over again? Who knows! But I want to find out.
Finally, there's a robot in the film. During the casino escape, Guzman shoots a zombie that reveals itself to have a robot skeleton inside. I… have no comment on this. I truly have no clue what's going on. Maybe the government could be monitoring the zombies with a zombie of their own? Maybe the Alphas built them? These are shots in the dark at best.
Discussing this mythology is where the real thrill of Army of the Dead is. It gives the movie texture, making me want to see another chapter in this universe. Straight up, it's original, fascinating, and invigorating for the genre, and I can't wait to see where they're going to go with it.
Conclusion

Army of the Dead is not Zack Snyder's best work. But it is a work of passion. One where every frame oozes somebody having fun with themselves. For all its messiness, it represents one of the best blockbuster filmmakers of our day getting back up on the horse with something completely different after the studio system burning him. Throw in lore that keeps us wanting more, and I wouldn't mind seeing more of these. Zack is back, and he's here to stay. –James Preston Poole
Rating: 7/10
Army of the Dead is now in theaters and streaming on Netflix.
---
Trending Now