'Army of the Dead' Review: "A Zombified Universe"
---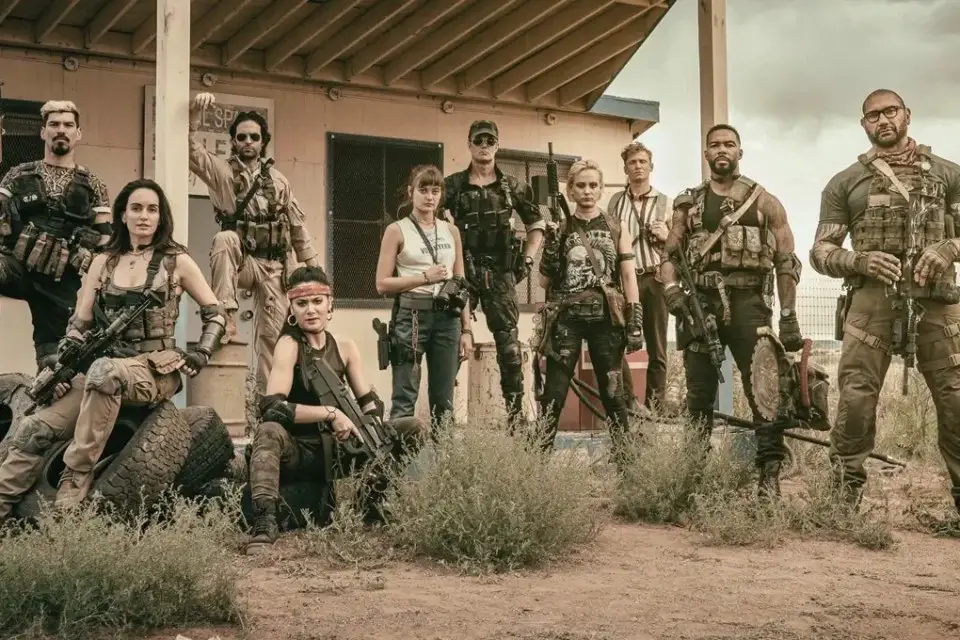 In 2004, Zack Snyder made his introduction to the world with a remake of Dawn of the Dead. That movie was an intense horror thriller that would jump-start his career. Fast forward seventeen years, and he has returned to the world of horror with his newest film: Army of the Dead.
Army of the Dead is about a gang of mercenaries led by Scott Ward (Dave Bautista). A few years after the outbreak, Ward and his team – consisting of Vanderohe (Omari Hardwick), Maria Cruz (Ana de la Reguera), and Marianne Peters (Tig Notaro) – are broke and working dead-end jobs. But one day, casino owner Bly Tanaka (Hiroyuki Sanada) approaches Ward with a job: steal money from a vault under his casino in Las Vegas. Soon, Ward and Cruz get their original members together along with a vast array of new blood.

The most notable additions are Dieter (Matthias Schweighöfer), Mikey Guzman (Raúl Castillo), and Chambers (Samantha Win). Not to mention, there is Tanaka's head of security Martin (Garrett Dillahunt), Lilly AKA The Coyote (Nora Arnezeder), Burt Cummings (Theo Rossi), and Scott Ward's daughter Kate Ward (Ella Purnell). Kate forces her way in after her friend Geeta (Huma Qureshi) goes in trying to get money to save herself and her kids from the quarantine camps that have been set up outside of Vegas.
This film entails everything you need in a zombie heist movie. A lot of violence, action, a halfway good plan, and a lot of violence. Snyder – who created the story by himself, and got screenplay assistance from Shay Hatten and Joby Harold – really created a fun story and what seems to be an entertaining universe. Snyder also did the cinematography which is absolutely beautiful. He's known for his films having darker colors, but everything about this movie is bright and big just like Las Vegas.

The pacing of this film is incredible. Once it starts it truly does not stop. There are definitely breaks in between the action, and they are necessary. I felt myself having to catch my breath in between action sequences because they are so intense. Every time the Alpha zombie Zeus (Richard Cetrone) was on the screen, it was an extremely intense rush. They really brought out all the stops when it comes to action. This movie knows what it is, and it sticks to that full stop.
Now, let's talk about these zombies. These are not the zombies from Dawn of the Dead, The Walking Dead, World War Z, or any other recent zombie film since the zombie phenomenon of the early 2000s. These zombies are vastly different and extremely fun. There are still many unanswered questions about said zombies. But seeing as this is a universe, I'm sure we will get some answers very soon. For now, I think we should enjoy these highly intelligent beings and let the lore be revealed as we get more material from it.

Is it perfect? No, but it fits exactly what you would expect from a zombie heist film made by Snyder. There was definitely some great acting from Bautista, Hardwick, and Purnell. Personally, Schweighöfer was my favorite as Deiter. Everything in this film meshes well together and is pure entertainment. Possibly my favorite movie of the year, definitely my favorite so far. This changes the game of how the zombie is to be portrayed and makes them even more frightening and threatening.
Overall, this film is fresh and exactly what needed to be thrown in the ring. Snyder has dealt with a lot the past four years and to see him get his own universe that he controls is amazing. Army of the Dead is pure fun, violence, and more violence. We have been treated to the grand opening of a promising universe. There is something for everybody in this film, and if you love zombies then it just adds the icing on the cake. – Rascal F. Kennedy
Rating: 9/10
Army of the Dead is in Cinemark theaters now, and will be streaming on Netflix on May 21st!!
---
Trending Now