Snyder Cuts: 'Dawn of the Dead' (2004) Is A Confident Debut
---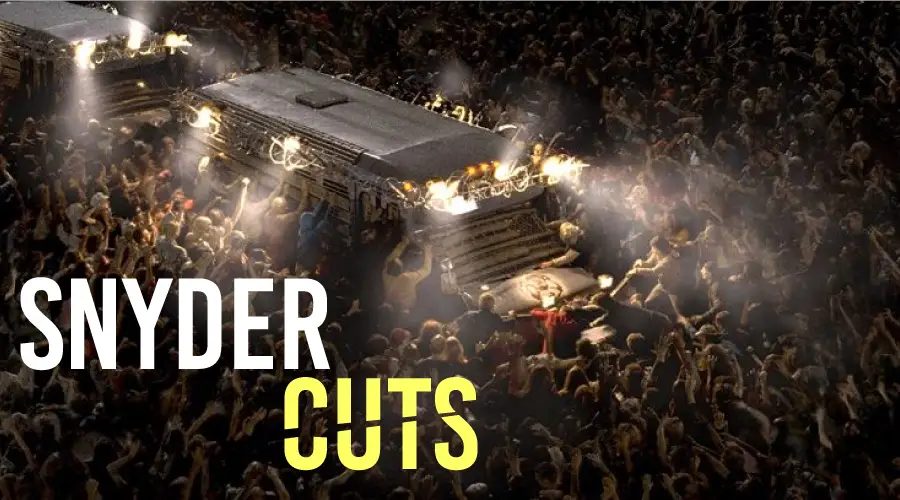 In honor of the release announcement of Zack Snyder's Justice League, we here at Full Circle decided it was time to do a retrospective of the polarizing director's films. So began the idea of "Snyder Cuts", a weekly series of reviews looking at all of his directorial efforts. And yes, we will review a director's cut when necessary. We start our journey in 2004 with Dawn of the Dead, a remake to a film many thought untouchable.
The very idea of remaking a George A. Romero classic seems doomed from the start. After all, 1978's Dawn of the Dead was very much a product of its time. It has the perfect combination of practical effects, social commentary, and independent spirit that only could've come out at that exact moment. You can't recapture that, so the producers of the remake decided not to. Instead, they decided to reimagine the product from the ground up, injecting fresh blood into the general idea of zombies in a mall.
Enter Zack Snyder. Previously known for commercials and music videos, Snyder had never helmed a feature film before. For his feature debut, he paired with screenwriter James Gunn, hot off the success of 2002's Scooby-Doo. The two were young and hungry, flung into the position of making a big studio horror movie. It was time to go balls-to-the-wall. Luckily, Dawn of the Dead is a ferocious entry to the zombie movie canon that easily stands on its own two decomposing feet.
From the first minute, Dawn of the Dead sets itself apart from all prior zombie movies. As nurse Ana (Sarah Polley) comes home from her shift, her expected relaxation turns into a nightmare as an undead child breaks into her home and infects her boyfriend. Having to kill them both, she escapes out into her front yard. Suburbia descends into chaos, with an ever-growing horde of ghastly ex-humans surrounding her. Director of photography Matthew F. Leonetti captures Ana's escape, hovering over her car as society completely breaks down. Fade to black. News footage starts playing, detailing the spread of a virus. Quietly, "The Man Comes Around" by Johnny Cash creeps in. Then, the song goes full-blast, underscoring the zombie apocalypse with a macabre symphony.

This is only the first sequence of the movie. Yet Snyder has already announced to the world that he's a film-maker who values style. We've seen zombie movies before, but none that put you into the situation quite like this. The name of the game is giving the audience the most visceral experience possible, and as captain of this movie's proverbial ship, Snyder nails it. It also helps that Gunn's script offers plausible scenarios for our characters.
Ana naturally comes across a group of survivors, including cop Kenneth (Ving Rhames), meek Michael (Jake Weber), and soon-to-be parents Andre (Mekhi Phifer) and Luda (Inna Korobkina). Banding their skills together, the survivors strike an uneasy alliance with a trio of security guards led by C.J. (Michael Kelly) to take refuge at a local mall. At that point, it's just a matter of survival until rescue helicopters come to get them.
Now the characters aren't realistic per se, but they're not really stereotypes either. The actors and Gunn do a decent job showing you where everyone's coming from. Michael Kelly does a particularly good job finding humanity in a character that might come across as unsympathetic. They all share the same need to simply make it out and get away from their enemy.
Dawn of the Dead's tagline reads "when there's no more room in Hell, the dead will walk the Earth". Fitting, because the undead that our protagonists have to square off with are not dissimilar to demons. Although we don't linger on the zombies as much as Romero's film, the make-up effects work by Heather Langenkamp (yes, that Heather Langenkamp) and David LeRoy Anderson make them twisted perversions of the flesh that run towards their victims. That's right, run.

Following 28 Days Later, Dawn of the Dead is one of the first films to showcase the fast zombie. Accordingly, Snyder conjures up all sorts of frenetic situations involving these creatures. Each moment is tenser than the last, with highlights being an attempt to rescue new survivors from a truck and the birth of a zombie child. The fast editing during the action scenes only lets the audience breathe for bits of slow-motion to highlight especially tense moments. The horrific action gets under the skin in a way that few movies about the living dead do. When it seems an opportunity for ratcheting up the anxiety, it takes it.
There are even some moments of dark humor, like whenever a lounge cover of Disturbed's "Down With the Sickness" plays over a montage of the survivors having fun in the mall. In fact, there are even some sad ones like whenever a widowed father played by Matt Frewer realizes he's been bitten and slowly comes to grips with his situation. It's a beautifully written, quietly devastating scene. Next to the freneticism of the action, Snyder & Gunn do a great job of portraying all facets of what life you would be like in a zombie apocalypse.
While it may not be the best zombie movie of the modern era, Dawn of the Dead remains a terrific one. In addition to starting off Snyder's career with a bang, it represents a reset for all future zombie movies to come. With a new and visceral way to present the undead, Snyder firmly stepped into the world of feature film directing. He came onto the scene with an air of confidence that would only increase. –James Preston Poole
Rating: 7/10
Dawn of the Dead is now available on Blu-ray and Digital HD.

Keep an eye out for Part 2 of "Snyder Cuts", coming to Full Circle Cinema next week!
---
Trending Now