Snyder Cuts: 'Sucker Punch' Is Like Nothing Else
---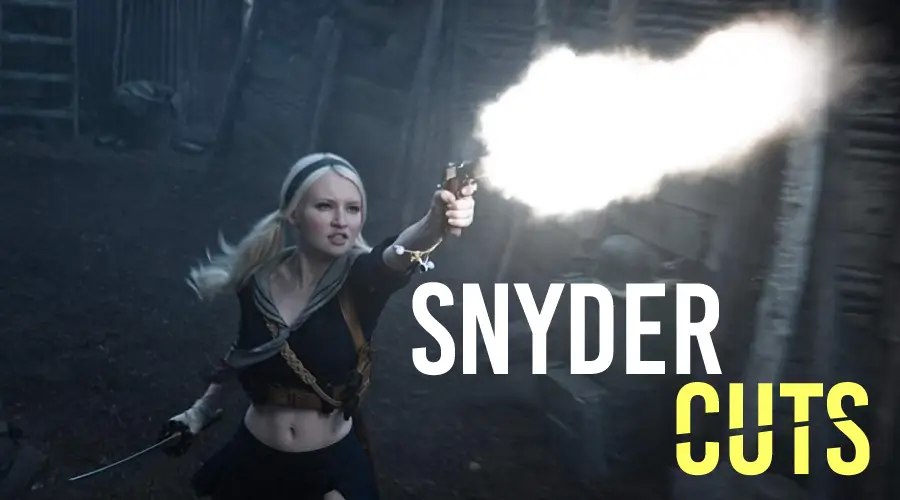 In honor of the release announcement of Zack Snyder's Justice League, we here at Full Circle decided it was time to do a retrospective of the polarizing director's films. So began the idea of "Snyder Cuts", a weekly series of reviews looking at all of his directorial efforts. We continue our journey with 2011's Sucker Punch, the first (and so far only) completely original film from Snyder. As always, we defer to the director's cut when available, so today's review will be based around the Extended Edition. This review includes spoilers.
The year was 2011. Zack Snyder had the film-making world in the palm of his hand. After the success of his adaptations of 300 and Watchmen, Snyder decided to leverage his success to make his first original production: Sucker Punch. His pitch? "Alice in Wonderland with machine guns". Starring a mostly all-female cast and given an over $80 million budget, this was all Snyder's vision, with the full backing of Warner Bros. behind him.
March 25, 2011 arrives. Sucker Punch arrives to scathing critical reviews and dismal box office. The harshest critics condemned it as a sexist appeal to the worst parts of nerd cultures. Audiences hated it. I know this because I was there opening day. 14 years old, milling about the theater lobby afterward, listening to my friends go on and on about how terrible it was. I was disappointed. Disappointed that no one else saw in this film what I did at the time. So I kept my mouth shut about it.
I couldn't put my finger on it, there was something about this movie that called out to me. Something that I couldn't let go. Later in the year, I watched the Extended Edition, complete with an expanded ending that clarified the film's intent. My worst fear was confirmed: I was in love with this movie. In the nearly 10 years since I first saw Sucker Punch, nothing has changed. Not only is Sucker Punch one of my favorite movies, it's also the most fiercely original and brave blockbuster to come out of the whole 2010s.

Sucker Punch is not an easy film to tackle. To even begin to explain the film, we need to understand the film's narrative mechanism. Essentially, Zack Snyder and Steve Shibuya's script takes place across three layers of reality. The first layer of reality is – for all intents and purposes – the real world. In this layer, young woman Babydoll (Emily Browning) goes to a mental institution after accidentally killing her sister. Her abusive stepfather (Gerard Plunkett) pays a shady institution worker named Blue (Oscar Isaac) to forge some papers and have Baby Doll lobotomized. Just as the lobotomist (Jon Hamm) performs the procedure, Babydoll – and the audience- slip into Layer #2 of reality.
Layer #2 is the asylum reimagined as a brothel where Babydoll and her fellow inmates work as prostitutes/entertainers against their will. They are taught to dance by Madame Gorski (Carla Gugino), who in the true reality is their psychologist. Here, Blue is a gangster of sorts who has promised Babydoll's virginity to the prestigious High Roller (Jon Hamm). After befriending fellow entertainers Sweet Pea (Abbie Cornish), Rocket (Jena Malone), Amber (Jamie Chung), and Blondie (Vanessa Hudgens), she hatches a plan to escape. They will need five items: a map, fire, a knife, and a key. The last item is a mystery. Each time they have to acquire a new item, Babydoll uses her raw talent of dancing to distract onlookers while one of the girls acquires the item.

It's during these dances that Babydoll slips into the final layer. Layer #3 is a world of pure fantasy, where it presents the acquiring of the items as hyper-stylized action sequences, complete with a Sailor Moon-style outfit for Babydoll. Their mission is given to them by a Wise Man (Scott Glenn) and carried out in a visual effects extravaganza backed by (mostly) hard rock covers of classics like "Tomorrow Never Knows" or "Search and Destroy".
To best understand what makes Sucker Punch such a great film, we'll work backwards, starting from Layer #3. This is where some of the most obvious virtues (and criticisms) come in. Frankly, Snyder has put on film some of the best action sequences ever filmed, full stop, rivaled only by the likes of Mad Max: Fury Road and the John Wick series. Captured by the painterly eye of director of photography Larry Fong, Snyder morphs tasks such as stealing a map or getting a knife into getting plans from the clutches of the undead on the World War I battlefield or disarming a bomb on a train from a revolutionary band of android insurgents.
There's a heavy anime influence that pervades. Characters move with a lightweight, heavily unrealistic manner that lends to images like Babydoll jumping onto the shoulder of a 10-foot tall samurai and shooting him in the eye with a pistol. There's a "cool" factor to Babydoll kneeling in the snow of Feudal Japan while Bjork's "Army of Me" that just can't be matched.

Yet, many take issue with the fact that these sequences feature women in skimpy clothing engaging in what many perceive as a male power fantasy. The film views the action of Layer #3 as video game-style wish fulfillment. Impossibly badass women do impossibly badass things for seemingly no reason. Here's the thing: Zack Snyder knows this. In a recent interview, he called the film "a big f*** you to a lot of people". This statement confounds a lot of people, but it's right in the text.
Zoom out to layer #2 of the film: the "brothel" layer. Gone is the simple catharsis that comes from seeing Babydoll fight a dragon. Instead, here is the story of a group of basically imprisoned women fighting against their male oppressors. It's uncomfortable, often queasy, seeing them struggle under the weight of the truly monstrous Blue. Oscar Isaac turns in a performance so devilishly evil you just stare in astonishment. He's a top-shelf creep, the ultimate symbol of patriarchal rage. The pain and control he exerts on these women are horrific.
I wouldn't blame anyone for dismissing Sucker Punch based solely on how tough the subject matter of this layer is. But I think it has heavy artistic merit. Namely, because the performances and writing of these women are outstanding. All of them have their own distinct personalities and desires, despite their situation. Babydoll is as developed as heroines come, and Emily Browning doing a lot with little dialogue. The same goes for Jena Malone's sly Rocket and Abbie Cornish's hardened Sweet Pea.
Moreover, it is interesting that Snyder has to cloak the predicament of these women in a mental institution in the guise of a brothel. I think the point Snyder is trying to make here is that that's how male audiences view women as a whole. Therefore, them breaking out of the brothel is, in a way, rebelling against the types of roles given for women in these big action movies. Or perhaps, Snyder is trying to comment on the fact to better understand the plight of asylum patients we have to humanize them by putting them in a theoretical brothel, which is in and of itself disgusting. Or maybe none of these are correct, but there's a very potent intent here. The movie does not do this by accident.

As the real-life horror builds and the bodies pile up, Babydoll comes face to face with the High Roller. In the theatrical cut of the movie, this scene was cut altogether. That's a shame because it really provides a nexus for understanding the film's ending. Instead of the lobotomist/"High Roller" being an evil figure, Baby imagines him as charming and inviting. He says he has no intention of "taking her" unless she wants it. He offers her a release, a complete, permanent escape from reality. As Baby kisses him, the lobotomy is complete, and we cut back to Baby in the chair, a vacant look on her face.
Everything we had just seen was a spruced-up version of an inmate's attempt to escape an oppressive institution that still ended in her being lobotomized anyway. Her only respite is being free in her mind, imagining the escape of Sweet Pea. The film essentially delivered a cinematic "sucker punch", affirming to the audience that this was no tale of action or even escape from a glitzy brothel. This was the story of a government institution abusing a woman who couldn't fight her way out. We were complicit in glorifying this tale and refused to confront what was actually going on.
But then again, maybe the movie's not about that. Maybe the film is about fighting back, with everything that we have. Even when all bets seem off, Babydoll still finds a way to escape her predicament by going into her own mind. We write our own story.

Sucker Punch is the movie I've thought about the most. It's also the movie I've watched the most. Hell, I practically listen to the soundtrack daily! For a critic, that's hard to admit to loving a reviled movie, but it's true. Sucker Punch is the towering masterwork of Zack Snyder's career, one that rewards watching and rewatching, and has important things to say without making the audience's interpretation for them.
Nearly ten years ago, Sucker Punch was a guilty pleasure to me. Now, I'm loud and proud of my love for it. Zack Snyder's only original film is also his very best. There will never be another movie like it, and maybe that's a good thing.
Rating: 10/10
Sucker Punch is now available on Digital HD and home video.
---
Trending Now