Black History In Film: 'Just Mercy' Review – 'It's Never Too Late For Justice'
Posted On February 24, 2021
---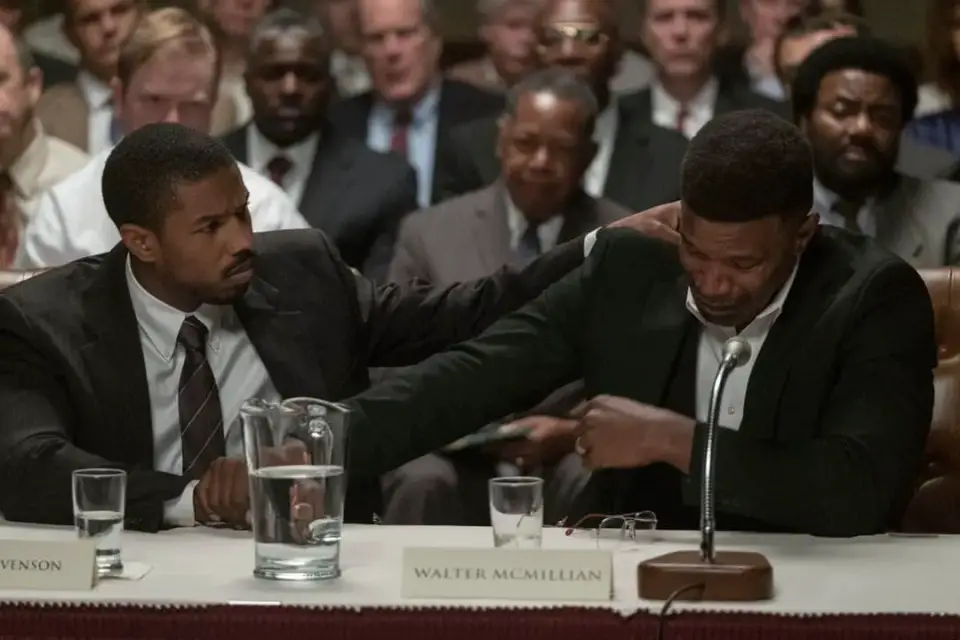 Throughout the month of February, Full Circle Cinema celebrates Black History Month by revisiting films made for and told by prominent Black men and women. We will reflect on an extraordinary history filled with moments both triumphant and tragic in the still ongoing fight for equality and justice for all. Through the sharing of stories, we pay tribute to the storytellers. Check out our first three installments of Black History In Film here, here, and here. 
"If we can look at ourselves closely, and honestly, I believe we will see that we all need justice. We all need mercy. And perhaps, we all need some measure of unmerited grace."
Let's talk about justice. The list of wrongful convictions in the United States includes a tragic amount of Black men and women. Following the abolition of slavery, Black citizens were met with an uphill battle for justice and equity in this country. With the emergence of the KKK and the establishment of Jim Crow laws, southern states became a place where simply being Black could earn you life in prison, or worse. While many believe these atrocities are ancient history, some stories reveal that many of these horrific occurrences are more recent.
Walter "Johnny D" McMillian was a pulpwood worker from Monroeville, Alabama. A hardworking family man who grew up picking cotton with a dream of providing for the people he loved. One fateful day saw all of McMillian's hard work vanish in an instant. A beloved man in his community, McMillian had no prior felony convictions. However, he was still arrested by a newly-elected Sheriff under pressure to find a suspect for the murder of eighteen-year-old Ronda Morrison. This is the catalyst for Just Mercy: A Story of Justice and Redemption, a memoir by a lawyer named Bryan Stevenson.
This is the memoir from which the 2019 biographical legal drama film Just Mercy pulls its inspiration. Director Destin Daniel Cretton enlists an all-star ensemble featuring Michael B. Jordan, Jamie Foxx, Brie Larson, Rob Morgan, and Tim Blake Nelson to tell the story of Stevenson's fight for justice for McMillian. At its core, the film is a reminder of the suffrage of Black Americans within the legal system.

An idealistic young Harvard law graduate, Bryan Stevenson (Jordan) dreams of serving the most marginalized people he can imagine: Black Americans in the south. However, even though this story takes place in 1989, small towns in Alabama remain full of hatred, bigotry, and intolerance. Unfortunately, these ugly qualities are shared by those in power as well as the town's inhabitants. After ignoring the warnings of his pleading mother, Bryan embarks to a town that will undoubtedly greet him with resistance, solely due to the color of his skin.
From the first moment Bryan hears the story of Johnny D (Foxx), it's clear this local government is dripping in infuriating injustices. He discovers the conviction of Johnny D killing a woman is based almost entirely on the testimony of another convicted killer, Ralph Myers (Nelson). With the help of clerk Eva Ansley (Larson), Bryan works tirelessly for Johnny D and others like him. The film's consistent and intentional pacing works best as Stevenson navigates the inner workings of the American legal system.
While this is Johnny D's story, his time in prison introduces the audience to two supporting characters liable to tug on their heartstrings. Herbert Richardson (Morgan) and Anthony Ray Hinton (O'Shea Jackson Jr.) serve as McMillian's allies and figures sympathetic to Bryan's crusade. One of the most jarring moments in the film is the lead-up to Herbert being put to death. As his friends offer support from their cells, Morgan delivers a performance likely to haunt viewers for some time.

While the film provides context and examples of racial inequality in the courts, it remains a high-stakes legal drama. With a man's life on the line, the frustration of the appeals system is on full display. Additionally, Bryan's relentless negotiations with those with the power to save Johnny D's life depicts a man's duty to justice. However, at the same time, Just Mercy does not shy away from portraying the ugliness of racism in today's society. While one could say they lean into the vilifying of white police officers in this small-town, the realization that what real Black American citizens face in states like Alabama is far more complicated than anyone can begin to fathom.
One could argue that this performance is a career-defining one for the multitalented Michael B. Jordan. While his performances in Black Panther and Creed gain popularity, this one gives the actor some real credibility. Moreover, the message in Just Mercy resonates with moviegoers. Advocates like Bryan Stevenson are largely unsung heroes fighting for the common man. It's never too late for justice. In fact, in most, justice either arrives right on time or not at all. – Christian Hubbard
In honor of the unconscionable murders of Ahmaud Arbery, Breonna Taylor, George Floyd, and countless other Black lives, please take a moment to visit the Black Lives Matter homepage and see how you can help. Spread awareness!
—–
Did you enjoy this article? If so, consider visiting our YouTube channel, where we discuss the latest and greatest in pop culture news.
---
Trending Now