Black History In Film: 'Selma' Review – "The Voice Of The Voiceless"
Posted On February 10, 2021
---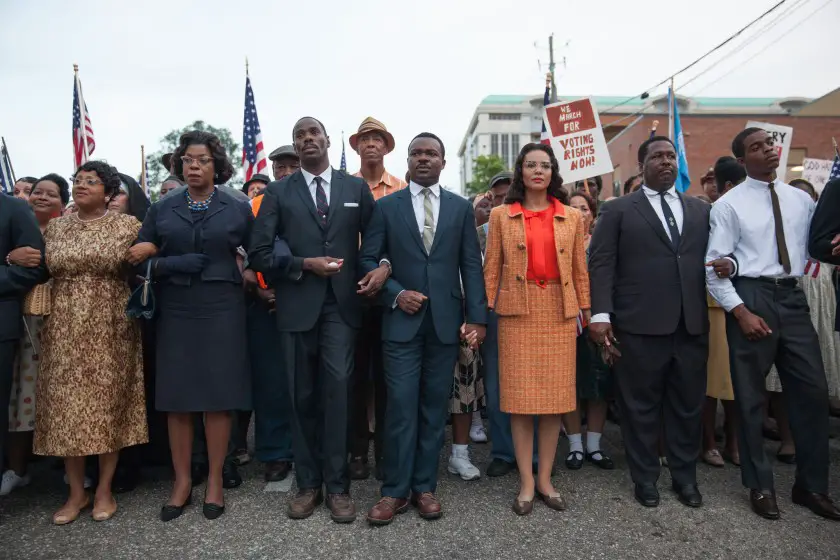 Throughout the month of February, Full Circle Cinema celebrates Black History Month by revisiting films made for and told by prominent Black men and women. We will reflect on an extraordinary history filled with moments both triumphant and tragic in the still ongoing fight for equality and justice for all. Through the sharing of stories, we pay tribute to the storytellers. Check out our first installment of Black History In Film here. 
"Our lives are not fully lived if we're not willing to die for those we love, for what we believe."
Let's talk about Dr. Martin Luther King, Jr. A Baptist minister by trade, King became the most visible spokesperson and leader in the Civil Rights Movement from 1955 until his assassination in 1968. Known as a hero to many, King made an impact thanks to advancing civil rights through nonviolence and civil disobedience. Since King is one of the most influential figures in human history, people take notice when someone depicts him onscreen.
Directed by Ava DuVernay and written by Paul Webb, 2014's Selma is less of an King biopic and more of a historical drama centered on the events of and leading up to the 1965 Selma to Montgomery voting rights marches. Assembling a cast featuring Tessa Thompson, Common, Lakeith Stanfield, and Oprah Winfrey, Selma's leading man is David Oyelowo as King himself. Bringing real-life events to the big screen is always a difficult task. However, the team behind Selma provides a unique and dramatic insight into the Civil Rights Movement. Notably, it received a nomination for Best Picture and won Best Original Song at the 87th Academy Awards.

The film kicks off with simultaneous depictions of King receiving his Nobel Peace Prize and the murder of four Black girls in the Birmingham, Alabama 16th Street Baptist Church by a bomb set by the Ku Klux Klan. Showing a Black leader get an award side-by-side with racially-charged violence readies viewers for what Selma is all about: the fight is far from over. Shockingly, the film's depiction of Americans struggling to exercise their constitutional rights remains relevant through a 2021 lens. The right to vote empowers the powerless. Setting out to meet with President Lyndon B. Johnson and address injustice, King continues to serve the Black community its revered representative.
Selma is a film not afraid to depict historical figures as people. Real people with flaws and the ability to make mistakes. For example, many historians celebrate Johnson for signing the Civil Rights Act of 1964 in law. However, in DuVernay's telling, Johnson turns down King's constant pleas for justice. Moreover, Selma highlights King's alleged infidelity for the first time in a major motion picture. Coretta Scott King confronts her husband after receiving harassing phone calls of a recording of sexual activity between him and another woman. Humanizing the men and women fighting for equality adds layers to the film and the figures themselves. More than anything, it further suggests that no story is ever as simple as good vs evil.

Viewing the film through a 2021 lens, one can make many parallels to the Black Lives Matter movement. Far too often, injustice remains. Wrongdoers rarely face consequences. As the first Selma to Montgomery march is about to begin, King speaks with Andrew Young (André Holland) about canceling it. Fearing the worst, the marchers including the late, great John Lewis (Stephan James) begin to cross the Edmund Pettus Bridge. However, upon meeting a line of state troopers, gas masks are put on and orders to turn back are given.
What follows are scenes that mirror what took place all over the country during the summer of 2020. Officers of the law violently attacking peaceful protestors standing up for their beliefs. However, unlike the protests in 2020, which were broadcast for the world to see, nothing like this has been aired on a nationwide platform. The attack is shown on national television as the wounded are treated at Brown Chapel, the movement's headquarter church. This turns the historical drama into a legal battle with leaders asking the courts for their support.
Unfortunately, the hearts of men are too often difficult to persuade. President Johnson demands that King cease activities. However, Americans previously unaware of the plights of Civil Rights can see the attack happening this time. White Americans flock to Alabama to offer support to King and his team. This turns the tide. In any war, loss is commonplace. Selma shows the deaths of James Reeb (Jeremy Strong) and Jimmie Lee Jackson (Lakeith Stanfield), with the latter dying at the hands of a state trooper.
Selma paints a picture of highs and lows experienced by all brave enough to fight for those who can not. Specifically, it shines a light on the people who saw their voice was more accepted by those with the power to make real change. Thanks to the film's unflattering depiction of King, he becomes a man of the people because he is one of the people. The voice of the voiceless. – Christian Hubbard
In honor of the unconscionable murders of Ahmaud Arbery, Breonna Taylor, George Floyd, and countless other Black lives, please take a moment to visit the Black Lives Matter homepage and see how you can help. Spread awareness!
—–
Did you enjoy this article? If so, consider visiting our YouTube channel, where we discuss the latest and greatest in pop culture news.
---
Trending Now