'I Care a Lot' Review: "Calm, Collected, & Ice Cold"
Posted On February 19, 2021
---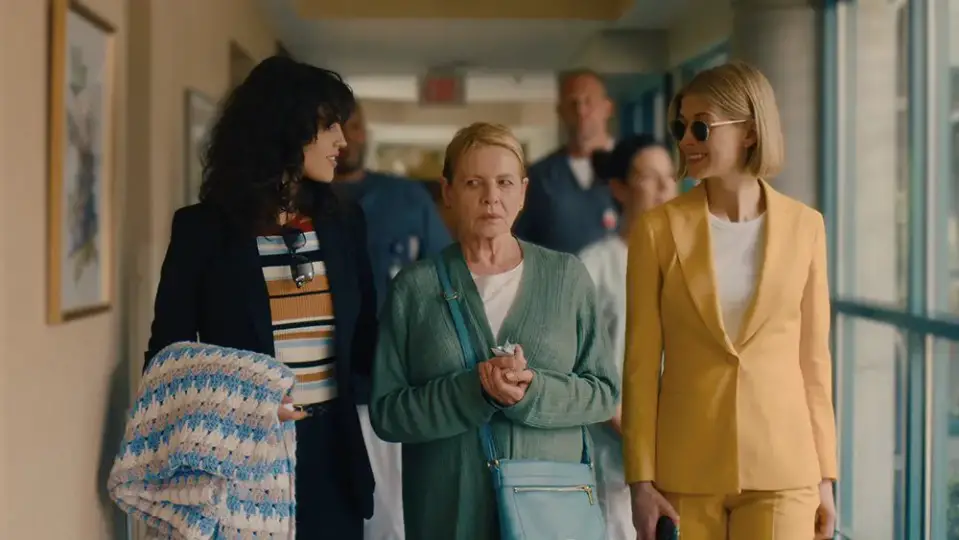 Whatever one might say about I Care a Lot, there's no denying its effectiveness at keeping its audience engaged. It's one thing for it to have a high-caliber cast. But on top of that, it's the kind of movie that has tons of twists and turns that all pay off near the end. One can easily imagine a version of this movie that only intrigues when it takes major plot turns. But with a snappy 118-minute runtime, every moment feels important and intriguing.
Described as a dark comedy thriller, the film follows a woman by the name of Marla Grayson (Rosamund Pike) that describes herself as a lioness. She lives her life as a court-appointed legal guardian to her elderly victims. She has everything she could ever want. From constantly deceiving judges to stealing from her wards, Marla has everything planned out. When her most recent conquest goes wrong, she is in danger of losing everything she has built and those she cares about.

Marla has concocted an intricate scheme with loyal helpers at every corner. She is in fact the predator she so desperately claims to be. In her words, those who play fair won't make it very far. Everything she does falls within technicalities. While immoral, it's all legal. Accompanied by her business partner and romantic partner Fran (Eiza González), Marla creates enemies everywhere she goes. Yet she manages to outsmart everyone that crosses her path. Despite the fact that what she's doing is construed as wrong, the audience can't help but root for her. Marla is what every protagonist should be in her situation. She is calm, collected, and ice cold.
The film at its core is a clear criticism of the common horrors of care facilities. Marla strips her victims of their autonomy and robs them of their independence. Many don't even have to participate in the court hearing that signs away their fate to Grayson's scheme. Among those people is Jennifer Pieterson (Dianne Wiest), the most recent investment that costs Marla Grayson everything. Based on the scenes with Jennifer, the story gets to be promising and heartbreaking. On top of that, Wiest helps push forward the message of the hardships of these facilities. But she also balances out the fact that she's an unreliable character as well.

J Blakeson's screenplay is great at immersing the viewer into the plot, fully engrossed and hopefully fully invested. However, the film reaches great heights thanks to the incomparable and dynamic performances from each of the actors. Pike delivers what is truly an award-worthy performance. Peter Dinklage as Roman Lunyov holds his own against Pike's Marla, posing a genuine threat to her operation.
Another thing that helps I Care A Lot is how often it gives itself room for haunting imagery. Blakeson, who also directs, finds a way to sneak in stunning cinematography that also has the ability to unsettle the audience. From the smallest details, he carefully crafts everything to deliver a well-rounded feature. The lighting and color palette dutifully create a delicious visual experience that almost leads you to forget the dark themes that are present.
Many will possibly jot this one down as one of their favorites of 2021. However, the ending will most likely be divisive due to the way it handles Pike's character. Nevertheless, I Care a Lot is a film that takes risks at all the right moments.
Rating: 8.5/10
I Care a Lot is currently streaming on Netflix.
The film stars Rosamund Pike, Eiza González, Dianne Wiest, Peter Dinklage, and Chris Messina.
---
Trending Now