'Ted Lasso' Season 3 Episode 6 "Sunflowers" Review
---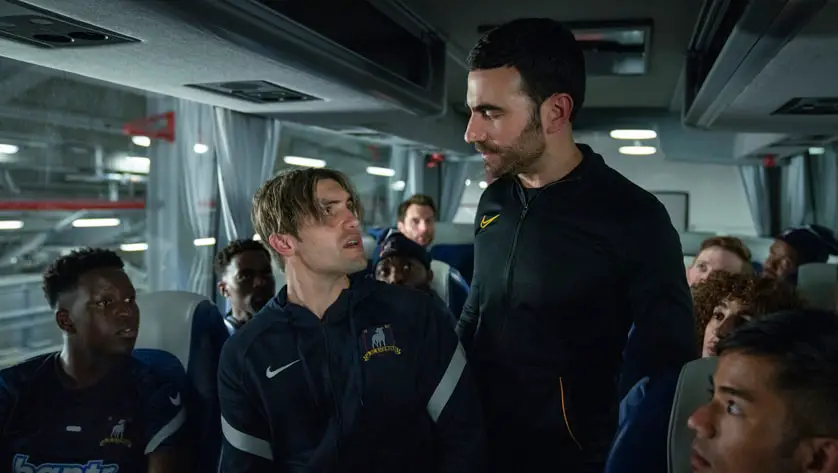 The following will contain spoilers for episode 6 of Apple TV's Ted Lasso. For a recap/review of last week's episode, click here. 
When a show like Ted Lasso exists and becomes an outright cultural phenomenon, it's normal for fans of that show to spend hours thinking about the characters they've grown to love. However, when a show has an ensemble cast the size of Ted Lasso, and each character feels unique and special in their own way, it paves the way for each character to get their own shine. When season three of the hit Apple TV+ series premiered, it was clear that this was no longer a show about the plucky football coach from Kansas. It had grown to a series following a family and displaying the way they all interact with each other on a weekly basis. In about 63 minutes, episode 6, titled Sunflowers, features more interaction than ever before. It also follows a slew of plot narratives and continues to tie each string into a neat little bow.
Traveling to the city of Amsterdam, which just happens to be the city in which the original concept for Ted Lasso was conceived, for an exhibition match (or friendly), the team travels to a new city. It allows the writers to play around a bit with the new set pieces and environment. For a show that feels so important to so many, it isn't often the action goes outside the confines of a few locations. Getting Ted and company out of their comfort zone feels special and creates a mid-season special that, quite honestly, presents a lot more new questions than answers to already existing ones.

There are six distinct narratives to follow through episode 6 after Ted declares there is no curfew for the whole gang following yet another devastating loss. Starting with perhaps the most jarring, we see Rebecca off on her own within the gorgeous backdrop of Amsterdam. With Keeley off with her new girlfriend Jack and Higgins looking for his own adventure, Rebecca sets off to feel some comfort from freedom. However, her little solo field trip quickly goes array as she stumbles off a bridge right on the proverbial doorstep of a houseboat owned by a handsome Dutchman.
This particular plot point feels a bit jarring for those of us who have been hoping and wishing and praying for Rebecca and Ted to get together by the end of the series. However, looking thru the lens of a viewer following Rebecca's tumultuous rollercoaster ride since season one, it is refreshing to see her handled so carefully by a man with seemingly innocent intentions.
As her clothes dry, the two sing and have dinner and drink wine and even engage in a bit of massage action, and she melts into the comfort of this stranger. Hanna Waddingham brings a certain softness and tenderness to this character, who just last week was cussing Ted out about Richmond's losing streak. By the end of the episode, Rebecca is relaxed, calm, and singing Bob Marley's "Three Little Birds" (a song she admitted to hating at the beginning of the episode) with her feet kicked up. Not a care in the world.
Elsewhere, Ted's story in episode 6 sees him yearning for something new and exciting. Coach Beard's solution to this conundrum? Hallucinogenic drugs, of course! However, Ted momentarily backs out of trying the drugs that Beard ingests the infused tea immediately. After a few minutes, Beard bails to go off on his own adventure, leaving Ted in a very different state of loneliness than Rebecca. Throughout this entire season, Ted has battled demon after demon and an onslaught of near panic attacks. Deciding to combat this before it happens again, Ted downs the dreaded tea and takes off.
First heading to an art gallery, Ted finds himself being educated by a curator about the beauty of a painting on the wall (spoiler alert: its sunflowers!). The explanation of this particular painting and its artist drives Ted to the verge of tears, leaving viewers wondering why. As it turns out, Kansas is the sunflower state. Throughout this entire season, and honestly, since the beginning of the entire series, Ted has longed for home. There have been several teases throughout season three that tease Ted going back home to Kansas, leaving Richmond behind. In fact, after the art gallery, Ted ventures to an American-themed restaurant.

Earlier in the episode, Ted expresses that he feels stuck and seeks to try something new. However, it was looking to the past, watching a Chicago Bulls game he once watched with his father that struck a big idea in his head to attempt to turn Richmond's season around. In a scene so unlike anything we've seen in Ted Lasso before, Ted goes on a drug-fueled trip, complete with an overhead voice and animated sequences. While it is revealed his idea is not completely original in the end, Ted's desire to do right by his new found-family is heartwarming and displays that his heart may not be entirely back home in Kansas. It will be interesting to see how the new formation plays out on the pitch and if success is enough to keep Ted in England for a little while longer.
While Ted and Rebecca begin their stories in this episode alone before finding the comfort of strangers, the dynamic duo of Roy and Jamie, arguably the highlight of the season so far, find themselves separate from the rest of the group. The silliness of their little sidequest includes jogging throughout the city. At the same time, Jamie annoyingly tells Roy about every tiny little detail that he personally knows about Amsterdam (which is a LOT). Jamie has gone from a self-centered man-child to a fully grown man so comfortable in his own skin that he can be adorable and goofy and precocious and empathetic.
One had to imagine his relationship with Roy would only strengthen following that heartwarming hug in season two, who could have guessed that we'd see Jamie teaching Roy how to ride a bike on a journey to prove that windmills are real. Their bond is remarkable and truly one of the most fun additions to the season. Their hatred for one another has turned into a bonafide brotherhood. So much so that Roy confesses his suspicions of Keeley's updated dating life, and Jamie shrugs it off, opting to keep building their bond and enjoying their evening.

Another duo introduced within the 63-minute runtime of Sunflowers is Higgins and Will, the young kitman on the team. After vague teases that Higgins wants to go to the famous Red Light District of Amsterdam, a place famous for sex workers, it turns out Higgins is seeking to celebrate and honor the life of his favorite Jazz musician Chet Baker, who did actually die in Amsterdam. This particular plot thread doesn't really serve a purpose within the narrative. However, it is important to see Will come out of his shell a bit and feel a bit more like a member of this Richmond family, especially considering what ended up happening with Nathan.
Elsewhere, Colin separates himself from the rest of the team to go to a gay bar and runs into Trent Crimm. For years many of us have seen the writing on the wall that Trent is gay but this episode serves as confirmation that he is and he bonds with Colin over a few beers and sharing coming out stories. This moment feels groundbreaking for Colin as he clearly has struggled with coming out to his teammates and everybody else in his life. The comfort from Trent not only relating to his situation but being the first within the circle to know his secret is another step in the right direction of Colin being able to live freely and be his true self around the people he spends the most time with.
Finally, the sixth separated plot point is the entirety of the team attempting to come up with a plan for how they will spend their evening in Amsterdam with no curfew. Chaos ensues to the point where Isaac gets on a table and screams louder than one might have thought possible. The scenes where some want to go to a sex show, and others want to go to a private party (and the adorable Dani Rojas wants to see some tulips) show just how close this team has gotten and how they are all able to remain close friends despite an onslaught of losses this season.
One thing this show has excelled in is creating a comforting vibe by showing the strength of friendship. That notion has never been better highlighted than the team acting like literal children with a giant pillow fight in the middle of a hotel lobby (which is a nice callback to Ted wanting to do the same back in season one). The scenes featuring the team are hilarious and childish, and nonsensical, but it offers the most comedy in this episode and provides more than a couple of genuine laugh-out-loud moments. Season three has been incredibly overwhelming so far. Following a few of the best episodes the show has ever produced, episode six feels like a big spectacle episode filled with beautiful backdrops and a unique setting. At the halfway point, season three of Ted Lasso is racing toward the finish line with even more twists and turns and astonishing character development. – Christian Hubbard 
Rating: 10/10
Ted Lasso Season 3 Episode 6 is now streaming on Apple TV+. 
---
Trending Now