'Ted Lasso' Season 3 Episode 5 "Signs" Review
---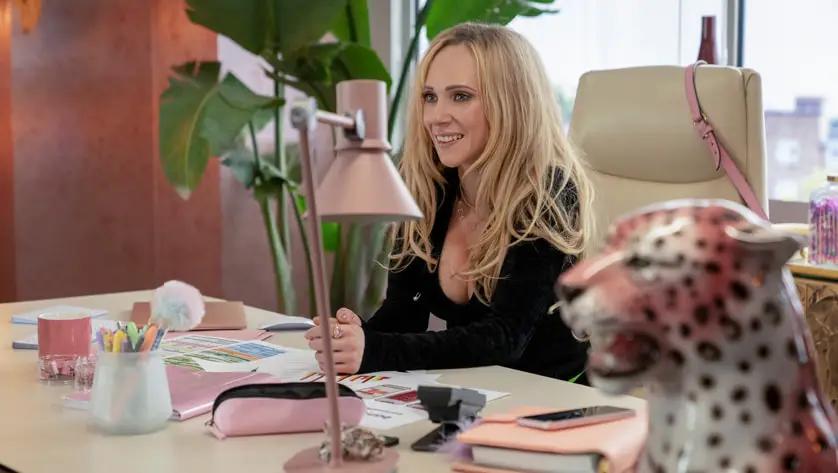 The following will contain spoilers for episode 5 of Apple TV's Ted Lasso. For a recap/review of last week's episode, click here. 
I might sound like a broken record at this point if you've been following my reviews of Ted Lasso season three, but the theme so far has been character progression. Every episode, each better than the one that came before, has displayed an exceptional amount of growth for every character fans have fallen in love with over the past three years. From Jamie to Rebecca to Keeley to Ted to even Nate, the whole gang is shining bright as they become the very best versions of themselves thanks to some pretty phenomenal writing and largely unforeseen plot twists. Episode five, appropriately titled Signs, is no different from the four episodes that preceded it. In fact, one would argue this episode delivers even more slam-dunk performances than perhaps any episode since the show's debut in 2020.
Beginning with the story of Keeley and her new boss Jack, the bond is apparent. They clearly see the world similarly, and it's obvious that the stolen glances they shared upon Jack's debut were no coincidence. In fact, the chemistry is palpable and gives Keeley a clear future post-breakup with Roy since the devastating event occurred. Shandy, who has not been well-loved by fans online since first appearing as Keeley's overbearing and messy friend who gets an unearned job, creates a shared experience between the two. When faced with the choice to fire her friend, Jakc offers sage advice and counsel, tightening the grip she appears to have on Keeley's attention.
Elsewhere, Emmy and Golden Globe winner Hannah Waddingham is the standout of episode 5. Her ability to emit emotions such as fear, anger, trepidation, and confusion (among other things) within mere seconds of each other is nothing short of a fine example of just why she is one of the most celebrated and lauded, and sought-after actresses in the world today.
For the first time since the meeting with the psychic, Rebecca is taking it seriously. She's received a green matchbook and heard someone accidentally say "shite in nining armor", she believes, if for just briefly, that she will get her most desired dream of having a family of her own. The sadness of this broken woman having hope on full display is amazing character work from Waddingham and will likely go down as a major reason why she will continue to earn more and more love when awards season rolls around. Rebecca is a woman broken by the world around her, and her happy ending is destiny and the most desirable outcome before season three wraps.

Back at Nelson Road, Richmond is set to do battle with their most feared rivals: Manchester City. However, unlike last time, they have Zava. Or perhaps not. One of those plot twists mentioned earlier is the sudden disappearance of the team's prized possession is nowhere to be found for the season's biggest game yet. However, this is not the focus of the entire coaching staff. Tedd is distracted due to the heartbreaking news that his son, Henry, got into a bit of a bullying situation at school. Unfortunately, Henry is the bully in this particular situation. Ted, all-around wholesome and all things sweet, unsurprisingly struggles with the notion that the child he raised is bullying others. This altercation and the sudden realization that he likely never saw coming is another obstacle in the way for Ted as he struggles with being so far away from his home.
A few episodes back, the question was posed by Coach Beard. Why were they still in England coaching soccer? That question has never been answered. In fact, Higgins poses another tough question: if Richmond doesn't start winning matches soon, will they have to part with the titular mustachioed American? Rarely are things so explicitly expressed in a series like Ted Lasso without a resolution being addressed. Is the endgame Ted leaving his beloved football club and returning to a home he does not recognize? A heartbreaking solution for Ted may just be the expected outcome, and fans will likely greet it with mixed signals.

One thing this series has always excelled at is parallels. Scenes taking place simultaneously featuring different characters experiencing different levels of emotions have been an incredible reason fans have grown so connected with these characters. This episode features the continued redemption of Nate. Following his ugly departure from Richmond, it's been made clear that Nate is not totally the despicable supervillain many have painted him as. Instead, he is sympathetic and sad, being used to gain Rupert the upper hand in his ongoing mind games with Rebecca.
This is never more on display than when Nate is dumped at the table by the window at his favorite restaurant (right in front of the hostess Jade, who previously rejected his advances). This moment is interweaved with not only the devastating news that Zava has retired from the game and the illusion that Rebecca is unable to have children of her own. Loss comes in many different shapes and sizes and affects some more than others. That has been one of the finest bits of writing this team over at Ted Lasso has done since the show's inception. How does one cope with the devastation of being ghosted by a beautiful date? Or getting one's hopes up only to have them dashed?
In the case of Nate, he gets a potential second chance at love with the adorable Jade who, perhaps taking pity on the poor guy, brings him baklava and joins him for a quick bite and a chat. At this moment, Jade serves as the viewer. On the outside looking in, seeing the pain Nate has gone through despite trying his best to come out of his shell, at times to a fault, allows us all to see the best in him. Moreover, that palpable chemistry on display in quick moments shared between Jack and Keeley explodes during a tipsy makeout session, Keeley's first romantic endeavor since her breakup with Roy. Keeley grows in exploring her sexuality, while Nate grows by reverting to his kind, sweet self filled with hope and a belief in what's right.

Zava is gone. Rebecca and Ted are going through tremendous amounts of pain. Keeley is opening herself up to love again. And Nate is perhaps on his way back home. Season three of Ted Lasso continues to convince his longtime fan of the series that it's never been better, and it's not afraid to take chances to get that point across. It's never been clearer than Ted's post-game speech to the team, where he allows himself to not only feel the endless stream of emotions but express them to those who have grown to trust him more than anyone else. Things can get better and things will get better because there's nowhere to go but up after hitting rock bottom. – Christian Hubbard 
Rating: 10/10
Ted Lasso Season 3 Episode 5 is now streaming on Apple TV+. 
---
Trending Now