'Ted Lasso' Season 3 Episode 4 "Big Week" Review
---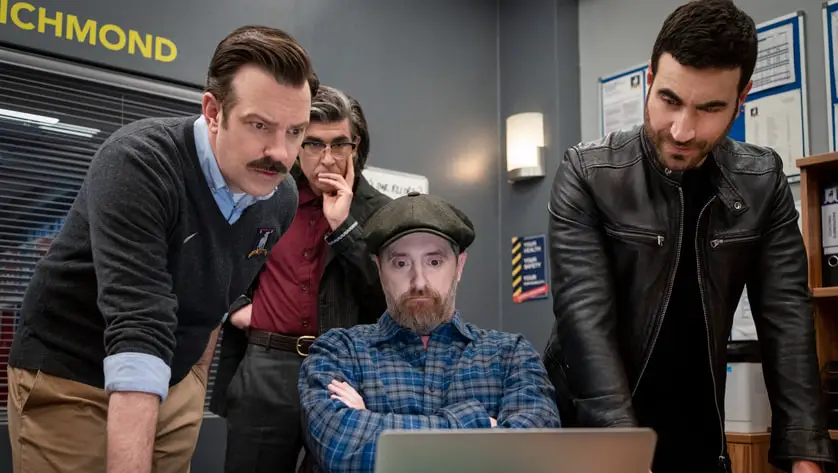 The following will contain spoilers for episode 3 of Apple TV's Ted Lasso. For a recap/review of last week's episode, click here. 
One thing about this silly little soccer show that streams on Apple TV+ is that it is actually a heartfelt ode to the severity of considering one's mental health and the mental health of those in a shared space. Ted Lasso has tackled real-life issues that people grapple with such as anxiety, depression, PTSD, adultery, suicide, and so much more that it's hard to understand how this series is such a comfort show for millions of viewers. However, it never shies away from using its characters and story to tell compelling stories of real people in the real world, and the latest episode, titled "Big Week", raises that bar even higher.
The setup for this week? A huge, anxiety-inducing showdown between Richmond and West Ham United, now owned by Rupert and coached by the traitorous Nate Shelley. All season long, Rebecca Welton has been obsessed with the idea of beating Rupert in every way she can, no matter what it does to herself and her surrounding relationships. This match between her team and Rupert's is the first big chance to shine in direct competition, and the moment is not wasted on her. However, she has relied heavily on the leadership skills of Ted Lasso. And Ted, perhaps through no fault of his own, is very distracted this week.
Following a sleepover with Sassy, Ted goes for it. He asks her to date him for real, rather than just hook up sometimes. In response, Sassy declines his advances by saying, "You're a mess." Now, while longtime viewers of the series can recognize that she is not wrong, telling this to Ted on what is one of the biggest weeks of his life sends him down a bit of an internal spiral. While his fellow coaches Roy and Beard focus on the task at hand, Ted struggles with the idea that he just might be a mess.
Thankfully, he's not the only one. Roy is desperate to beat Nate's West Ham but doesn't think they can. Keeley is nervous about meeting Jack, the person funding her new marketing firm, KJPR, as well as her new protégé Shandy going a bit rogue with her new ideas to push Bantr to the next level. Elsewhere, Jamie is feeling a bit unlike himself with the arrival and dominance of Zava. With his self-confidence rattled, he enlists the personal coaching services of Roy and the coaching services begin at 4 AM sharp. The ever-growing bond between Roy and Jamie has truly been a delight to witness this season. While many expected Jamie to immediately pursue Keeley following his declaration of love at Rebecca's dad's funeral last season, it is refreshing to see how he's grown emotionally since then. In fact, a telling moment within episode 4 is actually a moment where Keeley seems to be reminiscing on her past relationship with Jamie. Potentially an interesting plot point to follow going forward.
However, this episode is very clearly all about Richmond vs. West Ham and, in turn, Richmond vs. Nate. After a hilarious exchange between Zava and the boys, the team realizes that the BELIEVE sign has been ripped. This causes Trent Crimm, still present and still working on his book, to do some investigating and discover footage of Nate tearing the sign on his last night with the team. After bringing this to Coach and Beard, who subsequently bring it to Ted, Ted shuts it down. Not willing to stoop to the level of exposing Nate, who he still clearly cares about. However, his cohorts do not share the same sentiment. In fact, they are more confused with Ted for not hating Nate.
If you've followed the show since day one, you have a pretty good understanding of how Ted operates, you he comes from a place of complete empathy. Even when Nate was brutal and downright mean to Ted, he still has their picture up in his home next to his son's. Ted cares about people more than most around him, and it's infectious. So much so, this episode displays more of Rupert's emotional manipulation of Nate as Nate expresses a desire to apologize to Ted. Rupert shuts it down immediately, continuing his path of true villainy, the anti-Ted. When the big game arrives, the sequence of events and rapid plot progression has to be seen to be believed.
The big game arrives and tensions flare. Let's be real: it's been foreshadowed all season that, even with Zava, West Ham is simply the better team. Beard and Roy flat-out say they think Nate is a better coach and that they are completely outmatched. It does not go well for our heroes. So much so that Roy and Beard over-correct and show the footage of Nate destroying the BELIEVE sign to the team in the locker room to fire them up. And it definitely accomplishes that. Almost too much. The Greyhounds return to the field with violence and aggression that we've never seen from the typically easygoing lads. They still lose, but it reminds Nate that the consequences of his actions are still on their way to his doorstep, no matter how many wins he manages to rack up.
After 4 episodes, the third and final season of Ted Lasso is a third done. And, if comparing to the last two, it's on the best run of the series so far. The series feels can't miss every week, and the conversations and hype surrounding each episode have felt unlike anything seen for the last few years. How this story concludes is anybody's guess, but it's going to be one hell of a ride getting there. – Christian Hubbard 
Rating: 10/10
Ted Lasso Season 3 Episode 4 is now streaming on Apple TV+. 
---
Trending Now