'Ted Lasso' Season 3 Episode 3 "4-5-1" Review
---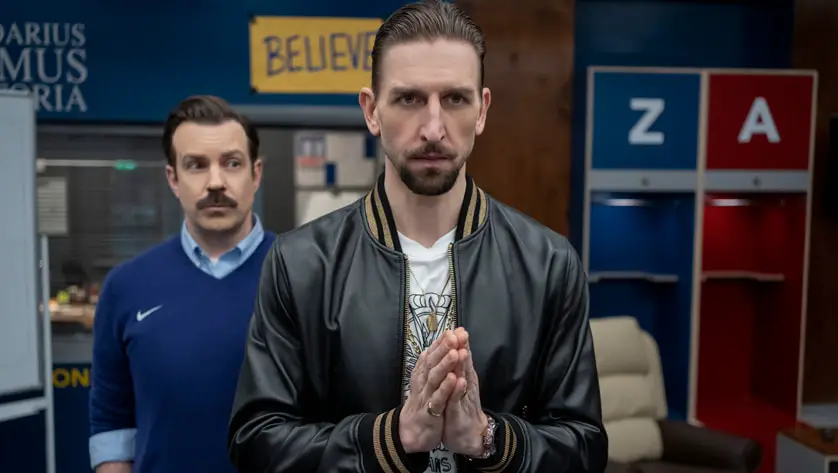 The following will contain spoilers for episode 3 of Apple TV's Ted Lasso. For a recap/review of last week's episode, click here. 
If you log onto Twitter on any given Wednesday following the premiere of another episode of Ted Lasso and click on the show's hashtag, you'll be met with a host of tweets from fans and critics alike that are praising the first two episodes of the season as some of the best in the entire series. And those tweets are entirely correct. So far, longtime fans of the show have been rewarded for their devotion with constant examples of character growth, a lot of tense, emotional beats, and some of the best comedic moments and performances that have ever been seen on Apple TV+. Now, the plot thickens with the new addition of a charismatic enigma in the locker room of AFC Richmond as the war between Ted, Rebecca, and the Greyhounds and Nate, Rupert, and West Ham continues to heat up, nearing its boiling point.
Surprisingly, episode 3 begins with a truly delightful cold open featuring one of the unspoken heroes of Ted Lasso, Colin Hughes (Billy Harris). For years, fans have clocked the footballer as being gay and the confirmation is finally here as he wakes up next greeted by an incredibly handsome man making him coffee. After a brief moment that allows us the chance to get to know him a little more, Colin delivers his trademark matter "I am a strong and capable man" and hops in his trademark Lamborghini, crashing it and causing the theme song to pause in a hilarious moment. What the open does is allow another opportunity to let a loveable character shine in a series that thrives when every member of its ensemble feels vital to the story. Hopefully, this begins a trend of smaller, more tender moments separate from the larger plot at play to shine a light on how each character lives away from the team.
However, the big story in episode three is not Colin and his continuous inability to drive his Lambo. It is the highly anticipated arrival of Zava (Maximilian Osinski), the big-time footballer who was being courted by every major club in the league before being coerced into joining Richmond by Rebecca. After a brief, and genuinely hilarious conversation between Ted, Beard, Roy, Higgins, and Trent Crimm about Julie Andrews and which of her performances is her favorite (easily my favorite moment of the entire episode), we see the current roster of Greyhounds talking about their excitement to bask in the presences of Zava upon his arrival.
Nerves are high all over Nelson Road, not just within the locker room. Although, while everyone is standing at attention in full anticipation of the legend's arrival, Jamie Tartt feels a bit of trepidation about possibly being overshadowed. There are several moments throughout episode three that display Jamie's reluctance to get aboard the Zava train. This new, sudden change will either light a fire under Jamie to continue bettering himself on and off the field or see him revert back to his old, selfish, brash ways seen in the first two seasons of Ted Lasso. This creates another thread for fans to follow as the season continues.
After Zava no-shows a huge event on the pitch that Rebecca throws to celebrate him, Zava suddenly appears in the locker room. Speaking in riddles and moving mysteriously, it's clear Zava is an entirely new sort of enigma to be reckoned with on the team. His charisma mixed with his sheer confident prowess forces not only the viewer but the characters within the show to keep an eye on his every move, wondering what his motivations may be. Is he truly the wise guru he comes off as, or is he working an angle?
While all this is happening, however, it's revealed that Rebecca Welton's anxiety is not all Zava-induced. Instead, she's been worn down by her slightly overbearing mother and decides to visit her mother's psychic, a truly jarring experience for the admitted cynic and skeptic. In real-time, episode three shows Rebecca Welton's inhibitions and veils of self-awareness meltaway after the psychic uses terms like "green matchbook" and "shite in knining armor" to tell Rebecca, a childless adult due to the cruelty and vanity of her wicked ex-husband, that she is going to be a mother. Expectedly, Rebecca acts viscerally and calls the psychic dangerous before storming out. This small moment teases a potential happy ending for Rebecca that fans have clamored for since the beginning of the show. Will the creative forces actually allow this tortured and traumatized woman something that resembles happiness and love and familial bonds? Personally, that will be the ideal ending to the series if season three truly is its conclusion and this moment with the psychic, crazy or not, begins to see the dream take shape.
When the big game in which Zava debuts for Richmond against the Wolverhampton Wanderers or the Wolves begins, it's clear the coaches have one thought in mind: get what they paid for out of the new acquisition and allow him to shine and lead the team to where they need to be. After Ted makes a quick phone call to his son back home and realizes his ex is dating a doctor that Ted is very familiar with, one might think Ted's panic attacks were about to return. However, to his credit, Ted perseveres, stands his ground, and commits to doing his job, a testament to the work he's put in with his therapist and prioritizing his mental health. It also doesn't hurt that Zava scores within the first few seconds of the game, kicking off a montage of his dominance leading to Richmond soaring up the ranks.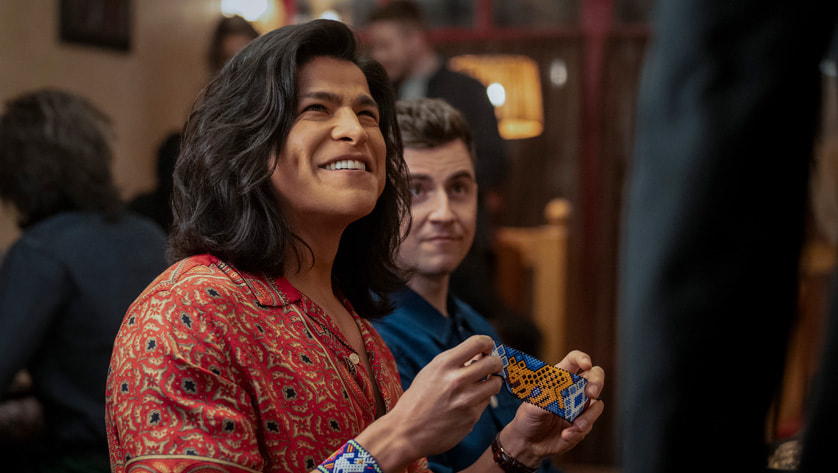 Within that same montage, however, we see key moments that show the slow, unwinding of characters like Ted, Rebecca, and even Roy. Ted obsesses over his ex's new boyfriend (apparently his former marriage counselor which is super messed up) while Rebecca obsesses with what the psychic said to her and Roy feels the distance between him and Keeley grow larger with each passing day. All this leads to a hype-fueled winning streak ending up in Sam's brand new Nigerian restaurant. The moments within the restaurant allow a rare moment of camaraderie and levity within the ensemble that feels both refreshing and charming. Another fine example of how season three is setting itself apart from its predecessors.
Season three does exactly what episode two did following the premiere, ups the ante. Each episode of season three so far has done a phenomenal job of getting each character to where they are inevitably supposed to end up: the very best versions of themselves. If it can keep this pace, season three is going to be the best Ted Lasso has ever been. – Christian Hubbard 
Rating: 10/10
Ted Lasso Season 3 Episode 3 is now streaming on Apple TV+. 
---
Trending Now