'Ted Lasso' Season 3 Episode 2 "(I Don't Want to Go to) Chelsea" Review
---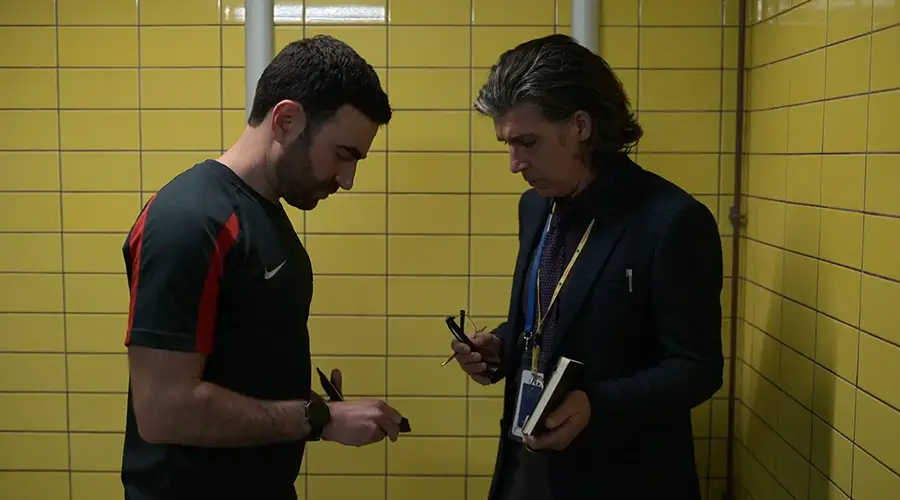 The following will contain spoilers for episode 2 of Apple TV's Ted Lasso. For a recap/review of last week's episode, click here. 
We are back with episode 2 of the show once again taking the world by storm, Apple TV's Ted Lasso. While the events of episode 1 served as both a reminder of what came before and a teaser for what's next, episode 2 quickly furthers the plot in a few unexpected ways. Once again the writing is crisp, the performances are sharp, and the developments occurring over the course of its slightly shorter runtime feel organic and true to the nature of the show.
An exciting development taking place almost immediately in the second installment of season three is a presumed expansion in the role of James Lance's Trent Crimm. Since breaking the news about Ted's panic attack, at the behest of Nate, Crimm has decided to shift his career aspirations a bit. Instead of serving as a sports journalist for The Independent newspaper, Trent Crimm is now independently working on a non-fiction book about the story of AFC Richmond as they struggle to climb out of regulation. He seeks, and gains, approval to follow the gang around over the course of the upcoming season to jot down his impressions. Adding Crimm to the ensemble of characters is a fun addition for sure. The gang has a new player to trade quips with, and his dynamic with characters like Roy Kent (Brett Goldstein) is apparently a thread that will need to be followed over the course of the next few episodes.
The world all took a collective sigh of disappointment when it was revealed that Roy and Keely were breaking up. Unfortunately, the vague ending caused far more questions for fans over the last week, with many seeing it as an opening for Jamie Tartt to reunite with his ex-girlfriend. However, when it is Jamie who picks up on the suddenly different boy language between Roy and Keeley, he moves in to comfort Roy, in a surprising turn of events. One of my biggest takeaways from the season three premiere was the character development of Jamie Tartt. From his overwhelming positivity when Nate's harsh comments were revealed to his usage of Ted Lasso-esque jargon, Jamie Tartt is poised to go from absolutely selfish and self-centered hot head to a genuine team player with nothing but love and support in his heart for his friends and teammates.
Elsewhere, Ted has been tasked by Rebecca to do whatever he can to ensure victory against Rupert's team, West Ham. The first major move in this endeavor is to add a new member to the team in the form of an absolute fútbol legend named Zava. The name alone strikes admiration and excitement in all who hear it. However, there appears to be a bit of writing on the wall. Is this the right time to bring a new force of nature? Just as the team is finally beginning to gel? It will be interesting to see how this plays out, especially given most of the sports pundits have picked AFC Richmond to come in last place in the league. Do they even stand a chance at gaining the attention and the services of Zava?
The episode kicks it into high gear rather quickly, which is always welcomed when there is so much story to tell and only a limited number of episodes with which to tell it. Shortly after the team discovers that Roy and Keeley have split up, the team is shipped off to battle the legendary Chelsea team at an away game. This becomes a battleground for several of the narrative threads I mentioned earlier. Along with his heart being broken over Keeley, Roy carries with him a bit of trepidation towards and mistrust for Trent Crimm.
This tension comes to a head amidst the game against Chelsea when Roy, to his credit, expresses his fair share of vulnerability when he admits that Trent once published something cruel about him while he was just a young man getting his start as a pro athlete. The moment shared between Roy and Trent is palpable in its earnestness and allows Brett Goldstein, a chance to stand in the spotlight of an emotional beat and knock it clear out of the park. It may very well be one of the most touching moments in the entirety of Ted Lasso season three. When the dust settles on Ted Lasso, a rewatch is going to feel like some of the most remarkable examples of proper character growth for so many of these beloved characters.
While Zava is courted by the glitz and the glamour of the presumed lifestyle of Rupert in the crowd of the Chelsea game, one would imagine it is the wholesome pleas of respect and camaraderie of the Richmond team from Ted that sways the superstar. However, in an absolutely stunning move, it is Rebecca who corners Zava in the bathroom with an appeal of working for and celebrating the underdog that brings him around. The episode ends with the outlandish Zava accepting the deal and agreeing to join Richmond.
For fans of Ted Lasso, it's truly about the feeling of hopefulness when it comes to the characters they've followed for three years. And, so far, season three promises to deliver a healthy number of character-defining moments that will have made the entire ride worthwhile and worthy of revisiting for years to come. – Christian Hubbard 
Rating: 9/10
Ted Lasso Season 3 Episode 2 is now streaming on Apple TV+. 
---
Trending Now