'Shazam! Fury of the Gods' Review: "Lightning Strikes Twice"
---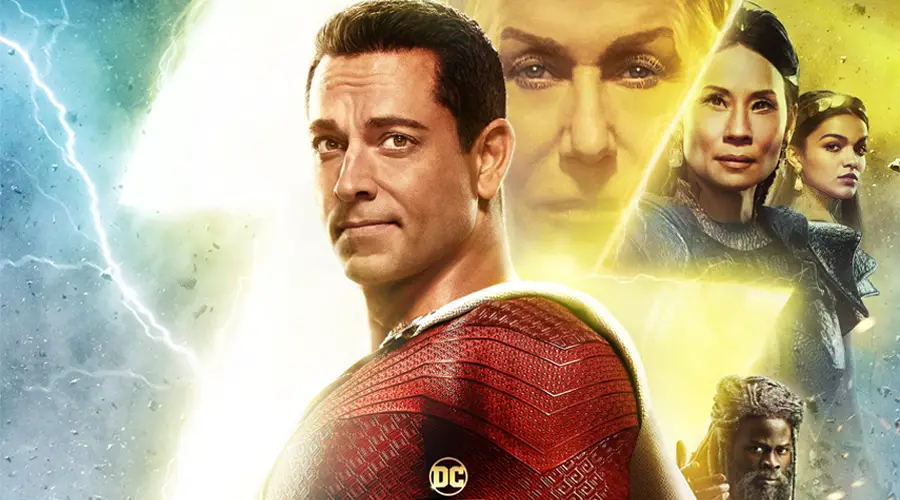 A returning cast and crew is not always a guarantee that a sequel will replicate the charms of its predecessor. Nevertheless, Shazam! Fury of the Gods tries its hardest to capture the successes of its 2019 original. In addition to most of the cast returning, several key crew members come back to keep this series afloat. The good news is that while it expands its horizons this time, it still grounds itself in family. Additionally, the joys of being a child with superpowers lend to many moments of cheesy fun. And like before, none of it ever gets so ridiculous that it distracts from the narrative.
Set four years after the original, Shazam! Fury of the Gods focuses yet again on Billy Batson (Asher Angel/Zachary Levi). This time, he's close to aging out of foster care and struggling with his fear of abandonment. Thus, he holds on to all of his family tight, refusing to let them spread their wings. It comes to the detriment of the team. Typically dealing with five other superheroes could prove detrimental to ensuring Shazam is the main focus. Here, though, writers Henry Gayden and Chris Morgan succeed at keeping the focus on Billy, with only a few scenes dedicated to his foster brother Freddy (Jack Dylan Grazer/Adam Brody).

But this is not solely dedicated to showing Billy's journey as a leader and as a growing adolescent. Back in the previous film, he made the choice to destroy the staff that gave him his powers in order to stop that film's antagonist. As it turns out, this created a bridge between worlds, which eventually results in the arrival of the Daughters of Atlas. And based on the rage bursting from daughters Hespera (Helen Mirren) and Kalypso (Lucy Liu), it's clear they will stop at nothing to bring Billy and his family down.
Taking these story elements together, it's not a surprise that not everything gets tender loving care. This is most apparent in Freddy's solo adventures, which are both strenuous and repetitive. He acts very similar to how Billy acted in the first film where Freddy constantly lost his mind with him, and now turns around and acts identically. Of course, it justifies this character development by saying this is how kids generally act. Still, you would think Freddy would recognize that he's going through the same motions as Billy.
At least the movie gets the benefit of having a terrific cast. Levi shines once again, but Angel truly comes into his own as he takes on the more layered arc of Billy. The villains are quite engaging as well, with Liu having a lot of fun as the most diabolical one of the bunch. In fact, her versatility is so palpable that it makes me want to back and watch Elementary. Even someone like Rachel Zegler stands out despite receiving the most wishy-washy character on the page. If nothing else, her scenes with Grazer are a clear sign she makes for an effective love interest.
The best thing Shazam! Fury of the Gods has going for itself is the humor, and how much family matters in the grand scheme of things. Seeing the six Marvels work together even with their dysfunctional family dynamics is so grand. It just reminds you of how much intimacy in a big-budget spectacle movie matters. Not just because of the family aspect, but also because of the diversity and LGBTQ+ representation on screen. The laughs are cheesy, but they all hit at the right spots, and keep the levity when the stakes were raised from Shazam!.

Overall, Shazam! Fury of the Gods keeps many of the elements that made Shazam! delightful. The family moments – whether it's at the Rock of Eternity or at their home – are fantastic, and it balances action and comedy as well as one would hope. It's certainly not flawless, not with the presence of blatant product placement and sometimes dodgy special effects. But as the follow-up to one of my favorite superhero movies in recent years, you can do a whole lot worse. – Katie Rentschler
Rating: 8.5/10
Shazam! Fury of the Gods is in theaters now.
—–
Did you like this article? If so, consider visiting our YouTube channel, where we discuss the latest and greatest in pop culture news.
---
Trending Now