'Renfield' Review: "Fascinating Concept, Disappointing Execution"
---
Dracula has found new life time and again thanks to the countless films featuring him in some capacity. What makes Renfield interesting is how the film decides to give the iconic character much more of a background role. This is despite the fact that an actor as talented and unhinged as Nicolas Cage gets to play him. Titled after Nicholas Hoult's subservient character, Chris McKay's film is nowhere near as compelling as it could be. The film focuses on the toxic relationship between Dracula and Renfield, providing an empathetic and human perspective on this larger-than-life horrific supernatural story. 
However, after a few questions are posed regarding Renfield's arguably reprehensible actions, Renfield doesn't do much to address these moral conundrums any further. Instead, McKay and company decide to go down the archetypal action movie path. Renfield sets aside the exciting concept of its premise for something more basic, ultimately hindering the movie and insulting its highly talented cast and crew. 

At least the cast does their best with the material. Hoult's Renfield is a surprisingly wholesome character, albeit without much depth. The character truly wants to move on from the centuries-long toxic relationship he's had with Dracula. When the movie showcases Renfield moving on or butting heads with his master, Renfield truly becomes entertaining. Along for the ride is Rebecca Quincy (Awkwafina), a police officer with her own battle going on with the corruption in her department due to the powerful Lobo crime family, with the face of the organization being the obnoxious Teddy (Ben Schwartz). 
Renfield and Rebecca's relationship is the film's weak point, and the entire crime family angle of the story feels wholly unnecessary. Renfield shines most as a character when bouncing off Dracula or discovering his humanity alone. Whenever the film moves to the comically underwritten police corruption plot, it becomes tough to remain interested in Renfield. If there's any reason to watch this film, it's to see Cage ham it up as Dracula. Whenever Cage appears, Renfield becomes a much more bearable film thanks to the Universal monster shenanigans.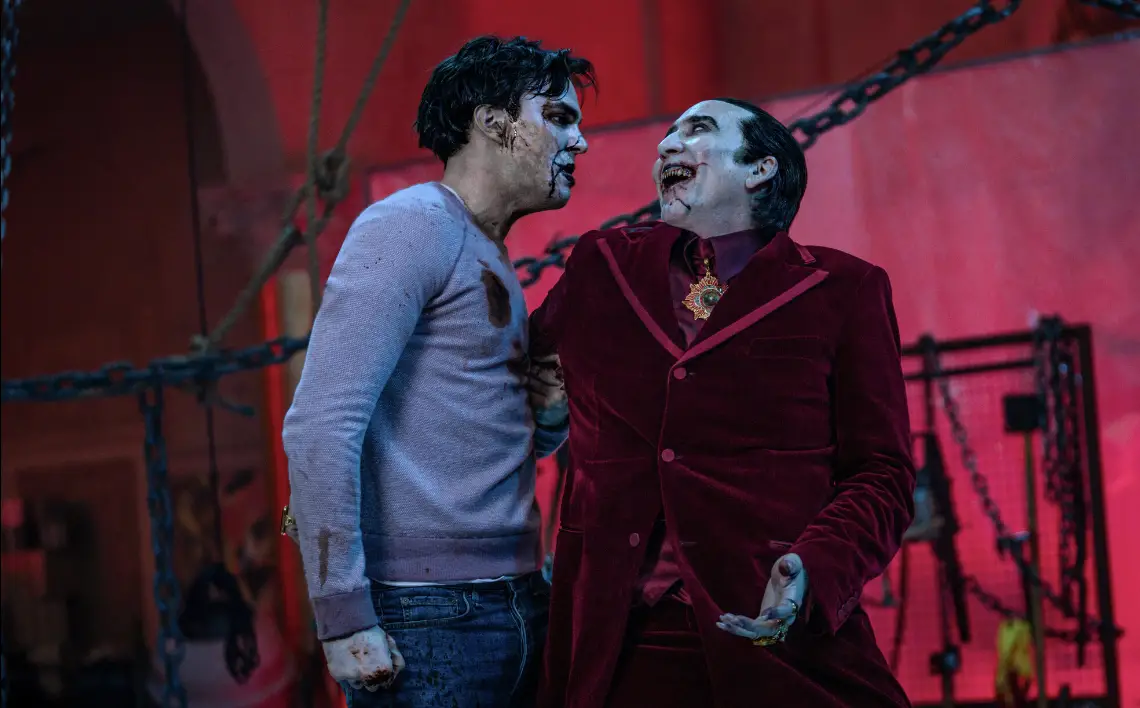 It isn't all just silly, either. There is plenty of blood-sucking monster mayhem in Renfield. The vampire's regeneration isn't pretty either, and the route of practical makeup and effects for Dracula is the most impressive part of the film. Equal parts terrifying and hilarious, Dracula's unsensible nature and self-centeredness don't just affect Renfield but also lead to several rampages.
Included in these bloody rampages are some interesting action scenes. Unfortunately, as hyper-violent as they are, these scenes fall flat because of the quick-cut editing and poorly rendered CGI blood. All of the action and the criminal family plotline eventually intersect with Dracula and his motives for world domination. Sadly, the film's third act is a strange conclusion with stakes that don't feel grounded in genuine emotion. Renfield's final face-off with Dracula is entertaining enough. Still, the way Ridley and McKay decide to tie up loose ends and fascinating moral quandaries snuffs out any chance for the film to explore intriguing themes.

Overall, Renfield feels like so much lost potential. The exploration of Dracula's Familiar through a modern lens feels like a film that writes itself. Unfortunately, quirky jokes take precedence over the interesting moral dilemmas Renfield faces in the movie. If you're interested in seeing Nicolas Cage ham it up and tear people apart as Dracula, this is the movie for you. However, don't expect much else outside of a fascinating concept for a horror comedy film. If you want to see a project like this done right, watch What We Do in the Shadows instead. – Ernesto Valenzuela
Rating: 4/10
Renfield is now playing in theaters.
—–
Did you like this article? If so, consider visiting our YouTube channel, where we discuss the latest and greatest in pop culture news.
---
Trending Now