'The Righteous Gemstones' Season 2 Episode 9 Recap/Review: "I Will Tell of All Your Deeds"
---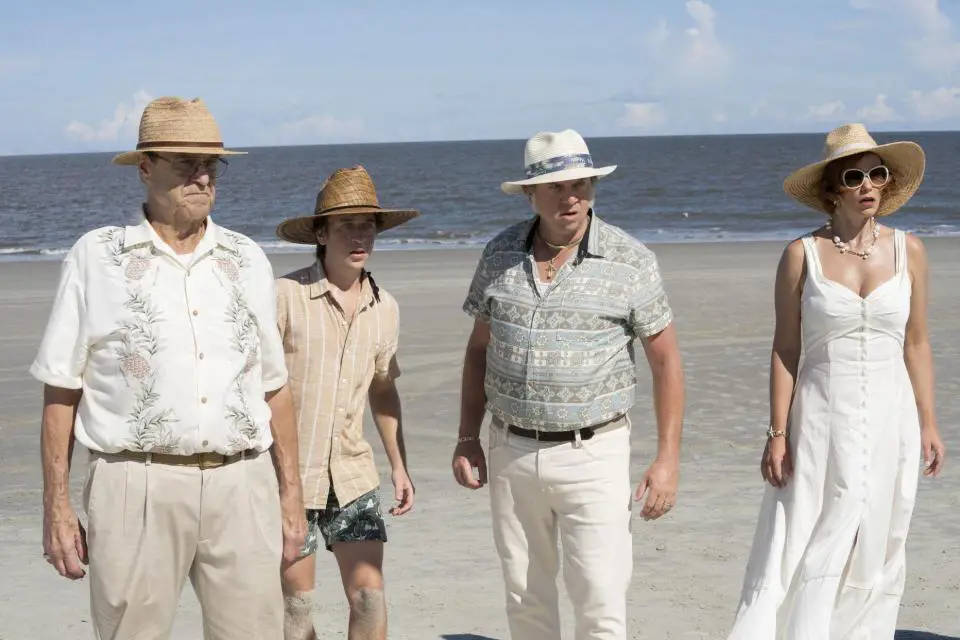 The following will contain spoilers for The Righteous Gemstones season 2, episode 9. For last week's recap/review, click here.
For the past nine weeks, The Righteous Gemstones has been a God send. Hilarious, gripping, totally one-of-a-kind television. I'm not gonna beat around the bush: it sticks the landing. Hard. It's going to be very difficult for me not to spend this entire recap gushing about what a miracle it is this show even exists, so lets get down to brass tacks. The season finale of season 2 of The Righteous Gemstones, "I Will Tell of All Your Deeds" is a loose reference to Psalm 71:15. Verse in question involves a proclamation to God of faith, and dedication to spreading of the Gospel. Here, the meanings a lot more literal: we're going to meet the person responsible for the conspiracy against the Gemstones.
Lyle Lissons (Eric Andre) sits in the home of reporter Thaniel Block (Jason Schwartzman) in flashback. Immediately, the pieces are beginning to click together. Block demands dirt on the Gemstones from Lissons, who has been ratting out the misdeeds of rival preachers. Lyle refuses, having recently entered into business with Jesse (Danny McBride). Block is having none of this, threatening to expose Lissons for his own "inappropriate relationship" with boys in his congregation. Yikes. Lyle immediately recoils, going back to his car. In the car are his fellow preachers, unaware they've ratted on him. They equip themselves with grenades (ha!) of all things, stepping up to the homestead. In a way, there's a funny parallel between Lisson's men and the rag tag crew that Jesse put together in season 1.
A gunfight, with various explosions via the grenades, ensues. As Lyle goes in to check on Thaniel, Thaniel fires a bullet that ricochets and kills himself. Confused, relieved, and, well, confused, Lyle goes back out to his men when, to add the mess of everything else going on, drops their grenade and blows all of his accomplices up. Thaniel hides as the Gemstones arrive. As an opening scene, this sequence absolutely kills in more ways than one. Retcons are a tricky business for a show to pull off, but to get us into our home stretch, having something this absurd and memorable open our finale is a slam dunk of a choice.
Cut to the present day, at the groundbreaking of Zion's Landing. Merriment and mirth is had by all. All except for Tiffany (Valyn Hall), who is upset by the reappearance of "Baby Billy" Freeman (Walton Goggins). Humbled by his experience with Harmon, or so he claims, he begs Tiffany to take him back so they can raise the child together. Nevertheless, Judy (Edi Patterson) steps in to defend Tiffany's honor. Tiffany is torn to stay strong or go back to Billy, opting for the third option: going to the restroom. When she arrives there, her history repeats itself. Her water brakes, and she gives birth to her child who falls into the toilet. Here, Baby Billy  jumps in, grabbing the baby and holding it up like a blue chemical covered Simba, proclaiming "you's a toilet baby!". You can't get much better television than this moment.

Likewise, the party is spoiled for Eli Gemstone (John Goodman). He receives a call from Junior (Eric Roberts) who informs him that the motorcycle gang finds it origin at Lyle Lissons' orphanage. I'll be honest, that gave me a bit of relief to find that was the extent of their "inappropriate relationship" with Lyle. At the same time, Lyle is walking down the beach with Jesse, where he confesses to his crimes. An enraged Jesse, despite Lyle's pleas of "don't be mad" begins scuffling with him on the sand. The entire Gemstone clan comes to Jesse's aid, but so does Lyle's wife Lindy (Jessica Lowe). And she's brandishing a gun!
They attempt to take BJ (Tim Baltz) hostage, drawing the rage of Eli, who proclaims BJ as part of the family. The payoffs just keep coming! The Lissons escape into the wind. Despite this, it's a happy ending had by all. Eli decides to make Zion's Landing a Gemstone venture, Kelvin and Keefe (Tony Cavalero) start a youth fitness program, Gideon (Skyler Gisondo) is doing a movie with his parents' support, and Baby Billy and Tiffany go off to raise their child together. Judy is sad that her and BJ are now empty nesters, wondering if BJ will still love her after they have kids of their own. To her query, BJ responds in only the most romantic of ways, promising to "bang [her] played out mother pussy" no matter what. The English language exists for this kind of comic dialogue.
Don't think the Lissons are forgotten about. Martin (Gregory Alan Williams) hires the motorcycle boys to go track them down. There they're found living up North in relative comfort. Their arrival ends that. They gun Lindy down and send Lyle out into the snow. The next morning, he's frozen dead, as wolves circle around him. At the start of the season, I couldn't have predicted where this season would end. Creator Jody Hill, directing this episode, brings everything home in a manner that's not simply perfect, it's poetic.
In an age where HBO programs such as Succession and Euphoria dominate the cultural conversation, The Righteous Gemstones quietly became the true must-see show on television. Going to some truly ridiculous places in its sophomore season, it manages to weave in crime, melodrama, and an earnestness that's rare in prestige productions of this scale. Its renewal for a third season was announced in January, and thank god, for The Righteous Gemstones is heaven sent. –James Preston Poole
Episode Rating: 10/10
Season Rating: 9.2/10
Both seasons of The Righteous Gemstones are available to stream in their entirety on HBO Max.
---
Trending Now