'The Batman' Spoiler Review: "An Epic Crime Thriller"
---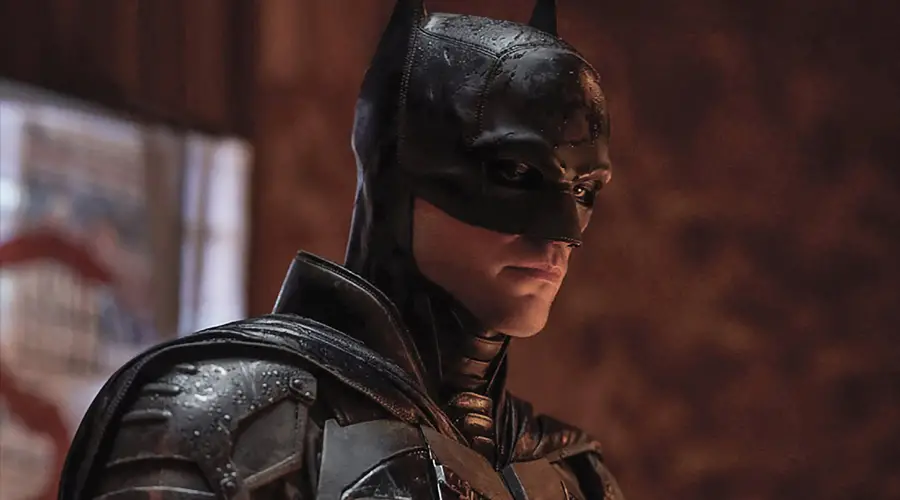 Warning – The following review contains major spoilers for The Batman. For our spoiler-free review click here.
After years of anticipation and endless rumors, The Batman is now playing in theaters. Matt Reeves' first foray into the superhero world tackles the Dark Knight in a grounded yet faithful adaptation of some of the greatest parts of the source material. Robert Pattinson leads a star-studded affair that has more in common with Se7en and Zodiac than any comic-book film. A complex, enthralling narrative that is to be unpacked, reflected upon, and theorized in this spoiler-filled review. That said, this won't be a play-by-play review. Instead, this will cover the most important and juicy sections of the three-hour noir epic.
It is clear from the opening sequence that, much like its protagonist, The Batman doesn't pull any punches. The first minutes serve as our introduction to the antagonist, a serial killer who is targeting Gotham's elite, starting with the mayor. As the Riddler stalks his prey and his family, the audience is treated to his point of view. A remarkable choice by Reeves, the scene quickly becomes horror-tinged, as the Riddler murders the mayor after moving unnoticed in the penthouse. This is a crime thriller, one that contains a mystery only the world's greatest detective can solve.

Unlike previous live-action adaptations of the source material, this film is not interested in telling Bruce Wayne's entire origin story. The Batman takes place in the vigilante's second year operating in Gotham City. This is a Gotham where criminals already have to think twice about walking into the shadows. Batman: Year One's influence on this version of Batman and Gotham City is palpable. Bruce narrates whilst walking unnoticed in the crowded streets. A drifter who contemplates whether or not he is making an actual difference in this cesspool of a city. The vigilante fights every night for the soul of the city with no hope in sight. However, that doesn't stop Bruce from trying.
His relationship with the police force is strained from the start, despite having a positive dynamic with Detective Gordon. When Batman investigates the first crime scene, it's clear Gordon is the only one comfortable with the vigilante's presence. Which says a lot about the corruption within the force, but says more about how much they trust each other. With every crime scene, the two detectives get to team up and try to crack the puzzle together in some of the film's most enjoyable moments. When Batman has to escape the police precinct, Gordon doesn't hesitate to help him get out of there. Jeffrey Wright is pitch-perfect casting that will hopefully continue to pay off in future sequels.
As Batman begins to uncover more clues about the murder of the mayor, it leads him to the Iceberg Lounge, the Penguin's main place of residence. It's a consistently recurring location, one that serves as a haven for corrupt government officials and the criminal underworld, including Carmine Falcone. As with Collin Farrell in his role, John Turturro deserves a lot of praise, pulling off a comic-accurate, intimidating crime boss that has a distinct personality only the Emmy-winning actor can pull off. His presence in the narrative is purposely underplayed in the marketing when in reality he serves as the main piece of the Riddler's puzzle. Falcone also serves as an important connection to Selina Kyle, who has a bone to pick with him.

To no one's shock, Zoë Kravitz embodies Catwoman in a way that no other live-action interpretation has thus far. The moment Batman sees her in the Iceberg Lounge, he's magnetized by her presence. Through their interactions, we learn that, much like Bruce, she is a stray. However, she doesn't have the wealth or power he obtained through inheritance. She is a cat burglar, someone who does what she can to provide for herself and her loved ones. A survivor out of necessity in a city drenched in poverty and corruption. Her alliance with Batman is also born out of necessity. However, perhaps they were always meant to meet each other, a necessity for their personal journeys. They team up to save others but also end up saving themselves. 
As the narrative unfolds, the seedy legacy of Thomas Wayne begins to form part of Gotham's hopeless past and present. In a direct nod to The Long Halloween, Falcone reveals that Thomas Wayne had saved his life by conducting surgery on his heart in Wayne Manor. The Wayne Renewal Program, a project begun by Bruce's father to help the disenfranchised, leaves a stain of false hope and promises that politicians often leave. The program is upheld by the deceased mayor, used as a front to funnel money to the criminal underworld. As the truth behind Thomas' bid for mayorship is slowly unveiled, the deep corruption that resides in the highest places of Gotham City becomes more apparent. And most personally, the sins of Wayne's past.

The other half of Bruce's parents, Martha Wayne, suffered from an undisclosed mental illness and was in and out of Arkham Asylum. The Riddler reveals on national television that when Thomas found out a reporter was digging up dirt and intended to make Martha's past public, he had him silenced by Falcone. However, Thomas didn't want him dead, claims Alfred, just spooked enough to stop digging. Thomas was distraught about the murder and was going to rat out Falcone to the cops. The rest is Batman origin history.
Nevertheless, one major easter egg sticks out like a sore thumb. When Riddler revealed the truth about Thomas and the reporter. Reeves continues to pull from his bag by referencing the Elliots, then having Riddler display the word "HUSH" on screen in bright lettering. The reference to the popular Batman villain could just be a neat nod for the fans, but there is a distinct feeling that this thread will be picked up sometime in the future.

The identity crisis Bruce goes through is a vital part of the film's emotional foundation. The revelations regarding his father shake him to his core. Making him question everything he's ever done. And while Alfred does shed light on how Thomas was still a good man, his actions forever changed Gotham's trajectory for the worst. However, this information allows for Bruce to reconcile with Alfred. Before this, his own relationship with Alfred showed signs of deterioration. Bruce could hardly look him straight into the eyes without firing a snarky, hurtful remark. However, after Alfred was put into the hospital by the Riddler, the fear of losing someone he loved returned. Instead of heading down another path of self-destruction, the reveal becomes a turning point in Bruce's journey, a means to understand what truly matters and the dangers of power.
Meanwhile, Selina's place in the overarching narrative is solidified even further when she reveals to Batman that her father is Carmine Falcone. Her mother worked in the club and had Falcone's child, but when she was killed, the mob boss elected to leave Selina to CPS as an orphan. She is now hellbent on getting revenge for her friend and collecting what's owed to her.
When she has an opportunity to kill one of Falcone's goons, Batman tries to stop her, attempting to appeal to his own morality. It's only when she has a gun pointed at her own father, the one directly responsible for the death of her friend, Batman is able to get change her mind. Not by chastising her on what it means to do the wrong or right thing, but by sympathizing with her. He now knows how destructive vengeance can be, how unfulfilling it feels to pursue it every night to no end.

On the other hand, unbridled vengeance is exemplified by the Riddler. Orphaned as a young child, he is a victim of the fallout of Wayne's campaign and Renewal's failure. No longer a tool for Thomas Wayne's mayoral campaign, the orphanage he resided in became abandoned, left to the rats that would gnaw on his toes. He continued to suffer from the city as an adult when the Renewal program never lived up to its promise. The arrival of Batman allowed for a means to an end, a physical weapon to be manipulated. Despite any tease that he may have known Batman's identity, the Riddler truly believed the Dark Knight was his partner-in-crime. Someone who was equally frustrated with the state of the city. But that was only half true.
In the end, the Riddler's plan worked. He got Batman to work for him, to solve his riddles and expose Falcone into the light. He purposely gets put into Arkham, away from the metropolis. The corruption of Gotham is being exposed, but the Riddler has one last act to perform in the city. The Riddler organizes his small following on the internet to stage a mass flooding of Gotham City. A series of explosions erupt, and water flows rapidly through the streets. The villain plans to force Gotham Square as a place of refuge, where newly elected mayor Bella Reál is holding an event. A diabolical bid to share his pain with others and leave the city up for grabs. 

Although the action in the third act is incredibly exciting, the main takeaway is Batman's unrelenting spirit. Batman doesn't hesitate to sacrifice his own life to prevent a live wire from touching the water, shocking himself in the process. A force of nature that refuses to let up. Eventually, The Batman emerges from the water to help those in need in the rubble. Holding out his hand to the mayor's son in an emotionally cathartic moment. He then lights a path for them, guiding them through the murky waters into a city that remains as broken as ever, but now has the truth to fight back. 
Bruce's narration returns to explain his newfound purpose as the brooding caped crusader. To become a symbol of hope to the people of Gotham, instead of just a catalyst for unbridled vengeance. Reeves's script has Bruce develop through an arc that has every moment in the film affecting him. From the revelation of his parent's criminal underworld connection to his newfound relationship with Catwoman. In the film's final sequence, the two orphans share a moment with each other at the cemetery, before Selina heads off for Blüdhaven and the Dark Knight heads back to a sunken Gotham City. 
As the dust settles from Riddler's final act, the serial killer resides in Arkham. In a shocking sequence, the Riddler interacts with a man next to his cell. Someone who speaks about being a "clown". The man is none other than the Joker, played by Eternals star Barry Keoghan. The star's face is concealed by shadows, but a strange hairstyle and heavy amount of scarring can be observed. And, of course, a creepy laugh can be heard after sharing a good ol' fashion riddle. Unfortunately, the scene comes off slightly heavy-handed in a film where the sequel set-up is more subdued. There isn't doubt that Matt Reeves will utilize both villains well in future installments. However, this scene, in particular, felt out of place.
A film that heavily borrows from the comics, Reeves constructs a gritty crime thriller. Moreover, one that never loses sight of its main hero's characterization. Unlike other adaptations, this film's vehemently dedicated to putting Batman at the forefront as a detective who packs a punch but is just as effective in studying a murder scene. Combine that with incredible technical achievements across the board, this is a superhero film for the ages and unlike any other blockbuster in recent memory. – Marcos Melendez
Rating: 9/10
The Batman is now playing in theaters.
---
Trending Now