'The Righteous Gemstones' Season 2 Episode 8 Recap/Review: "The Prayer of a Righteous Man"
Posted On February 26, 2022
---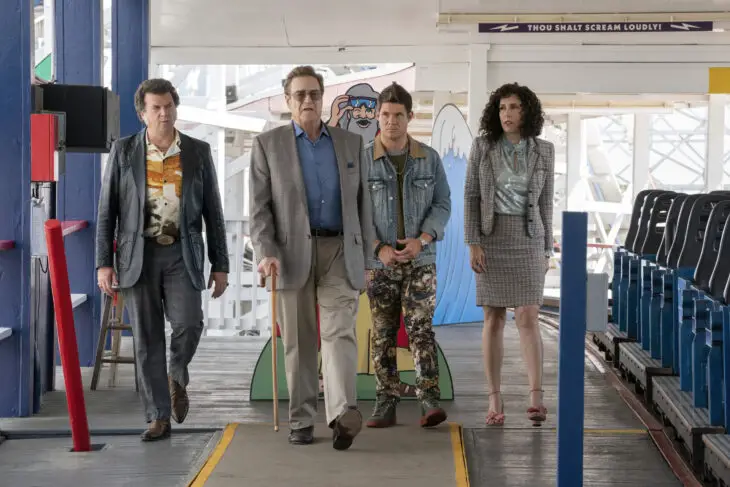 The following will contain spoilers for The Righteous Gemstones season 2, episode 8. For last week's recap/review, click here.
This week on The Righteous Gemstones, there's so much to cover that it might as well be a feature film. "The Prayer of a Righteous Man" represents the show firing on all cylinders, including its title. Said title is an excerpt of James 5:16, a verse in the King James Version of the Bible reading: "Confess your faults one to another, and pray one for another, that ye may be healed. The effectual fervent prayer of a righteous man availeth much.". Ergo, genuine faith can be a boon to those who believe. The "righteous man" is none other than Eli Gemstone (John Goodman), whose faith in his family gets a restoration in this installment.
Before we get into all that, we have a flashback of Glendon Marsh Jr, or "Junior" (Eric Roberts) in 1993 meeting with his father to take over the family business. Glendon Marsh Sr. relents, opting to retire. In a cruel twist of fate, once their family business starts actually making money, Sr. steals all the money to skip town. We now know that he really tried to launder all the money through the Gemstone church, leading to his demise at the hands of Eli's father. These opening scenes add an extra layer of depth to Junior, Glendon, and the season as a whole.
In the present day, Eli, now awake from his coma, thanks to the Gemstone children for their aiding him in his recovery. He expresses deep love for each one of them, save for Jesse (Danny McBride), who seemingly isn't given much credit for his part in catching the motorcycle assassins. Speaking of, they're unmasked as regular blue-collar mercenaries. We don't know who hired them, but at this point, it doesn't matter. Kelvin (Adam DeVine) and Judy bask in their father's appreciation, putting it to good use.
For Judy's end, she prevents Tiffany (Valyn Hall) from leaving the Gemstone compound, claiming that she is a Gemstone. Judy's growing fondness of the puppy dog-like Tiffany reaches a brilliant climax here. Tiffany accidentally says the quiet part out loud: she's basically Judy and BJ's adopted daughter by this point. By far the funniest sequence of this episode has to be Kelvin's confrontation of the God Squad. Opting to make one last try for leadership, he undergoes the test of bearing the cross. Only this time, he succeeds in a moment reminiscent of a biblical epic. Keefe (Tony Cavalero) falls to his knees in sheer admiration. With the power of God within him, Kelvin emphatically screams "Get the fuck out of my house!". Move over, Ten Commandments!

Earlier I said Jesse wasn't getting recognized. It even leads to a spat between himself and his wife Amber (Cassidy Freeman). That changes dramatically. Eli pulls Jesse aside, finally giving him his due, and agreeing to give him the funding for Zion's Landing. This sweet moment finds itself overshadowed by the implications of this for the endgame of The Righteous Gemstones season 2. It's been a while since the Texas couple the Lissons were mentioned, so the Zion's Landing waterpark being mentioned out of nowhere adds more credence to the theory that the Lissons are responsible for the goings-on of the motorbike assassins.
Never mind that for the time being. A huge plot thread of season 2 comes to a head when "Baby Billy" Freeman (Walton Goggins) arrives at the destination he ran away to. Turns out, it's none other than the doorstep of his full-grown son, Harmon… played by Macauly Culkin! Harmon is quiet, mostly indifferent to Billy's attempts to reconcile to him. He heartbreakingly admits that his mom told him that Baby Billy transformed into their family cat. "Well, meow meow son", Billy retorts. For as funny as the moment is, it increases the discomfort. Their reunion is cringe-worthy, deeply sad, and awkward awkward awkward. Until Harmon makes a request: he'll forgive Baby Billy if he can punch him in the face. One time. Really hard. Billy accepts, getting himself rocked to the ground, followed by a smirk from Harmon, helping his father up. It's not perfect, but it's a start to them working things out. Props to Culkin, Goggins, and director David Gordon Green for nailing so many distinct tones within the span of a scene.

And now back to the primary Gemstones! Eli calls together a meeting of the family at the Exodus rollercoaster, finally confessing to the murder his father committed. They take it surprisingly well, until he begins to express that he wants to come clean with Junior. They express deep reservations about that plan, and he recants his plan. Or does he? During Sunday service, he's nowhere to be found. He comes to Junior's door, gun in Junior's hand. Face to face in the ring, Eli tells the truth. Junior… is accepting of what he's done, screwed over by his father as well. However, he drops an interesting tidbit: he's not the one who hired the motorbike assassins. In a scene straight out of one of the Batman: Arkham Asylum games, the motorbike assassins bust out of prison, seemingly riding towards their master.
"The Prayer of a Righteous Man" is as strong a case as any for creators Danny McBride and Jody Hill as genuine television auteurs. They've been honing their craft with several collaborations, working this series up into something bigger than only a comedy. The Righteous Gemstones has a level of control with character works, gags, action, drama, and even a tinge of horror and profundity that makes it the most exciting show of this era of television. We have our episode to submit to the Emmys. –James Preston Poole
Episode Rating: 10/10
Season Rating: 9.1/10
---
Trending Now