'The Righteous Gemstones' Season 2 Episode 7 Recap/Review: "And Infants Shall Rule Over Them:"
Posted On February 20, 2022
---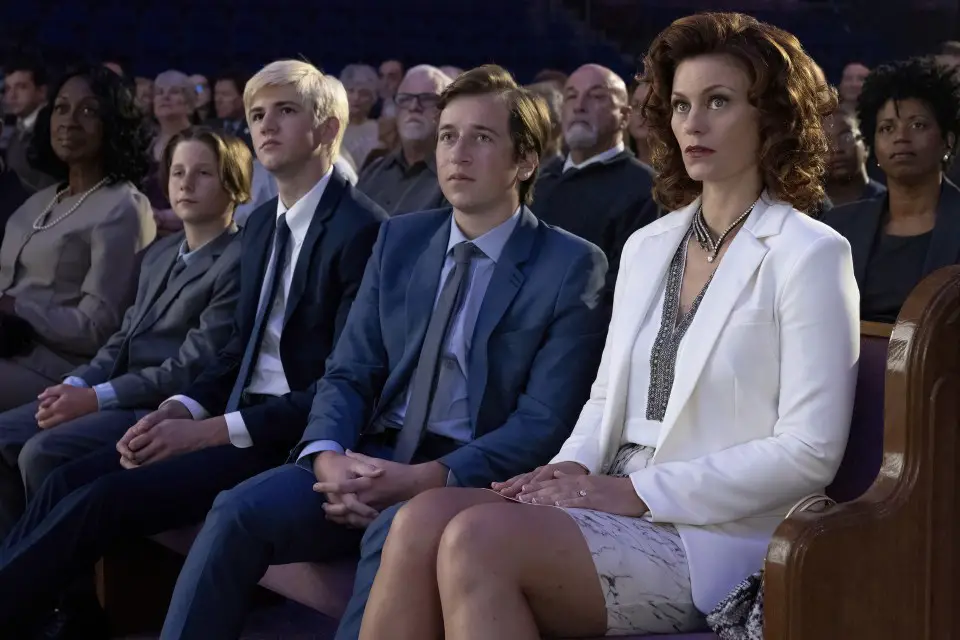 The following will contain spoilers for The Righteous Gemstones season 2, episode 7. For last week's recap/review, click here.
Last week on The Righteous Gemstones, Eli Gemstone (John Goodman) met an uncertain fate gunned down by the same perpetrators who took shots at Jesse (Danny McBride) and Amber(Cassidy Freeman). Episode 7 of this season, titled "And Infants Shall Rule Over Them", answers the Eli question immediately. Eli is in a coma, no way of telling if he's going to make it out of it. Distressed, Jesse goes out into the parking lot, accompanied by Amber, Judy (Edi Patterson), and BJ (Tim Baltz). Barely able to contain himself, Jesse starts vomiting, which leads to Judy vomiting, followed by Amber and BJ. It's an appropriately explosive opening to an explosive episode.
Before we get into the thick of it, let's talk about the episode's title. "And Infants Shall Rule Over Them" is a loose translation of Isaiah 3:4, referring to how man's hubris and lack of reverence towards Gods will lead to our leaders being akin to ignorant youths, or literally being them. This title slots in quite nicely in this episode that frequently focuses on how lost the Gemstones are without their dad. In other words, the Gemstone children are the (full-grown) infants. This descriptor fits fairly well with Kelvin (Adam DeVine), who, after being ousted as a leader for the God Squad, brings his imprisoned champion Keefe (Tony Cavalero) fruits and nuts to "nourish him[self]". The embarrassment can be quite sad, in a way, as he hasn't even visited his father in the hospital. Then again, it can also be quite funny.
Case in point: Kelvin shows up at the Gemstones church lunch in a full Hobbit-style robe. His display adds an extra dash of awkwardness to an already awkward lunch. Just before, Jesse and Amber fumbled their debut as the de-facto leaders of the Gemstone Church. The grand highlight of this debacle is Amber's debut of the hashtag "#EliGemsHome". Fans, can we get this trending? This fumble leads to arguments about who should be leading the church, with Kelvin's cloaked self-giving of his two senses. Disagreement spirals into a classic Gemstone sibling screaming match, interrupted by Martin Imari (Gregory Alan Williams) screaming at them for being selfish, walking out on church lunch in the process. Imari's storming out makes for a poignant moment. Especially, seemingly, to Judy.
As BJ and "Baby" Billy Freeman's wife Tiffany (Valyn Hall) discovers Baby Billy's whereabouts via his Chase statement, Judy decides to help Tiffany confront him. At a run-down mall, they discover Baby Billy (Walton Goggins) hawking "health elixirs" at a run-down mall. Backed into a corner, Billy first attempts to hide from them, then claims to be doing this to support Tiffany. His strategy backfires, as Tiffany reveals that she knows about Harmon. Enraged, Baby Billy attempts to spank Judy, then successfully spanks BJ. As he peels out, his entire trailer full of elixirs spills in a comical fashion. This scene is a perfect summation of The Righteous Gemstones' near-magical ability to combine tragedy with comedy.

On Jesse's end of things, we finally get some movement of Gideon's (Skyler Gisondo) storyline. He expresses to his parents that he found a job in Atlanta working on a movie. Furthermore, he plans to move out. Jesse stays mostly quiet on the matter, but Amber quickly admonishes him for his "selfish" decision. Skyler Gisondo is such a genuine presence on his show that getting any kind of movement on his character is nice, but also worrisome if his character is about to exit the show. Jesse's got his own internal feelings he's dealing with, ones that he vents to Martin Imari. He explains that he doesn't feel ready to be a leader, using the fact that he thought Martin's family was in Kenya, and not knowing that he has three kids, to demonstrate his incompetence.
Ironically, it's through this conversation that Jesse, with a little help from Martin, comes up with a brilliant plan. They're going to declare that Eli is awake and doing much better, thus luring the killers to the hospital while secretly moving him to a safe house. Jesse makes the proposal to his siblings, who are all in. The next church, they make the announcement, all the while making it very obvious where Eli is staying in the hospital. Eli is moved successfully to the "safe house" of Judy's house. There, Judy and Amber comfort an upset Tiffany. Using Jesse as an example, Amber says that men aren't necessary to live a happy life and, as a matter of fact, are better used as tools. Against all odds, this wins over Judy's favor, and the three dances together put on one of the Aimee-Leigh Gemstone's records.
Let's give it up for the trio of women this season of Gemstones, who has been not-so-quietly stealing the season since the premiere! We should also, however, give it up for Kelvin, who interrupts the merriment to get a moment alone with his father. After the women leave the room, Kelvin makes a tearful admission of his inadequacy to his father. This somehow gets Eli to wake up, and the two embrace. Another sweet moment to add to an episode of sweet moments. Meanwhile, Jesse is making preparations at the hospital. He has a team of mercenaries and sticks BJ- who volunteered to be heroic- on a lower floor to pose as a doctor. There's a genuine question as to how they got the hospital empty. The Gemstones are rich, but are they that rich?
Minor quibble over the episode aside, Jesse ends up dismissing the mercenaries after an argument. Like clockwork, the motorbike shooters arrive. BJ buzzes up to Jesse on the buzzer he stole from Chili's (a gut-busting detail), and Jesse and Martin run downstairs. As a form of redemption for himself, Jesse takes out a gun and shoots at the bikers, managing to stop one. BJ, unbeknownst to himself, has a ninja star sticking out of his head, so it's clear that Gideon, who just earlier arrived, should be the one to go after the fleeing bikers. Taking the cattle prod Jesse brought along, he chases down the bikers. He dispatches them swiftly, one-by-one, leading to a standoff with the fourth biker where he sticks the cattle prod in the spokes of his wheels. It's like something out of Akira, and a never thought I'd make that comparison.

The biker's helmet falls off… and the episode ends. Damn it! I won't hide my disappointment with the tease. Perhaps it's for a bigger purpose. One of the bikers with long hair could be a member of the congregation seen with long hair, but it hardly matters, because the biker mercenaries likely aren't anyone recognizable. There's a theory going around that the Lissons, the Texas-based preacher couple, organized the hit. I wouldn't mind this, although I would've liked more time with them to solidify that twist. I'm pretty confident that Harmon isn't responsible for any of this chaos. No matter my disappointment with the ending, "And Infants Shall Rule Over Them" is another great Jody Hill-directed episode packed with sentimentality, great guys, and an explosive climactic Akira homage. –James Preston Poole
Episode Rating: 9/10
Season Rating: 9/10
The Righteous Gemstones season 2 episodes 1-7 are now streaming on HBO Max, along with season 1.
---
Trending Now