'Bel-Air' Season 1, Episode 4: 'Canvass' Spoiler Recap/Review
Posted On February 18, 2022
---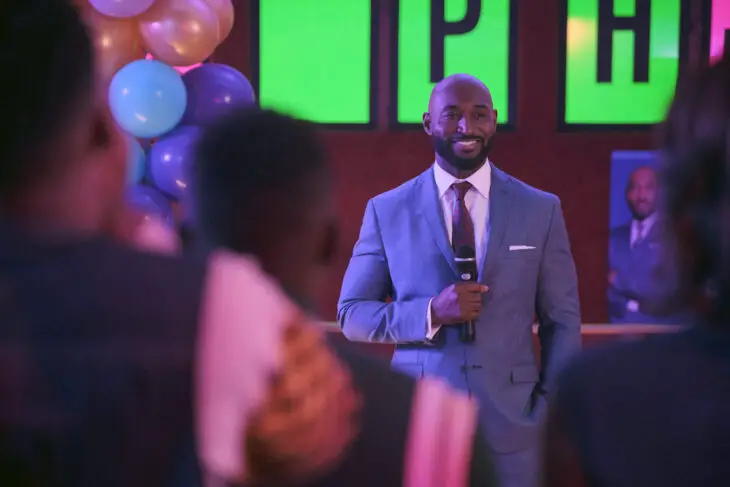 Fleshing out a story is a hard thing to do. Making sure that every character is developed with their side of the story is a complex thing. The newest episode of Peacock's Bel-Air does just that. This is a show filled with characters with complex backgrounds, they find a way to let each one shine. In The Fresh Prince of Bel-Air, some characters just made appearances every now and then with no true background to them. Bel-Air allows each one have a moment to shine a little.
Warning: This review contains spoilers for the newest episode of Bel-Air, to read last week's review click here.
This episode of Bel-Air doesn't pick up directly where the other ended. Last we saw Carlton (Olly Sholotan), he was losing his mind because nobody was at his Lacrosse game. They were all attending Will's (Jabari Banks) basketball game. Now, we see Carlton and his dad playing chess, setting up the plot for this week´s episode. The Banks family is hitting the campaign trail in order to boost Phil (Adrian Holmes) in the polls, thus Carlton and Will are working together towards their own goals.
The two boys must get 50 signatures for each of them to get something promised by Vivian (Cassandra Freeman) and Phil. We also see Hilary (Coco Jones) trying to find an influencer/content creator house to join. She and Ashley (Akira Akbar) hit the trail, and wind up at Jazz's (Jordan L. Jones) record shop. Hilary gives Jazz a boost, helping him create an Instagram and gain lots of followers. This helps Hilary get into a content creator house.

Ashley sneaks off from Hilary to meet Romario (Cristian Soto) and Lucia (Rita Angel Taylor), some kids she met gaming online. We also discover a lot about Geoffrey (Jimmy Akingbola). He's Phil's security detail, not a butler, and has some very good connections. This helps drive home the point that this is a drama and not a sitcom. Vivian is also opening up as a character with her paintings and artistry. I hope we explore it more as the season moves forward.
The family has a campaign party for Phil that goes from private to public. Will learns about Lisa's (Simone Joy Jones) parents. Her mother passed away from Lupus and her father Fred (Joe Holt) is a police officer. Will becomes enraged because of what happened when he was back home. He also starts piecing together how his uncle got him out of his situation.

There are some social justice underlings sprinkled into Bel-Air. Yes, there was the N-word situation in the earlier episodes, but this one mentions Blue Lives Matter and defunding the police. Modernizing this show and making it a drama helps create a space for these real life problems to be discussed. Also, finding out Philip Banks isn't a Republican helps differentiate this from the original.
Dale Stern directs the episode, and it has a very nice touch. This episode moves along smoothly with no missed beats. Nick Delaney and Henry Jones wrote the teleplay and they really did well. Everybody gets a moment to shine, and we find out important background info in a short time. All the information we need about these characters to keep the story moving is quickly provided. It also prepares us for what is sure to be a fun episode next week.
I personally think this is the best episode of the season so far. It is digging deeper into the lore around some of these characters, and developing the plot for characters with new backgrounds. I enjoyed seeing each Bel-Air character have their moment to shine. It was very fun whilst remaining serious when necessary. Banks plays a very charming and misunderstood Will Smith, which works great in the show..  There are a lot of good performances in Bel-Air, but he definitely stands out. – Rascal F. Kennedy
Rating – 10/10
Bel-Air is now streaming on Peacock with new episodes every Thursday!
---
Trending Now