'Bel-Air' Ep. 101-103 Non-Spoiler Review/Recap – 'A More Dramatic Telling'
Posted On February 9, 2022
---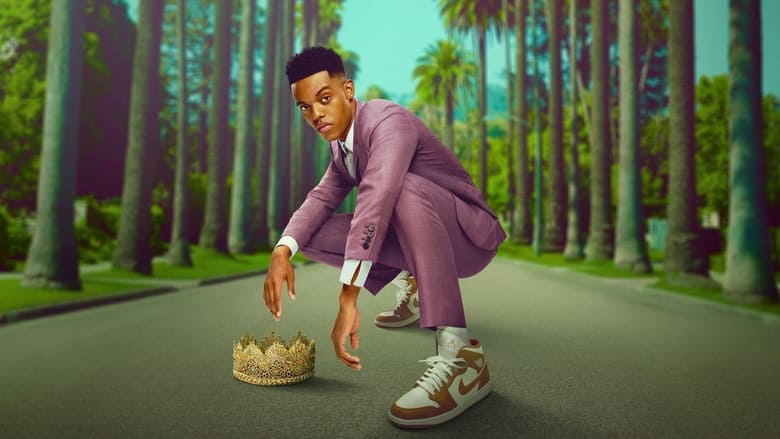 We all know the story of the Fresh Prince. He got in one little fight and his mom got scared, so she moved him from Philadelphia to Bel-Air. The iconic lyrics rang through the 90s as Will Smith rapped the theme song for The Fresh Prince of Bel-Air. The show aired on NBC from 1990-1996, and became embedded in pop culture since. Now, Peacock owned by NBC along with Smith as an executive producer has rebooted the show, with a very different tone. A much more serious and dramatic telling of our Fresh Prince Will Smith (Jabari Banks) and his time in Bel-Air.
Episode 1 -'Dreams and Nightmares'
Bel-Air is about Will, a kid from West Philadelphia with dreams of becoming a hoop star. He's a very cocky and confident basketball player. After a game, he gets into an argument with a local drug dealer and is challenged to a basketball game with his teammate Trey (Stevonte Hart). Things go sideways, and more than just a little fight happens.
Will ends up in jail, but thanks to his uncle Phillip Banks (Adrian Holmes) he's out almost immediately. He's also immediately shipped off to Bel-Air courtesy of his mother Viola Smith (April Parker Jones). Instead of having his uncle meet him, he gets in a Uber with Jazz (Jordan L. Jones) and he ends up in Bel-Air during his uncle's campaign party. He reunites with his cousins Hilary, Carlton, and Ashley.
Will doesn't realize he will have to change his ways, but he soon sees that Bel-Air is way different from West Philly. He starts off having trouble trying to fit in, and it's obvious. The first episode is a great start of things to come in Bel-Air. He gets into a fight with Carlton which results in a lot of consequences for them both.

Episode 2 – 'Keep Ya Head Up'
Will is having a hard time adjusting to Bel-Air, and the standards his uncle wants him to live up to. He's fighting with his cousin Carlton, and things are just not going well. There are just some things – like going to a prep school – that can break a young man. He wants to play basketball, he's a D-1 recruit, and he must adjust. After a pretty embarrassing first day at school, he begins making adjustments.
Will has trouble playing basketball. He can't wrap his head around what happened in Philly. The police brutality, being arrested, and just the entire situation. He has to fix it before tryouts. Jazz and Uncle Phil help him get his mind right so he can be ready for tryouts.
He tries out for the basketball team, begins his friendship with Lisa, and continues through his trials and tribulations. He feels embarrassed of his cousin in more ways than one and called out Carlton's friend Connor (Tyler Barnhardt) for using the N-Word. Both boys retaliate in the worst ways. Carlton tries to fight Will at school, and Connor plants drugs on him that lead to more troubled waters.
Episode 3 – 'Yamacraw'
Phillip and Vivian (Cassandra Freeman) get to the bottom of who planted drugs on Will. Carlton and Will still aren't cool, but Will is actually trying. Carlton is jealous of Will and it shows during several moments. Will is just trying to acclimate to his new settings in Bel-Air. Phil seeks Geoffrey (Jimmy Akingbola) for advice on his campaign and how to deal with Will.
Phillip takes Carlton and Will to a crawfish boil hosted by his fraternity brothers in the Alpha organization. Vivian hosts a party with her Sorors in the AKA sorority at her house. They both must find themselves in this situation. As Phillip needs his brother's support in his campaign and Vivian must come to realize she cannot control Hilary. The situations work themselves out in very interesting ways.
That evening Will and Carlton have basketball and lacrosse games respectively. Will's first game in Bel-Air and Carlton's first game of the season. Things go haywire for Carlton and he loses his temper. The episode ends on a sort of cliffhanger that can only leave one to wonder how Carlton will react to what he sees before the episode ends.

These first three episodes of Bel-Air are crucial. They set the story, the background, and will either draw your interest or make you not want to watch, Morgan Cooper, Dale Stern, and Nick Copus all have unique directing styles. They all brought those styles to Bel-Air. I'm familiar with Nick Copus through Animal Kingdom, and his style shows heavily in the third episode. They're unique in their own right, and give you reasons to keep watching. It also helps that the cinematography and editing are great across the board.
Bel-Air might be a more dramatic telling of The Fresh Prince of Bel-Air, but it still follows the sitcom. We get a glimpse of several characters from the sitcom within the first episode. Lisa Wilkes (Simone Joy Jones, originally Nia Long) shows up in the first episode along with her father Fred (Joe Holt, originally John Amos). Jazz appears in the first episode of Bel-Air but didn't show up until later in the original.

There are several elements to the show that are different. Carlton isn't some square that sings Tom Jones songs. He's a lacrosse player that seems to be loved by his teammates. Hilary (Coco Jones) is a social media influencer that already lives in the pool house. She still isn't college, but she's making her own way. Ashley is still the young sweet innocent character we got when Tatiana Ali first portrayed her. Geoffrey is from Jamaica, but was raised in London.
The writers also take topics from social media and integrate them into the dialogue, which most shows do these days. They do it in a cohesive way though. The discussion around black politicians and their disconnect is a heavy topic. Chris Collins and Cooper understand how to mix social media topics with real-world topics.
This was a great beginning to what seems like it will be a very good show. Representation is great, and you can tell Will Smith definitely had his hand in this. You don't lose the plot at all, and it's just a fun interpretation of a show we all grew up with and loved. The way I see it, it's like a CW show with a better budget and better acting. I hope you all enjoy it as much as I did. – Rascal F. Kennedy
Rating: 8/10
The first three episodes of Bel-Air premiere Sunday on Peacock!
---
Trending Now