'The Endgame' S1, E1 Recap/Review: "Pilot"
Posted On February 24, 2022
---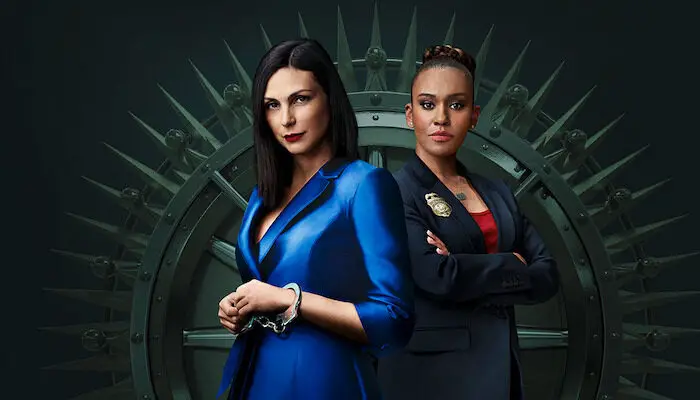 The following is a spoiler review for The Endgame, to view coverage of other series' click here.
We're in Fort Toten in New York, where we meet Elena Fedorova (Morena Baccarin), leader of criminal organization SMT, Attorney General Reed Doblin (Kelly AuCoin), FBI Director Rogelio Réal (Mark Damon Espinoza), and Homeland Secretary Joan Bradbury (Jenna Stern). The three want to discuss a plea bargain, and Fedorova sits and begins to write. We transition to a bank that is being taken over, and the leader of the team shows a message to Réal to a camera that says "bow to the queen". Fedorova hands Doblin what she wrote, which says to check his coat. He finds a note! She gestures to Doblin, who opens his note, which says I'm the queen.
The scenery changes to a prison, where a wife, Agent Val Turner (Ryan Michelle Bathé) is visiting her husband Owen, who's serving her divorce papers. He's also a federal agent serving time for taking drug money and thinks getting divorced will protect her. She refuses to take the papers and leaves to head to the heist of bank one. She arrives and immediately has problems with her supervisor, Jonathan Doak (Noah Bean), who sends her off to the office with Anthony Flowers (Jordan Johnson-Hinds). They talk about Owen, and Flowers agrees it might be best-case scenario so she can remain an agent. She reveals when Owen came across her desk as a tip, she reported it immediately. Until she figures out why Owen was involved, and the bureau believes she wasn't involved, she'll continue to fight.

They get notice of a second bank heist and head in that direction. Turner and Flowers arrive, and Turner reveals the bank has $70 million in it for a cartel leader. By contacting him, she figures out the root cause – Fedorova. She sees Doak, tells him about Fedorova, and asks if she's involved, explaining her backstory. He asks for her file on Fedorova, turning her away from direct involvement. Turner and Flowers head to a comm hub that controls secure transfers and communications between banks. She tells him Fedorova should hit this one next, but they're too late. As the building goes into lockdown, a man sticks a note that says "you were right" to the window. After two more banks are attacked, Doak calls her and says she needs to go get her files and head to Fort Toten.
Turner walks into the room with Fedorova, who says it took her long enough. Fedorova wants to talk about Turner, bringing up her pending divorce. The two women find compassion over their lost lovers, Owen to prison and divorce, and Sergey to death. Fedorova asks for her attorney, and Turner questions it. Doblin, Réal, and Bradbury direct resources to the second bank, while Turner asks they assign resources to the Federal Reserve. She's denied but regardless heads to the Reserve. When she arrives, she finds the waiter who was used to tracking Fedorova. She shoots him and assists the passengers he drove with the help of what she thinks is SWAT.

It's revealed to Flowers SWAT is gridlocked in traffic, and he calls Turner. The team she's with takes one of the passengers into the Reserve. It's revealed the woman taken has the biometrics necessary to open the main vault. Turner gets another call from Owen's attorney and puts it together that Fedorova helped Owen with his attorney. They meet at a restaurant behind the reserve, where the attorney reveals Fedorova has Owen framed. The attorney says if Turner helps them, they'll release the evidence, but Turner sticks to her guns and tries to arrest him.
Helped by a sniper, the attorney leaves, and we're shown bank one's heist group blowing up a wall and heading into another bank. They open a safety deposit box that belongs to Doblin, and Fedorova reveals some things Doblin won't want public. We head back to the prison and Owen tells Sergey it is underway. Turner heads back into Fort Toten's interrogation room and confronts Fedorova. Fedorova tells her it's just beginning and to sit down. There's another story to tell.

The Endgame brings together two powerful women for a confrontation where both are looking to get their significant others back. Bathé and Baccarin both have a commanding presence on screen, but neither step on the other. The story is intriguing, aiming for thriller as Turner tries to turn the tables on Fedorova while also getting her husband back. I'm so intrigued to see how it plays out because Turner values her principles above all else. Combined with the FBI's thought process Turner assisted her husband in stealing money, I don't know how well this will work.
Nicolas Wootton and Jake Coburn so far have done impressive work with the script, so I'm excited to see what happens moving forward. The minor background scenes we get with the Russians and Fedorova as a young girl are intriguing and lead to a bigger story. Justin Lin as the director in this episode captures your attention with the introduction of every single character at play. It's tough to judge a series based on a pilot episode, but Wootton is an award-winning writer and producer, so The Endgame could truly be really promising. The biggest thing The Endgame has going for it is Bathé and Baccarin as the leading women, and the confrontation is surely afoot as they unite for love. –Katie Rentschler
Rating: 7.5/10
New episodes for The Endgame premiere Mondays on NBC.
---
Trending Now