'C'mon C'mon' Review: "Cinematic Catharsis"
Posted On December 5, 2021
---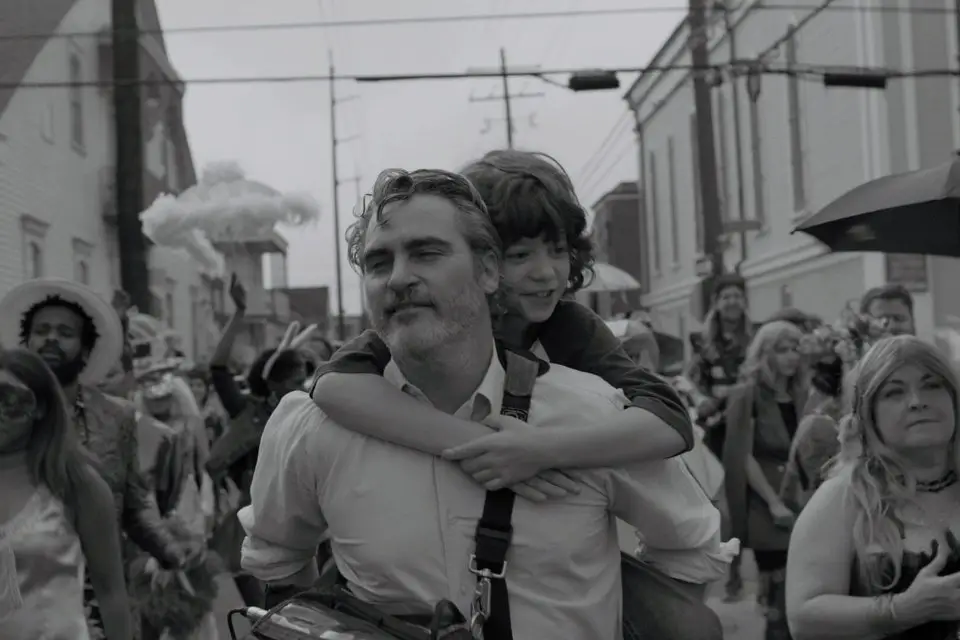 Every once in a while a movie will come around that will absolutely rock your world. What makes movies special is a combination of visual storytelling accompanied by music to heighten the visual and emotional cues. All great movies hit this balance in such a way that leaves viewers awestruck. But, only one movie I've seen before has gone behind my emotional control center (Elem Klimov's Come and See). Instead of pushing your proverbial emotional buttons, the movie would take the wheel and take you along. A task that you, the viewer, must a) be vulnerable and b) trust enough to allow for that to happen. Mike Mills' latest movie, C'mon C'mon is now the only other movie to do that to me.
C'mon C'mon follows a traveling radio journalist named Johnny (Joaquin Phoenix) who comes to Los Angeles to watch over his nephew Jesse (Woody Norman). Jesse's mom Viv (Gaby Hoffman) is traveling to Oakland to care of her estranged husband who is struggling from mental illness-related issues. Due to the nature of Johnny's work, Johnny hadn't seen Jesse in quite some time; to the point where Jesse barely recognizes him. As the situation with Jesse's father escalates, Johnny has to care for Jesse longer than he anticipated. Leading Jesse to travel with Johnny to his home in New York City and then to New Orleans.

None of this movie would work in the way it does without the exceptional performances. Joaquin Phoenix is a well-established actor but continues to blow it all away with one of the most vulnerable and best performances in his career. Woody Norman gives arguably one of the best acting performances of the year as well. There were many great performances this year, but none of them feel as real as Joaquin and Woody's. Additionally, the chemistry between the two stars is intoxicating. There are few movies that feel so raw and natural. The employment of great writing and acting takes you on an emotional journey unparalleled to anything released this year.
As this movie unfolds, little nuggets turn into other things entirely. There's one scene early in the movie where Johnny and Jesse joke around and talk about how inconsequential things are "blah blah". Later on, Johnny and Jesse discuss hard topics and Jesse begins to dismiss them as "blah blah". The former scene now carries a significant amount of weight now. Another item is during the movie, and even in the trailer, a saxophone arrangement of Claude Debussy's Clair de Lune is played. The particular version is performed by the San Francisco Saxophone Quartet. Jesse's estranged father moved to perform with the San Francisco Symphony. There are more segments like this in the movie that'll put your brain in an emotional whirl.

One of the primary focuses of C'mon C'mon is empathy. Johnny's primary demographic of individuals he interviews are children and young adults questioning their ideas and hopes for the future. While conducting his interviews Johnny offers a comforting environment and one of understanding and respect. Alternatively, when Johnny has to face how he understands and respects himself it isn't at the same caliber. Jesse, who is taught by his mother, to be forward with his feelings breaks his uncle into an emotionally forward individual. The Johnny at the end of C'mon C'mon is vulnerable, understanding, and one that is at peace with himself. Keep in mind, these are fictional characters – yet they feel so alive and real.
The major core that most viewers will take away (myself included) was the contrary motion of "childlike wonder vs adulthood-onset dour". Jesse is bright and full of excitement towards the world that he lives in. Johnny is filled with gloom and anxiety. Seeing as how I can mostly identify with the anxieties of adulthood, seeing the friction between the two ideas broke me. A part of childlike wonder is still with me but is blanketed in the pain and anxiety of adulthood. I always battle these ideas, as a childlike lens makes the world a more enjoyable place. But, much like myself, Johnny and Jesse are constantly at odds with each other. Then, near the end of the movie, you see them meeting in the middle with a screaming match in a secluded part of New Orleans. Like an explosion of emotional catharsis.

Mike Mills knows the human spirit and condition as this movie is evidence of that. Where memory fails, our humanity picks up the pieces. If we don't remember something today, our being and direction will. Jesse will always keep Johnny with him regardless of where he goes. C'mon C'mon is one of the most emotionally freeing cinematic odysseys you'll take in 2021. Just remember to bring a box of Kleenex when you watch this. – Jacob Mauceri
RATING: 9/10
C'mon C'mon is now playing in theaters.
---
Trending Now