'Succession' S3, Ep 2 & 3 – 'Mass in Time of War' & 'The Disruption' Review: "The Roys at their Best"
Posted On November 4, 2021
---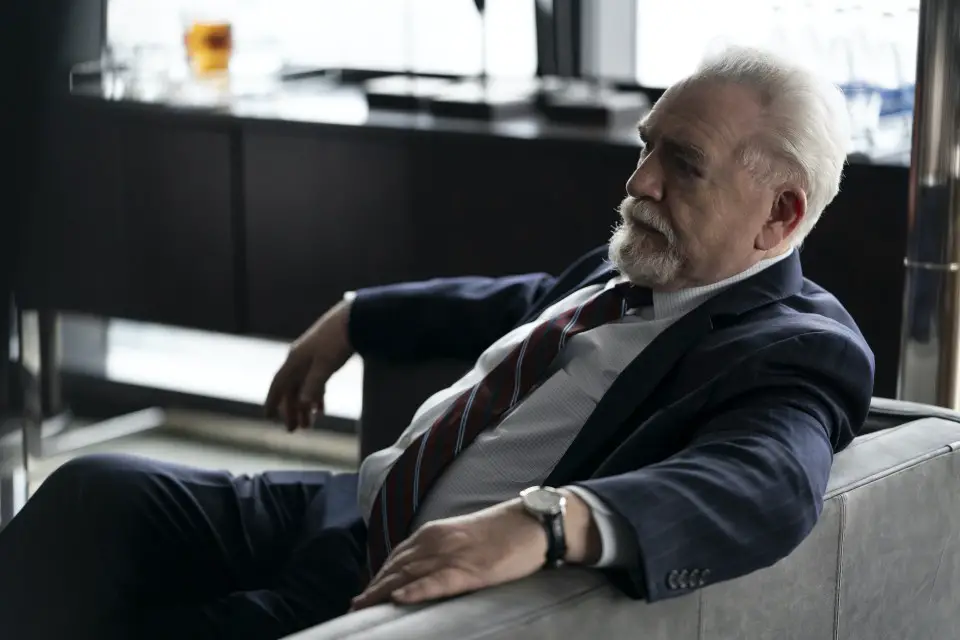 There are no "winners" in Succession. To think about "winners" and "losers" is to assume these characters have a more robust moral backbone. Succession is a raving success because it knows that there's no better universal aphrodisiac than watching a morally corrupt family with all the wealth in the world destroy one another. It's like watching a hyena eat their young on Animal Planet: horrifying yet fascinating.
Possibly, what draws us this season is the sight of Logan Roy (Brian Cox) backed in a corner of his own making. Scrambling to gain the upper hand against his son, Logan falls short. The hubris of Logan finally takes a toll. Despite Logan's debilitating status, Kendall (Jeremy Strong) becomes a funhouse mirror of his father's making. In "Mass in Time of War," Kendall assembles his siblings to sway them in mutiny towards their father.

Better in numbers, right? In the midst of the chaos surrounding them, Shiv (Sarah Snook), Roman (Kieran Culkin), and Connor (Alan Ruck) refuse Kendall's offer. Two things from these scenes set the tone for the rest of the season: Kendall's God complex, Messiah of the tech industry & potential CEO of Waystar, and his lack of self-awareness of it. It's almost comical to see Kendall turn into the very thing he appears to be rebelling against.
As they lay now, the chips create a smokescreen that allows for the loyalty of these characters to shift. One of those shifts is Tom's (Matthew Macfadyen) wavering loyalty to the Roy family. This isn't much of a surprise considering where things between him and Shiv left off last season. At the end of "The Disruption," we see Tom contact a personal lawyer after offering to be the fall guy for the entire cruises situation to Logan.
That's the thing about "loyalty" in the context of this show; these characters don't have any to anyone else that isn't themselves. They just fool themselves into believing they do. A lot like the facade of Kendall's promise of revolutionizing the industry through a "woke" lens, it's all hollow. Kendall can't even act in goodwill towards others in his own life. When he promises Greg (Nicholas Braun) he would buy him an expensive watch, he only does it to mock him for thinking he ever would.

It's the promise of a Shakespearan tragedy that drives Succession into being better with each passing episode. It's the lying, cheating, dishonesty, and callousness of these characters that compel viewers to root for the ultimate demise. At the center of it all is a patriarch who uses his children to his every whim. Does he love them? Does it even matter?
In part, it does matter. It's how Logan veils "love" through manipulation that genuinely defines his entire way of being and the overarching shadow that follows each of his children. It's what drives Shiv to write that humiliating letter to the press detailing Kendall's struggles with addiction and trying to be a father to his children as retaliation. Eye for an eye. Logan uses his children as pawns in his own game of upholding the structures he once used to propel him into wealth and power. Now, the very same structures are trying to take him down.
One small piece of the puzzle that remains to be seen where it fits into Succession is Roman. The snarky boy who only craves his father's approval may end up becoming the piece that will crumble the Roy empire. Underneath the snide remarks resides a traumatized little boy who hides behind secrets bubbling up to the surface. Very dark secrets hint at physical abuse from Logan since he was a child and abandonment issues that make Roman act out in every situation.

There are also the suppressed sexual impulses that don't allow Roman to have an intimate relationship with women. There's so much swirling around and inside Roman that it's just a matter of time before it blows up. However, his alliance with Gerri Kellman (J. Smith Cameron) is the center of gravity for his characterization these past two seasons. It's a strange alliance that verges on inappropriate. And yet it's so captivating to watch based on their chemistry alone.
In the season's most brilliant episode yet, "The Disruption" ends with an FBI raid over at Waystar. This ultimately ends Logan's last hold on resistance. Logan's weary "cooperate" as he lets the FBI into the company is almost like the last breaths of a wounded animal. Looking ahead, it's a matter of who makes the next move in the ever ongoing battle between father and son. – Mariana Delgado
Rating: 9.5/10
Succession Season 3 episodes premiere every Sunday on HBO Max.
---
Trending Now