'Finch' Review: "A Beautiful, Sad, and Triumphant Adventure"
Posted On November 3, 2021
---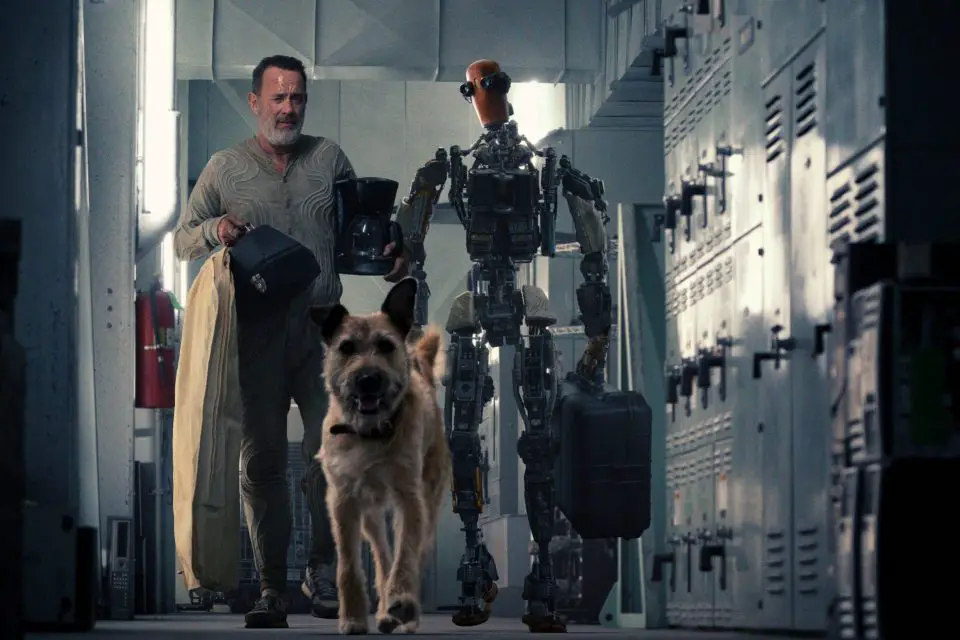 Sci-fi films have conquered the year 2021. They've been beautiful and unique in their own way. Apple TV's newest film Finch is no different. It's just as beautiful as the rest, but unique in its own way. Finch is not an epic or a spectacle, but a drama. Not one of despair, but of hope and adventure. A message that no matter how bad things get, you always move forward.
The follows Finch (Tom Hanks), an aerospace engineer living in a holdout in a post-apocalyptic world. A giant storm is coming so Finch builds Jeff the Robot (Caleb Landry Jones) and goes on a cross-country adventure from St. Louis to San Francisco. Along the way, he teaches Jeff lessons and tells stories. This family of Goodyear the dog, Jeff the Robot, and Finch give us a wonderful story about being better in your humanity.

Finch was directed by Miguel Sapochnik and written by Craig Luck and Ivor Powell. Sapochnik takes this big world and little story and creates something magical. This film itself is majestic. You're in this giant world where not many people are left following a man, a robot, and a dog, all while being immersed in this gigantic world. Not knowing what danger lies ahead, you just buckle in and go for a ride.
The cinematography from Gustavo Santaolalla is magnificent. He truly shows how captivating this desert wasteland truly is. Tom Hanks gives a wonderful performance and makes these small characters larger than life. Much like Cast Away, he gives an Oscar-worthy performance. Jones' voice acting is also incredible, and he brings Jeff to life. This duo carries the film at any weak point and brings strength to every aspect of this movie.

Finch is simply a spectacle. It's a fun and enjoyable ride. It's a triumphant film that will definitely make the strongest of us emotional. It doesn't need the big action sequences or the movie theaters to be great, and that's what makes it good. The fact that it just flows well, and is put together perfectly. There isn't an aspect of this movie I didn't thoroughly enjoy. I hope you all have that same experience. – Rascal F. Kennedy
Rating: 10/10
Finch will be streaming on Apple TV+ Friday, November 5th.
---
Trending Now
You may also like