'Antlers' Review: "A Black-Hearted Slow Burn"
Posted On October 28, 2021
---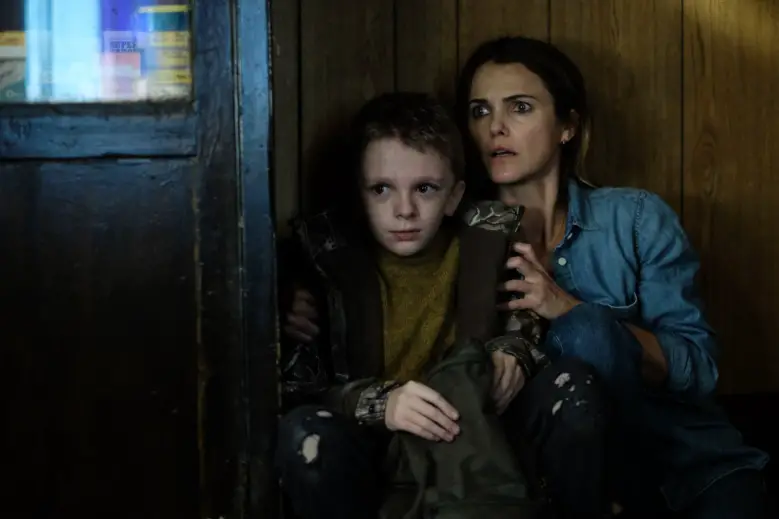 Scott Cooper's Antlers has been in the can for quite some time. Originally scheduled for April 2020, then moved to February of this year, and finally arriving in theaters now, the marketing machine has lost quite a bit of steam for the film. Yet, what is marketing is not additional fluff? If the product's good, then the product's good, and Antlers has inherent value as a real mean-spirited slow burn.
Keri Russell stars as Julie Russell, a teacher who moves back from California to her hometown in Oregon to live with her sheriff brother (Jesse Plemons). The abuse that they both suffered at the hands of their father casts a dark cloud over their relationship. Being back in town and reminded of her past, Julie becomes proactive when she notices a disturbed student in her class, Lucas Weaver (Jeremy T. Thomas). Her attempts to help him are rebuffed constantly. Little does she know, he hides a terrifying secret in his attic: his father (Scott Haze) undergoes a ghoulish transformation towards becoming the mythical monster known as a "Wendigo".
Cooper's background making dramas such as Out of the Furnace and Crazy Heart is a boon to the ambitions of Antlers. Before getting to the creature feature aspect, it is an absorbing look at the lingering effects of child abuse. The script by Cooper, C. Henry Chaisson, and Nick Antosca is whip-smart. Rather than keeping the theme of abuse subtextual, the film discusses it frankly. Weaving itself into every fiber of the film's script, it handles this with immense respect but not kid gloves. There's a lot of trust in the audience to handle this kind of ugly lingering trauma.
Perhaps this is because Cooper puts a lot of faith in his actors. Russell and Plemons play two very different kinds of victims, both maintaining a stark amount of realism in their portrayals. And Thomas gives a stupendously brave performance as someone who is still caught in said abuse. Shot by Florian Hoffmeister and scored by Javier Navarette, Antlers is permeated by a dreary Pacific Northwest atmosphere that allows its pitch-black story to slowly unravel, as the abuse all three protagonists have dealt with in their lives comes to manifest itself in physical form.

This pulling back of the curtain, so to speak, results in the best and worst Antlers has to offer. Let's start positive: the scares are top-of-the-line. Once the fire is truly burning and the monster is loose, you aren't going to find much more satisfying kills. As the Wendigo tears ligaments, appendages, and everything in between off, you'll cringe until you feel like melting. When it prowls in the background and leaps towards a new victim, you'll scream.
If you didn't already know that Guillermo del Toro produced this thing, one look at the creature will tell you all you need to know. Hollywood simply isn't making monsters like this anymore; the Wendigo is a creature out of pure myth. Therein lies the problem: the Wendigo is based on Indigenous folklore. Meanwhile, the film exclusively centers around a white family with First Nations characters put firmly in the background.
It's as if they wanted to use this rich myth without engaging in actual Indigenous culture. Which, in 2021, just feels kind of gross. Moreover, it's a missed opportunity. Antlers centers itself on the lingering effects of abuse by those who once held power over others, so why aren't the Indigenous more of a factor in this film?
Whatever the case, Antlers has enough virtue to sweeten the sour taste that the lack of consideration for Indigenous culture leaves. The sleepy town, broken protagonists, and metaphorical made physical recalls great horror literature. Like some of Stephen King's finest works, Antlers offers a black-hearted tour into garish creatures and, worse, the darkness inside humankind that is not to be missed. – James Preston Poole
Rating: 8/10
Antlers is now playing in theaters.
---
Trending Now