Full Circle Flashback: 'Doom' (2005) Is Better Than You Remember
---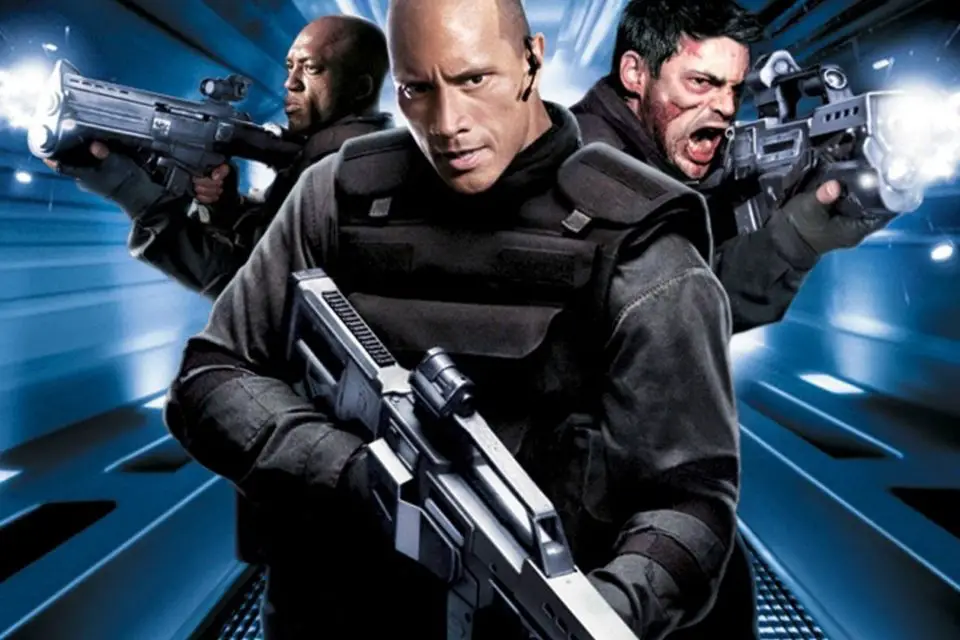 It's a scary time for all of us. With self-quarantine strongly recommended, many of us are spending our time streaming movies and television. Gamers have perhaps been engaging in this media escapism more than anyone with the release of the hotly anticipated Doom: Eternal happening Friday, March 20. While some see this new era of quarantine as an opportunity to "rip and tear" their way through hordes of demons, I saw it as quite another opportunity: discussing one of the most infamous video game to film adaptations of all time, 2005's Doom.
But why is Doom so infamous? For fans of the first-person shooter classic, the answer is simple. Doom in cinematic form seemingly has nothing to do with Doom in video game form! Instead of focusing on a lone marine fighting the forces of Hell on Mars and then Hell itself, the movie focuses on a squadron fighting… zombies. For general fans of movies, Doom is nothing more than a trashy Aliens knock-off. From a distance, both seem to be fair points. But upon closer inspection, Doom is actually a lot better than its reputation would lead one to believe.

What it lacks in literal demons, Doom makes up for in supplying the bone-crunching brutality that defined the games. Director Andrzej Bartkowiak carries with him a certain flair in all of his action scenes that keeps everything interesting. As the sergeants move through the facilities of Mars, backed by a rocking Clint Mansell score, there's always some kind of fun shootout with wonderfully deformed creatures around the corner. Creatures who, might I add, evoke the game's creatures just enough while adding their own spin on things.
READ: 'Sonic the Hedeghog' Surpasses 'Detective Pikachu' To Become Highest Grossing Video Game Adaptation
They even got the basics of the game's plot down. The Union Aerospace Commission (UAC) conducts an experiment that spawns hellish creatures into their Mars facility so it's up to a Marine to take them on. Key cards, teleporters, and even the BFG (the classic "Big F***ing Gun) all make an appearance. Only this time our protagonist Marine, John Grimm (Karl Urban), is joined by a squadron who gradually gets whittled down. The addition of the squadron makes sense as we have to find out why our "Doom Marine" ended up all alone in the first place. Meanwhile, the removal of Hell feels like a concession. Given its budget of $60-$70 million, it likely didn't seem necessary as this is only the start of a proposed franchise.

That said, the filmmakers use that $60-70 million to excellent use. Right next to the creature design, the production design is quite inspired. Ditching the multi-colored extravaganza of the games for something bleaker, the UAC base is a maze of shadows, silver, and cool blues. It's a character in and of itself, illuminated only by the flash of gunfire and the spray of blood. It's worth watching the movie just to explore new spaces of the UAC Facility.
That exploration pulls most of the weight of the movie because the script is a middling affair. Written by David Callaham and Wesley Strick, it's basically Aliens without the strong characters. Instead, we have to follow merely serviceable archetypes as well as a cast of disinterested actors. Most egregiously, the strained relationship between Grimm and his sister (Rosamund Pike) is bland as all hell. The only memorable characters are Dwayne Johnson's psychotic squadron leader, whose comically underacted loss of sanity could spark many a meme, and Richard Brake's sleazeball corporal. As a result, one has to wade through pages of dialogue just to reach the bombastic action scenes.

But let me tell you, Doom features a white whale of an action scene. As Grimm is injected with a compound that enhances his human abilities, the camera shifts to first-person. Mansell's music kicks on. Grimm reloads his weapon. It's time for action cinema bliss. For over five minutes, Bartkowiak and cinematographer Tony Pierce-Roberts pay homage to the original game as Grimm takes out hordes of enemies in increasingly cool-looking ways. It just keeps going, getting more ridiculously high-octane until the point where Grimm faces down a deformed pink creature with a chainsaw. By that point, you'll need a cigarette.
That's what watching Doom is like. It's an adrenaline-filled release that allows you to escape into an interesting, grimy alien world. It may be guilty of sinking whenever it comes time to focus on character. But then again, the original game was never about that. So if you're an action junkie, a gorehound, or a fan of sci-fi with a tolerance for some questionable characterization, give Doom another shot. – James Preston Poole
Rating: 6/10
Doom is now available on home video and digital HD.
---
Trending Now