Full Circle Flashback: 'Doom: Annihilation' Review – "Direct-to-Video Epitomized"
---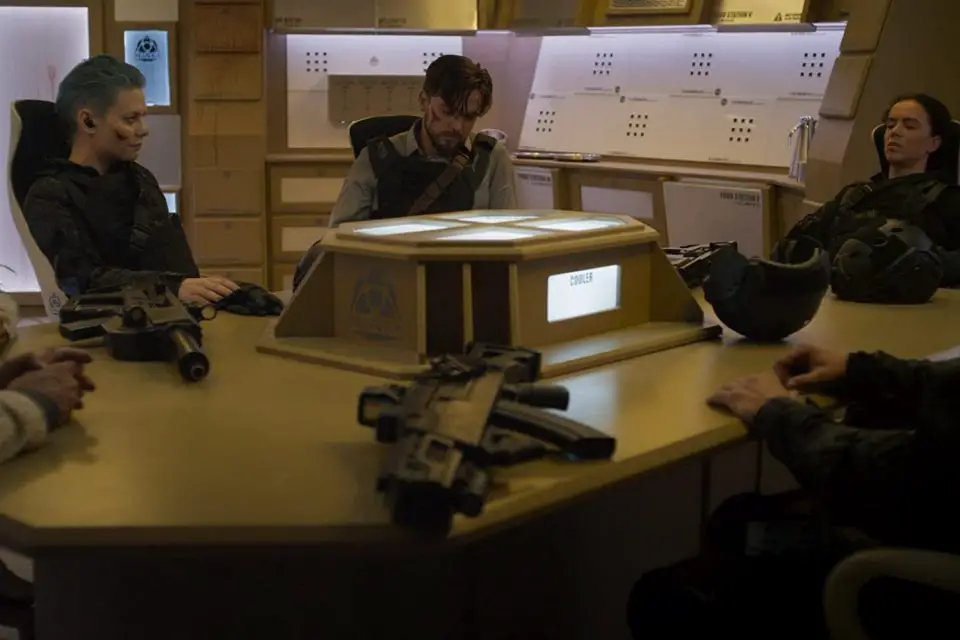 Friday, March 20th marked the momentous release of Doom: Eternal. Riding on a wave of seemingly unattainable hype, Eternal blew past any and all expectations. It is not only a high mark for the Doom gaming franchise, but it is also a high mark for first-person shooters in general. While everyone is reveling in the hellish goodness of Eternal, I felt like it was time to look at something really hellish. For every force there is an equal and opposite force, and 2019's Doom: Annihilation is about as low as you can get for Doom.
The second film based on the Doom games, Doom: Annihilation couldn't be more different from the first. That film, while not without its issues, was a largely enjoyable action movie that captured the spirit of the games. Doom: Annihilation captures nothing but the spirit of the forgettable direct-to-video brand of sci-fi that it indulges in. Yes, you read that correctly. Despite being based on a popular and relevant video game series, Universal Studios decided to have their second adaptation of Doom be a C-grade, direct-to-video throwaway.

Doom: Annihilation isn't incompetent. Director Tony Giglio has been in this industry a while, making largely unremarkable movies for about 20 years. The point is, he knows the basics of storytelling and Doom: Annihilation tells a clear, cohesive story. Moreover, the sets are nice and Amy Manson makes for a solid lead as disgraced Lt. Joan Dark. On the surface, the film even follows the idea of the games pretty closely.
Following an experiment by with ancient teleporters called "Gates" by Doctor Malcolm Betruger (Dominic Mafham), monsters wreak havoc on a UAC base on one of Mars' moons, Phobos. The UAC then sends in a team trained marines, including Dark, to the Phobos base where they find humans under a demonic influence. Time to "rip and tear", eh?
Not quite. Doom: Annihilation hits its marks and that's about it. The Marines wander from action set piece to set piece learning more about what happened while fighting the occasional zombie. Okay, they're not technically zombies, they're humans under demonic influence. But take one look at these cheap Walking Dead rejects and tell me they're not just zombies. This is disappointing, as while zombies of sorts were an enemy in the game, they had a more intriguing design and weren't the primary enemy.

For the majority of Doom: Annihilation, all we have are these ugly creatures for our heroes to contend with. Not intentionally ugly as sin, mind you. They are ugly as a result of a budget that just doesn't cover what they were going for. Everything in Annihilation has this quality to it. Flat lighting, poor creature designs, and a lot of scenes where characters discuss events that it should show in detail. And the characters we have, aren't engaging enough to make this journey worthwhile. With the exception of Dark, I couldn't tell you a single thing about any of these characters. They're disposable cannon fodder, meant to drop like flies so the plot keeps on chugging along.
You can practically hear that chugging as the movie gets towards its inevitable climax, where Joan goes through the Gate to Hell itself. Now, this should be exciting, right? After all so much of the promise of this movie came from it undoing the perceived wrong of the first Doom movie by actually showing us Hell! What a let down. Doom: Annihilation combines every cliche in the book to make the most uninspired Hell to ever grace the screen. Flooded with poor CGI, the murky brown, head-scratching final destination of our film is not impressive in the slightest. It just… exists.

That's really all you can say about Doom: Annihilation. It's a movie that doesn't honor the spirit of its source material, doesn't provide anything interesting of its own, and just exists to be the kind of film you might see on TV at 2 AM in the morning and fall asleep to. If you want a movie that, for all its flaws, captures what made Doom so fun to play, watch Doom (2005). –James Preston Poole
Rating: 2/10
Doom: Annihilation is now on home video and Digital HD.
---
Trending Now