Stay At Home Shows: What To Binge (March 14th)
---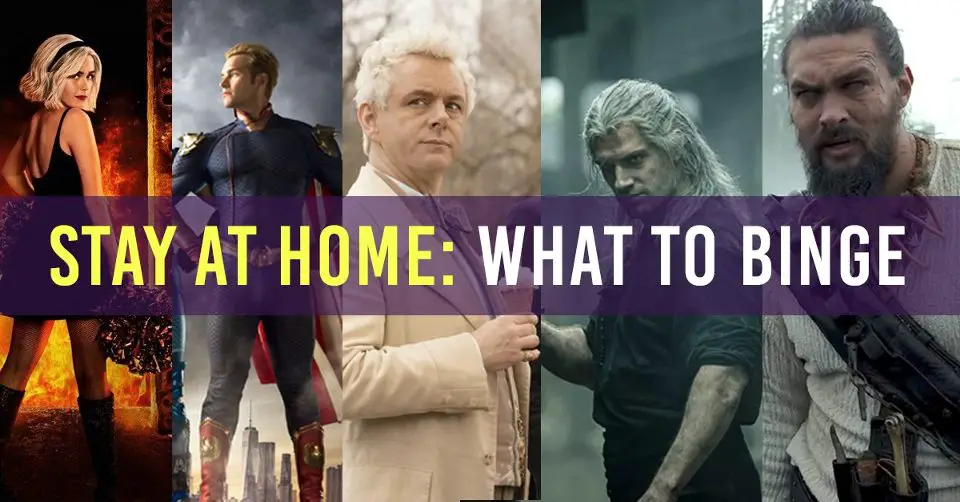 For those of us who thought January was wild, an eternal March has come to prove us wrong. With the feeling of impending doom has come the obligation to stay at home more. With that small silver lining, here are five series you can watch on your favorite streaming platforms this week!
Because rewatching The Office for the 12th time is not a personality trait.

The Chilling Adventures of Sabrina Part 3 (Netflix)
I am the first to admit that I loved Part 1 of the series but fell off the bandwagon when Part 2 released to lukewarm reactions. However, finally catching up with the town of Greendale renewed my love for the world of Sabrina Spellman.
Though Part 2 is a bit of a bland journey that does eventually come to a point, Part 3 came back with full force. The exploration of the witchy world and other types of magicks really refreshed the narrative. The idea of only having the ability to explore hell for so long is especially fascinating. Furthermore, the story gives supporting characters more moments to shine, and it allows Sabrina to genuinely mature as a protagonist. Best of all, it rolls in a new set of characters, adding a wonderful diversity that leaves us waiting in anticipation for Part 4.

The Boys (Amazon Prime)
One of the wildest shows of 2019, The Boys does not ease you into its bonkers universe at all. Most notably, it has a fast-paced pilot that both shocks and reels you in for another episode. A roller-coaster cocktail of action, drama, and critique of late-stage capitalism is just the thing to cure one's superhero fatigue.
Though only boasting eight episodes in its premiere season, there is rarely a dull moment in The Boys. The villains are unexpected at first but are incredibly insidious, transforming the story from a simple revenge plot to a full-blown conspiracy operation that leaves you at the edge of your seat. Extra R-rated fun mixed with parodying pretty much every superhero trope is a great way to spend eight hours of your day.

The Witcher (Netflix)
As you can see, these Netflix recommendations have a theme. However, I believe the best binge-watching escape is through fantastical and sometimes medieval adventures, and The Witcher ticks all of the boxes. For Game of Thrones fans, this series is definitely an eight-episode cure for our withdrawal. More than anything else, it actually embraces its fantasy elements in full. Even if you dislike the books or video games, The Witcher satiates a thirst for medieval fantasy that many didn't realize they had.
Prepare for a non-linear narrative that explores a rich multitude of lore, gore, and more. Though there is an underlying plot, its primary mission is to immerse you into the characters. Henry Cavill portrays the protagonist monster hunter with subtleties that make you see him as Geralt of Rivia and nobody else (yes, you know who). The Witcher brings us gothic fantasy nerds back to our roots with a Van Helsing type of fun and is certainly a series that is here to stay.

Good Omens (Amazon Prime)
Good Omens is hands down the most endearing, adorable series about the Apocalypse. David Tennant and Michael Sheen playing opposite each other as a demon and an angel is the greatest contribution to television we have had. Of course, the story adapted from Neil Gaiman's beloved novel is incredible. But what really makes this show truly special is the undeniable chemistry between its main characters.
Though it is not an overly complicated story of the end of times, Good Omens is so much more. During six episodes, it weaves the relationship between a demon and an angel trying to save the world via flashbacks that span through mankind's history. Their dynamic is a rom-com for the ages, displaying the undeniable love that lies between the most unlikely allies. With Tennant and Sheen at the peak of their powers, the war between heaven and hell never felt so engaging.

See (Apple TV)
See went by unseen because most aren't waiting in line to jump onto Apple TV. Which is unfortunate, because this show deserved a bigger platform. But for those with the subscription and for those on the fence, this is the show to watch. Be warned: whatever you think of this dystopian drama based on the trailers is only scratching the surface.
Although it uses Jason Momoa as its main marketing hook, the diverse cast works very well in immersing you into a very different type of dystopian story. Where it lacks in complexity, it thrives in absolute creativity in building an entire future of the human race. The minute details in the culture, mannerisms, and survival techniques for a world where nobody can see is incredibly impressive.
This show is weird at first, which makes it a bit of a "love it or hate it" scenario. Nevertheless, it subtly grabs your attention. It makes you "see" for the characters and pay attention to small details that change your way of thinking about surviving an apocalypse without your fifth sense. Interestingly enough, the story develops a rhythm that makes years of a narrative feel like a breeze, even within just one episode. If you needed any more convincing, the fight choreography is astoundingly thrilling in its creativity and gore.
Those are five picks for series that you maybe didn't watch during their hype, went under your radar, or both. Happy binging during your self-quarantine!
—–
Did you enjoy this article? If so, consider visiting our YouTube channel, where we discuss the latest and greatest in pop culture news.
---
Trending Now