'Charlie's Angels' Review: "A Fun Blind Date With No Future"
Posted On November 19, 2019
---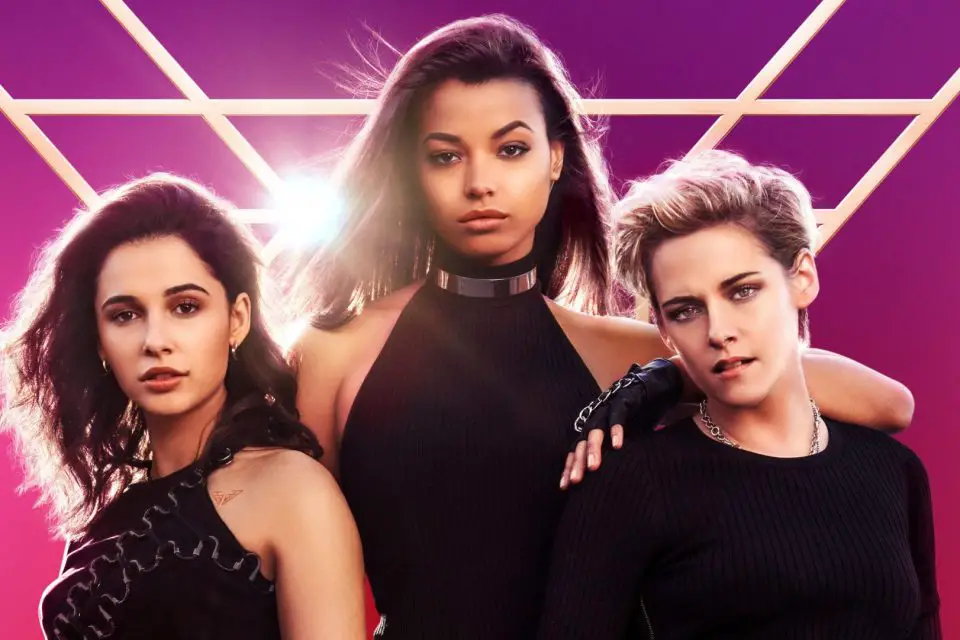 Charlie's Angels is a classic crime drama franchise that has been around since 1976. With a focus on female agents, their leader-by-speakerphone Charlie, and his personal assistant Bosley, the franchise has seen several incarnations. For example, the Drew Barrymore, Cameron Diaz, and Lucy Liu duology serves as an actual continuation of the original series. Meanwhile, the TV series in 2011 served as the one and only truly identified reboot. Charlie's Angels (2019) tries to revisit, rewrite and act as a continuation to a certain sequel much like Terminator: Dark Fate worked. But how do the Angels fare in this outing? That, my friends, is the real question we are here to investigate.
Above all, the highlights are two cast members: Kristen Stewart and Ella Balinska. Stewart is the star of the show, with her humor, wit, and actual character work that makes me say I'd see her again as Sabina. And I never thought I'd say that about Stewart after Snow White and the Huntsman, and The Twilight Saga! Stewart is flirty, with panache to kick everyone else to the curb. That is, except for Balinska. Once rumored for Catwoman in Reeves' The Batman, Balinska is clearly meant for bigger and better action films than what Charlie's Angels sets her up for. She performed a lot of her own stunts in this film and is one heck of a star. Her character, Jane, is strong and silent, but slowly works towards letting herself go, and be freer. Balinska rocks each and every twist, from devastation to happiness.

Naomi Scott pulls off the cute and adorable vibe, with her character going on a journey of discovery. She finds she's worth more than what she's led to believe at the beginning of the film. Scott has taken on the eyes of many this year, especially after playing a new interpretation of Princess Jasmine in the live-action Aladdin. She's not my favorite of the bunch, as she definitely feels the most out of place of the main three. Don't get me wrong, I love her. Lemonade Mouth is one of my favorite Disney movies. But Scott just doesn't necessitate the campy, action feel that the rest of the cast does.
The editing in Charlie's Angels really lets me down. There are multiple scenes that could have been shot in one take, but instead, there are numerous uses of quick cuts involved. Showcasing different angles is good, but some sequences are just downright painful to watch. Stewart and Balinska really rock out with the fight choreography, but it's a real shame it couldn't be displayed better. I understand Elizabeth Banks is hurt the film hasn't had more success, but I wish another director had taken the reigns. Banks' script was well thought out and I enjoyed the story. I enjoyed seeing her as Bosley. In the hands of another director, this movie might have soared higher.

The choice to make Bosley a rank and not a distinct person in this continuation of Charlie's Angels is a strong one. Banks, Patrick Stewart, and Djimon Hounsou all stay strong to the intent of the role. Stewart in particular looks as if he is having the time of his life. This is something non-traditional to previous roles I've seen him in, and it's a good look on him!
I think the biggest factor in the downfall of Charlie's Angels was the marketing. As much as I was interested in this film, I rarely saw it on my social media feeds. The trailers were well done, but if that's your best marketing tool, you've already failed. The promotional material for characters other than the main three was few and far between; when you have Stewart and Hounsou as part of your cast you should capitalize on them. It is understandable the want to focus on the women involved, but with such legends in your cast, don't they deserve a little attention?
Overall, are the Angels fun? Yes, absolutely. Does Charlie's Angels indicate a bright future for some of the actors involved? Double absolutely. Will we see this franchise spring to life with new legs? Absolutely not. There are too many flaws involved, with too little appetite for older franchises reborn in the 21st century. Let the past die, kill it if you have to. Members of the audience are craving new, fresh, invigorated material. And this just isn't it. – Katie Gilstrap
Rating: 6/10
Charlie's Angels is now available in theaters.
The film stars Kristen Stewart, Naomi Scott, Ella Balinska, Elizabeth Banks, Patrick Stewart, Djimon Hounsou, Sam Claflin, and Noah Centineo.
---
Trending Now