'Terminator: Dark Fate' Review: "A High-Octane Return To Form"
Posted On November 3, 2019
---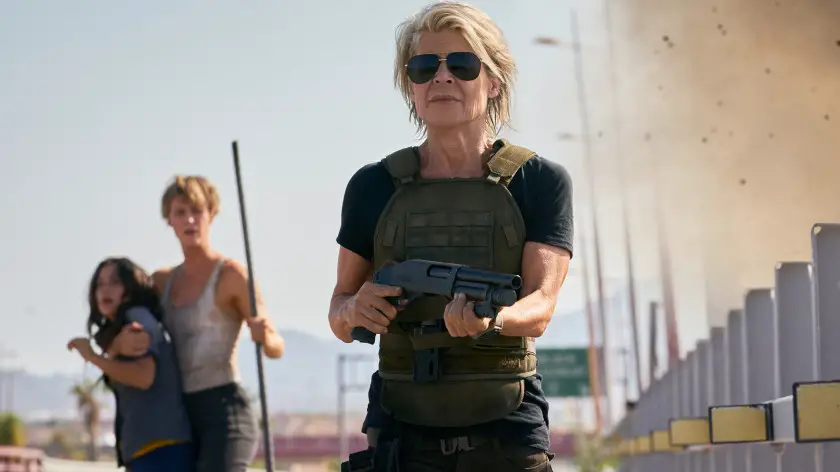 First impressions are vital. If we were to judge Terminator: Dark Fate only by its opening five minutes, it would've gone down as an affront to the series. To set the story in motion, director Tim Miller (Deadpool) makes a choice that feels deliberately designed to invalidate a good chunk of James Cameron's first two Terminator films. It's misjudged; dismissive at best, disrespectful at worst. Thank heavens the ending 123 minutes are a high-octane return to form for a series that had long since lost its way.
Despite the choice Miller makes to kick off Terminator: Dark Fate, the franchise has seen much worse times after James Cameron departed the series following the excellent Terminator 2: Judgement Day. The second sequel Terminator 3: Rise of the Machines saw it fit to retread that film all over again. Next up, the embarassingly grim Terminator Salvation tried to push the story into the future. The most recent sequel, Terminator Genisys, went for a pulpy time-travelling adventure that I didn't mind, but most detested. So it makes sense that Terminator: Dark Fate decides to go back to the basics of what made the series work in the first place.

Produced by James Cameron, Dark Fate knows what's an important for a Terminator movie. A warrior from the future comes back in time to defend someone important for humanity's survival from a robotic soldier. The warrior from the future in question is Grace, a cybernetically enhanced, tough-as-nails badass played by MacKenzie Davis. Davis is an action superstar in the making. With her snarky demeanor and a full physical commitment to the action scenes, she's the latest addition of the series' legacy of strong women shooting their way through the silver screen.
Grace's target for protection, however, is less memorable. Natalia Reyes tries her best as Dani Ramos, and it's great to see a Latina actress being given such a prominent role in a Hollywood blockbuster. But I honestly can't remember a single thing about her character other than "important to the future" or "in danger". If there is a sequel to this film, I'd enjoy getting to find out more of what her wants or basic personality traits are. Gabriel Luna fares a lot better as the soldier on their trail, the deadly Terminator Rev 9.
Luna's dead-eyed determination sizzles on the screen. He's a fitting replacement for Arnold Schwarzenegger and Robert Patrick, an absolute force of terror every-time he's onscreen. Whenever he's on screen, an overwhelming sense of dread follows. The special effects bring to life his form- a split liquid component and an exoskeleton- with startling realism. In fact, all of the effects are top-notch, ditching flashiness for a more visceral feel, making each situation feel immediate.

Tim Miller has drastically improved as a director from his somewhat flavorless debut in Deadpool. Every action sequence moves forwards with a propulsive energy that allows R-rated brutality to reign. The war between (sort of) human and machine feels fresh and new again, draped in a gritty neo-Western tone that feels akin to something like Logan. Terminator: Dark Fate would've worked as a hard reboot of the franchise on its own. However, this is a direct sequel to Terminator 2: Judgement Day, and the returning elements work surprisingly well.
Returning to her iconic role of Sarah Connor, Linda Hamilton has never been better. She's bitter, grizzled, and more game for the action sequences than ever. Although the road to get her to that place is bumpy, it's nice to have her back and it feels as if we're actually exploring new territory with her character. Similarly, Arnold Schwarzenegger, in his limited screen time, gets to have an emotional swan song in what is presumably is his final time in the role of a Terminator. The less said the better; his turn as "Carl" constitutes one of the bigger secrets in the film.

The returning elements and the new story aren't tied together entirely gracefully. The screenplay by David S. Goyer, Justin Rhodes, and Billy Ray is torn between telling a story reckoning with the past and looking towards the future. It has some really neat ideas, such as the film's Mexico setting and strong, surprising characterization throughout. But it does feel at times as if it's retreading The Terminator and Terminator 2: Judgement Day a little closely. Moreover, it gravely disregards much of the series lore without replacing it without anything of real value.
But Tim Miller maintains what's important to a Terminator movie: the heart. By the time all is said and done, Terminator: Dark Fate stumbles at some important moments, but gives us what we've wanted- a Terminator movie with good characters and neat action that feels like a worthy successor to what James Cameron built.
Rating: 7/10
Terminator: Dark Fate is now in theaters.
---
Trending Now