'Aladdin' (2019) Review: "The Best Disney Live-Action Remake Yet"
---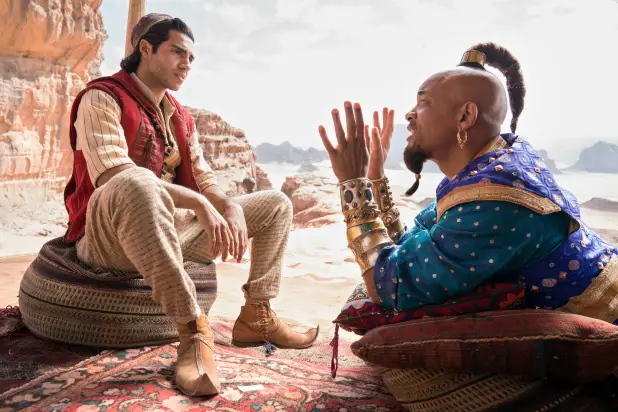 Since 2010, Disney has been remaking some of its classic cartoons. Alice in Wonderland was the beginning of something beautiful. Disney would begin to remake many of their classic cartoons in live-action such as Maleficent, Beauty and the Beast, and Cinderella. Disney's latest addition to its live-action remake collection, Aladdin, is definitely the best one yet.
We all know the story of Aladdin, the street rat from Agrabah that turns into a prince. He unknowingly meets the Sultan's daughter, Princess Jasmine, and falls in love with her. He does everything to impress her, but in his eyes, he's nothing but a homeless boy to her. Thinking he would never be good enough for her, he strikes a deal with Jafar, the Sultan's Vizier. Jafar is an evil man, with a hunger for power. Aladdin is lead to the Cave of Wonders, where he discovers an oil lamp that is more than it seems.

This film feeds off of its mixture of nostalgia and originality. Director Guy Ritchie gives his original style to the film with the way it is shot, but he mixes that Disney magic in ever so lightly. From the beginning of the film, you can see that this will be very different from the 1992 cartoon version. They still keep it very on course with its source material though. A few changes are made, but they are very necessary.
The musical numbers were my favorite part of this movie. Of course, they had the original songs from the cartoon in the film. The choreography by Jamal Sims was absolutely amazing. There's one scene especially where the choreography steals the show. The dance numbers to the original songs old and new were beyond beautiful. Howard Ashman, Christopher Benstead, and Alan Menken definitely put the music together in this film beautifully.
Now, we all know that Robin Williams' Genie will forever live on as one of the greatest performances in film history. Hear me out though, Will Smith's Genie is definitely a performance worth noting. They also pay homage to Williams' Genie with his Cave of Wonders scene. Smith's Genie was outrageously hilarious and charming, he steals a few scenes throughout the film.
Naomi Scott as Princess Jasmine blew me away. The new direction and character arc are well worth noting. Mena Massoud's performance as Aladdin was very solid. Their performance and chemistry helped glue together the film. Along with Nasim Pedrad as Dalia and Marwan Kenzari as Jafar. Kenzari may have played the greatest Disney villain yet.

As I stated earlier, the screenplay stuck to the source material as much as possible. John August and Guy Ritchie did a wonderful job. The CGI in the film was done well. The added element of feminism to Princess Jasmine's story arc really feeds into the film in a positive way. The way the film is shot by cinematographer Alan Stewart was beautiful. Agrabah is fictional, but it is magnificent. By no means was this film perfect but there is very little to dislike. Ritchie did an amazing job and used a well-oiled machine to create a fantastic film.
Rating: 8/10
Have you seen Aladdin? Did you enjoy it? Tweet us @FullCircleCine with your thoughts!
Aladdin is riding on a magic carpet near you!
---
Trending Now