Kenobi Disney+ Series, Ewan McGregor's Return Official
Posted On August 24, 2019
---
The road to Disney+ is long and hard for one Obi-Wan Kenobi. A deal that's been in the works since early this year, word got out last week that Ewan McGregor had signed on to return. Now, it's officially official, with word from the D23 Expo with leading lady Kathleen Kennedy and McGregor himself setting the record straight.
Check out this awesome video of McGregor and Kennedy on stage at the expo. Ewan looks incredibly excited to return to Star Wars!
Ewan McGregor announces he'll play Obi-Wan Kenobi again. #d23expo pic.twitter.com/DUF35WuRDd

— Phil Villarreal (@PhilVillarreal) August 24, 2019
Kennedy revealed during the panel the scripts for the series were complete, and filming is set to start next year. Kenobi has been a talked about movie/show for years, with everything from talks about a trilogy of films, to a single film, to a TV series. So the quick pace of the show is not a true surprise in it of itself. Filming will most likely take place after Ewan finishes with his responsibilities for Birds of Prey early next year. Kenobi is going to be one of the highest anticipated shows on Disney+, so it makes sense to get it out quickly. So long as doing it right is a big factor in Disney and Lucasfilm's choices as well.
A starting point in the Star Wars timeline was also announced.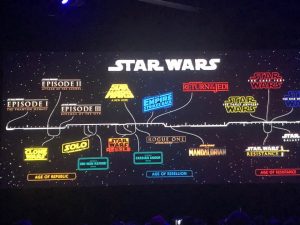 You can see Kenobi is placed in between the Solo: A Star Wars Story beginning/end, eight years after Revenge of the Sith. This means the potential of having Maul involved in the story could be very high. Be wary of the timeline though. With Lucasfilm holding everything close, timeline placement could be vague as to not to reveal much.
What do you think of this confirmation? Have anything to say on the details we got? Let us know in the comments below, and stay tuned for more!
---
Trending Now