'Only Murders In The Building' S3 Ep 1 & 2 Recap/Review
---
We are back with one of the most inviting and intriguing shows on television for the last few years with season three of Hulu's Only Murders In The Building. With Selena Gomez, Steve Martin, and Martin Short all back for and resuming the ride of a lifetime, season three also brings along some unreal heavy hitters. As seen in the season two finale, Paul Rudd joins the chaos. Additionally, as first seen via the Hulu Twitter account, one of the greatest living actors, Meryl Streep, is also getting in on the fun. When the scene finally gets set, we find ourselves in unfamiliar territory for the series: a major Broadway stage.
The first few minutes set the stage as well as anything the series has ever done. Following damn near every step of her life, Meryls delivers a monologue worth of her Oscar-winning career, leaving not only Martin Short's Oliver Putnam in awe but the viewer as well. One of the best things Only Murders In the Building has done in its short run on Hulu is deliver some pretty remarkable long-form performances. Enlisting actors of prestige backgrounds and half a century's worth of experience has done for this comedy more than anything else as no matter the source material, they all find a way to make it all feel real. Because what is a true crime series if it does not feel true?
The chemistry between Oliver and his besties Mabel (Selena Gomez) and Charles-Haden Savage (Steve Martin) is stronger than ever before. In fact, I can recall being surprised this is the first time Gomez had worked with the famous comedic duo years ago during season one. With that in mind, after a bevy of episodes together, this trio is a well-oiled machine bouncing off of each other as only they can.
However, once Paul Rudd, Meryl Streep, and additional newcomer Jesse Williams get on board and lead into how the murder takes place, the season premiere begins to feel like some of the best ever produced by this team. Rudd and Streep in particular are clearly having the time of their lives playing these exaggerated stage actors after years spent headlining major blockbusters and Oscar darlings.
When the mystery begins to unravel its spiraled web, the plot truly begins to heat up. The plot twist is that amidst the saddest opening night party ever due to the sudden death of Paul Rudd's Ben Glenroy on stage in front of an entire audience of people, Glenroy is alive and emerges during the party a changed me. In what is one of the greatest spins on the murder mystery genre, Glenroy, the victim, gets the chance to size up every single person who may have wanted him dead and apologize for what he could have done to cause it. Episode one of season three is not what one will expect but it pushes the entire genre forward and offers a fresh take until, moments later, his body comes crashing through the elevator making everyone within the Arconia, once again, a suspect in the murder.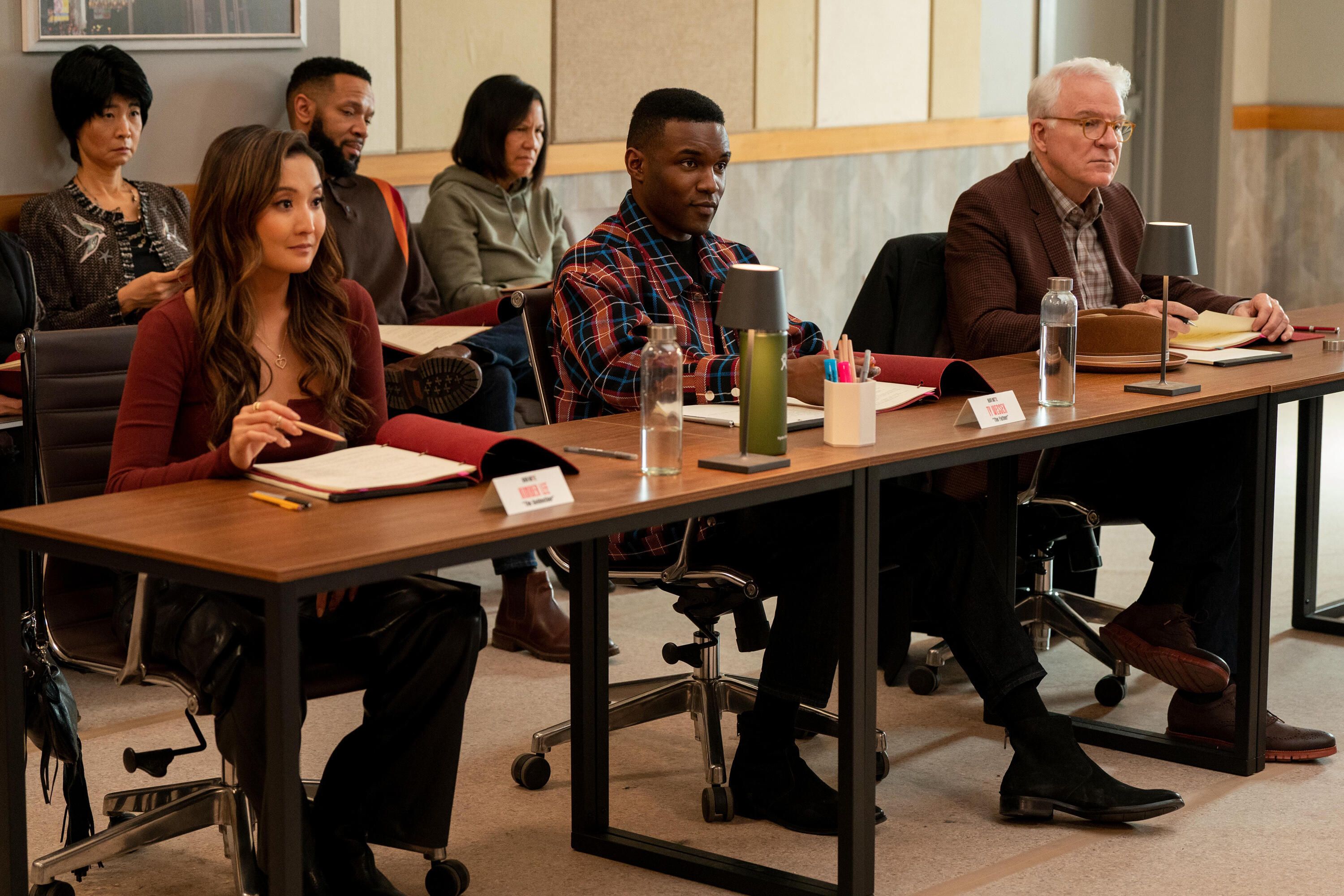 Now when episode two begins, the wheels are spinning within the minds of the trio of murder-solving trio. A murder foiled becomes a far more gruesome murder salvaged. Thankfully, while Paul Rudd's character is 100% dead this time, the gears are turning for everyone involved. Oliver is left jobless, Mabel is perhaps homeless, and Charles is uneasy, even for him. The third season is firing on all cylinders and allowing each major character a chance to grow in their own journey while also giving viewers a chance to feel reinvigorated by what could have been a rehashed version of the past two seasons.
There's a newfound energy in the storytelling with everyone having more to lose than ever before. Sure, the team has been suspected of being the perpetrators of the murder, but now we know Mabel feels behind on life, Charles is perpetually lonely and Oliver is desperate to reclaim control of his life. These are challenging times to be sure and the rollercoaster keeps getting more and more steep. A new player in the game, Ben's bodyguard Gregg, seems friendly at first but then it's revealed that he has an unhealthy obsession with Ben before he renders them unconscious and handcuffs them together. After that, a flashback between Oliver and Ben reveals the latter suffered a heart attack and the "bodyguard" is a stalker prepared to kill them for his suspected murder of Ben.
When it comes to the plot twists, this series continues to make sure it delivers. It's always been a story of three people with agendas coming together and then making sure they all happen, but season three has a spirit of elevation to it so far, thanks in no small part to the sheer caliber of its new cast additions, that makes it can't-miss television. – Christian Hubbard
The first and second episodes of season three of Only Murders In The Building are streaming now on Hulu! 
---
Trending Now