'Haunted Mansion' (2023) Review: "A Fun Spooky Ride"
---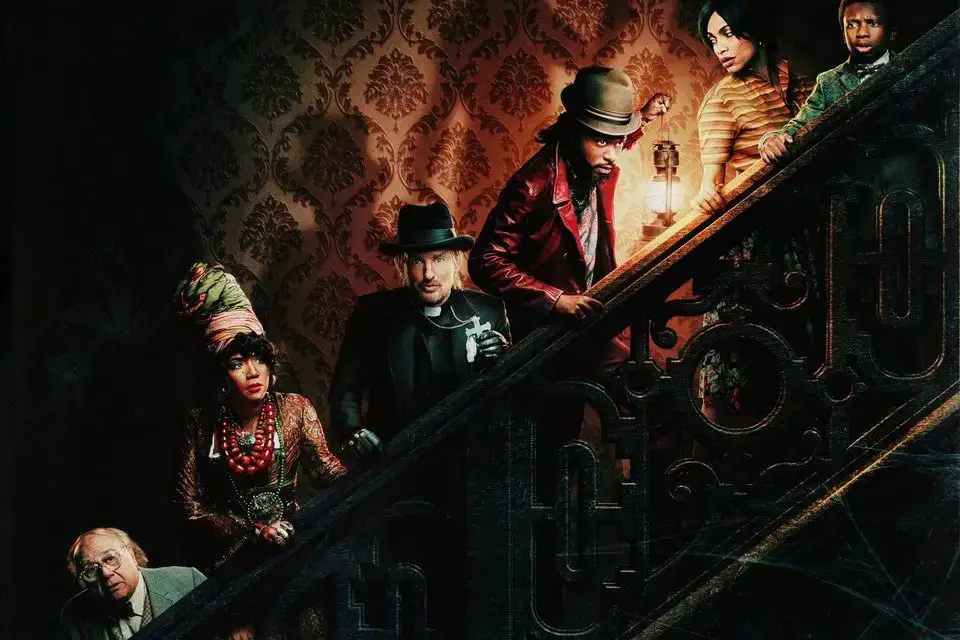 The early 2000s saw Disney taking a chance by turning their theme park attractions into feature films. But while Pirates of the Caribbean got all the love in 2003, it was not the only ride-to-movie project to come out that year. The other one was the Eddie Murphy vehicle The Haunted Mansion, which itself earned a bit of a following. Now that we are in a post-Jungle Cruise world, Disney has seen fit to bring audiences back into spooky territory with 2023's Haunted Mansion (note the missing definite article). But this is not simply a retread of the earlier film! Not only does this iteration have a strong spooky vibe but it also pays homage to New Orleans and its ghostly culture in a beautiful way. For a city that truly never sleeps, it's fitting we visit a haunted mansion that also never sleeps.
Haunted Mansion follows Ben Matthais (LaKeith Stanfield), a heartbroken astrophysicist turned photographer. After Gabbie (Rosario Dawson) and Travis (Chase W. Dillon) move into their mansion outside of New Orleans, they find out very quickly the place is haunted. Gabbie hires Ben to help them find out who or what is haunting them. Recruited by Father Kent (Owen Wilson), Ben finds out he's going to also need a psychic, Harriet (Tiffany Haddish). This ragtag crew uncovers some dark secrets inside the mansion.

Although director Justin Simien doesn't quite nail the pacing, he succeeds at bringing the comedy and horror to life. This film feels very Tim Burton-inspired, almost like Beetlejuice. The way the ghosts move and how goofy some of the scenes are inside the mansion certainly have the same level of imagination. Kris Bowers' score also adds to the Burton influence, it just gives you a feeling of spooky yet fun. Jeffrey Waldron's cinematography helps you navigate the mansion and its astrophysical side. These things all pull together to give this theme park turned film movie a good formula.
Haunted Mansion definitely would have been better to see in October. Its marketing was also terrible, this could have easily been a Disney Halloween event film. Which is actually kind of sad. The story is good, the haunts are there, and it's so much fun. This is something that would have thrived during the spooky season. The theme of Halloween is all throughout this film, and it's something that I can appreciate. A film based on a theme park ride is already hard to curate, but Simien and his team did it well.

The cast is good, and adding Jared Leto, Danny DeVito, and Jamie Lee Curtis only gives us more reasons to watch. This was such an easy sell to me, iconic actors with a mix of newcomers who are doing well. The acting in this film is exactly what can be expected. The overexaggerating and just all-out fun you can tell was had on the set of this film. It draws from several different inspirations, and you can see each of them in their respective parts of the film.
It's just a very fun film that came out at the wrong time. However, there is so much good about this film that outweighs anything bad. The entire cast and crew deserved a Halloween release date because it would have just helped boost the film. This film lives up to its predecessor and should be praised for this ambitious attempt at the story of Disney's Haunted Mansion. – Rascal F. Kennedy
Rating: 8/10
Haunted Mansion is now in theaters!
—–
Did you like this article? If so, consider visiting our YouTube channel, where we discuss the latest and greatest in pop culture news.
---
Trending Now