'Ted Lasso' Season 3 Episode 9 "La Locker Room Aux Folles" Review
---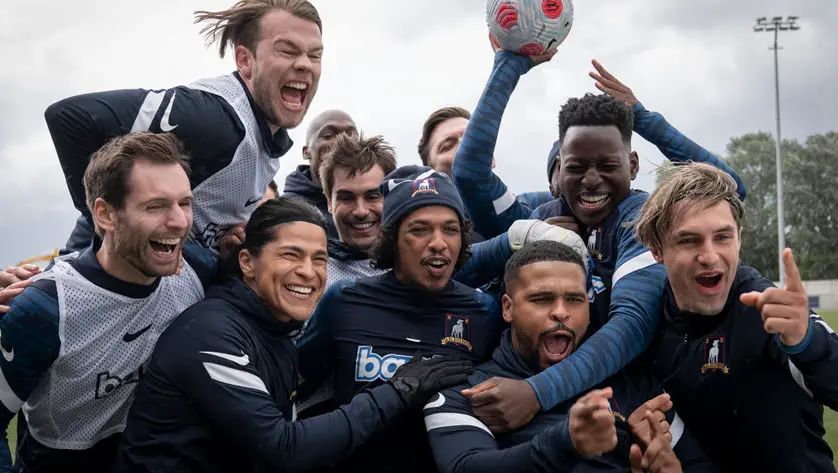 The following will contain spoilers for episode 9 of Apple TV's Ted Lasso. For a recap/review of last week's episode, click here. 
Colin Hughes. Played by an absolutely lovable Billy Harris, Colin has been an increasing entity in the realm of Ted Lasso. From being the butt of a few jokes in season one (Ted literally makes fun of him for having a butt injury as the despicable Led Tasso) to now, he has slowly transformed into not only the heart and soul of the AFC Richmond Greyhounds but the entire series as well. His arc this season has seen him struggle with the notion of his loved ones accepting and loving him just the same once they find out he's gay. The struggle of those in the LGBTQIA community and the task of coming out and living as they truly are is so very real and so very painful for many. Sometimes it's them struggling to accept themselves as they were born, while others fear the repercussions. 
In the case of Colin Hughes, his coming out party, at least the one featuring him and his teammates, was seemingly not on the cards for anytime soon. Going back a few episodes when the gang embarked to Amsterdam, Colin revealed his tale to Trent, and the two bonded over how they explained their journeys to self-acceptance with one another. However, while Colin had found a friend and true ally in Trent, he had yet to make the choice to share his truth with his band of brothers on the pitch. Then, when Isaac was hellbent on getting the boys to delete any uncouth photos they may still have on their phones from ex-lovers, he inadvertently discovered Colin's secret. 
Over the past few years, Isaac McAdoo has been softened. He's a grizzled, young veteran on the pitch when the whistle blows, but outside the confines of the game, Isaac is a sweetheart willing to do anything for his friends. However, right off the bat with episode nine begins, it's clear that something is wrong. His aggression and sheer disregard for his friend Colin are jarring. It hurts as a viewer to see someone so beloved be so cold upon learning his friend is gay. Colin spirals, but never stops seeking his friend out for an explanation. He knows what we know: this isn't the Isaac we know. This isn't the Isaac we love.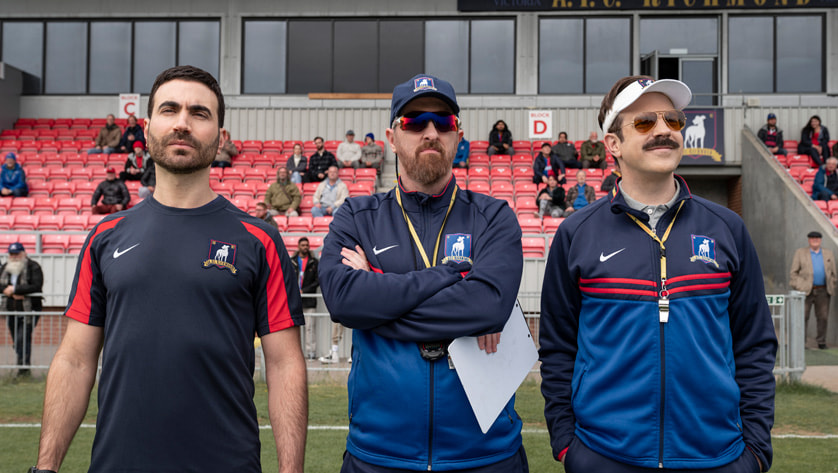 The story begins to take shape about halfway through episode nine, titled La Locker Room Aux Folles. Going through a bit of a rough patch after a multi-game hot streak using the Total Football strategy, The Greyhounds are down by three at halftime against their opponents. On their way out, one specifically irate fan, who has been seen previously screaming at Isaac from the crowd, screams the disgusting f-slur at them as they go through the tunnel. Now it's Isaac's turn to spiral. He hurls himself into the stands to confront the fan's ignorance. After several minutes of thinking Isaac disliked Colin for loving who he loves, he's now ready to kill upon hearing the f-slur. The team, stunned by the sudden turn of events, is left wondering if Isaac blew his gasket because he himself is gay. Colin finds his courage and comes out to the entire locker room and is met with nothing but love, support, and admiration.
When the episode closes, it's Isaac explaining why he was so angry with Colin personally. Before the besties make up, share a beer, and play some video games, Isaac explains he was so angry because he thought Colin didn't trust him enough to tell him, thinking there had to be something wrong with him. The way this story is framed allows for a slew of emotional moments and plenty of opportunities for Colin to feel love after being so worried about no longer being welcome. It also spends a lot of time framing Isaac as some sort of monster, which makes for some uncomfortable viewing, but a happy ending and emotional gathering in the locker room before Colin gets to score his first goal of the season makes for a beautiful-in-its-own-way, feel-good story of a character who started out as a background guy unable to drive his Lamborghini.
When it was revealed that Roy and Keeley broke up and that it was Roy's decision to do so, the dynamic between Roy and Rebecca felt off. In the past, they've spent time on double dates and even hanging out with each other's niece/goddaughter. Unfortunately, Rebecca has understandably chosen the side of her best friend and has been rather cold towards him. This all changes with Roy agreeing to step in and cover for Ted at a post-game press conference and then just bailing. Rebecca's discontent with her best friend's ex turns into unbridled rage. A touching conversation between the two sees a glimmer of hope for reconciliation as Rebecca's counsel sees Roy come out of his shell a bit towards the end.
All season, Roy has suffered from the Ted Lasso Effect. He's making puns and expressing his feelings with his friends, and even learning how to ride a literal bike with his pal Jamie Tartt. The development of Roy has been beautiful to watch and if the culmination was his willingness to finally open up about his upbringing and personal life to a room full of reporters in order to make Rebecca proud, it would be a lovely tale of a grown man still discovering himself his lifelong career has come to a close.
When season two ended with a gray-haired Nate Shelley playing for Rupert at West Ham, many gave up hope. However, that hope has been found over the course of season three. With Nathan getting the girl he's always wanted in the form of Jade, all seems to be going this way. However, when Satan himself (Rupert) descends on a wholesome moment between Jade and Nate, his cruel intentions are incredibly evident. See, Rupert has never been loyal to anyone in his life. So seeing Nathan happy and in love, the dream of us all, his immediate response is to wreck it the best way he knows how. Thankfully, toward the end of the episode, Nate begins to see through the charade of his employer. He walks into what he believes is a Guy's Night of drinks and bonding and is greeted by a drunk Rupert with women half his age. Nathan makes up an excuse, escapes, and heads right for his girlfriend. But one has to wonder what the repercussions of Ruper discovering Nate is not a total shitbag like he is will be.
Episode nine packs a punch, to be sure. The episode keeps viewers on the edge of their seats before showing its hand and makes sure a happy ending is still the plan. However, once again, it's concerning to see so many open, untied plot threads with only three episodes left and no promise of a fourth season. If Ted Lasso will be able to pull it out and cross the finish line in a satisfying way remains to be seen. – Christian Hubbard 
Rating: 9/10
Ted Lasso Season 3 Episode 9 is now streaming on Apple TV+. 
---
Trending Now