'Guardians of the Galaxy Vol. 3' Review
---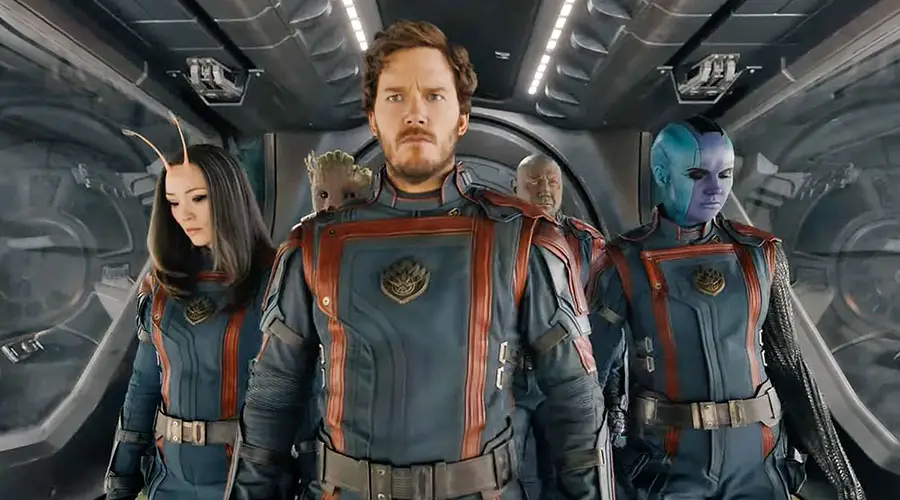 The legend of how Guardians of the Galaxy Vol. 3 came to be is a story as gripping as any superhero movie. After two highly successful films taking formerly obscure characters and turning them into a lovable group of scoundrels, writer-director James Gunn came under fire for a series of ostensibly comedic tweets interpreted as being in poor taste. Because of this, Disney's Marvel Studios let him go, and he maintained a low profile for a good while. That didn't stop his cast from writing an open letter to the studio, asking them to reinstate Gunn, gaining a groundswell of social media support. Nevertheless, the competition — DC Films, now known as DC Studios — poached Gunn, giving him carte blanche to make his own version of The Suicide Squad. Almost directly after, Marvel had a change of heart, bringing him back into the fold to complete his trilogy.
Don't think the story stopped there. During the production of Guardians of the Galaxy Vol. 3, Gunn's The Suicide Squad was released to rave reviews despite a tepid box office performance. Therefore, DC Studios brought on Gunn as their co-CEO, along with Peter Safran. Due to his exclusivity with Warner Bros. under his new agreement, as well as a clear mission to bring the Guardians story to a close, this is the true end of an era. And rest assured, this is no sad whimper. Guardians of the Galaxy Vol. 3 is a weird, emotional, perfect note to send off the galaxy's lovable A-holes and make sure to pack a wallop of movie magic on its way out.
Following the events of Avengers: Endgame and The Guardians of the Galaxy Holiday Special, Peter Quill/Star-Lord (Chris Pratt) is in a rough spot. Although Gamora (Zoe Saldaña) is still out there in the form of a Gamora from the past who never met the Guardians, he mourns the loss of his Gamora. There's little time to feel sorry for himself, however, as an attack on their home base Knowhere leaves one of their own injured. The only way to save their fellow Guardian is to confront a figure from Rocket's (Bradley Cooper) past- a sadistic scientist known as the High Evolutionary (Chukwudi Iwuji). To face a greater threat than they've ever encountered, Star-Lord, Rocket, Groot (Vin Diesel), Mantis (Pom Klementieff), Drax (Dave Bautista), Nebula (Karen Gillan), and, yes, Gamora, will have to band together and give it their all to guard the galaxy one last time.
Before getting into the nitty gritty, let it be known that James Gunn and Co. are having the time of their lives here. As a piece of science fiction, the level of imaginative concepts is off the charts. The worlds the Guardians visit are a seamless mix of practical sets and visual effects. An early film visit to the alternatively crusty and sterile base of the nefarious Orgocorp is a feast for the eyes, and the surreal, increasingly sinister Counter-Earth strikes a lovely bit of discomfort. Not to mention, the action sequences that take place in these are a hoot!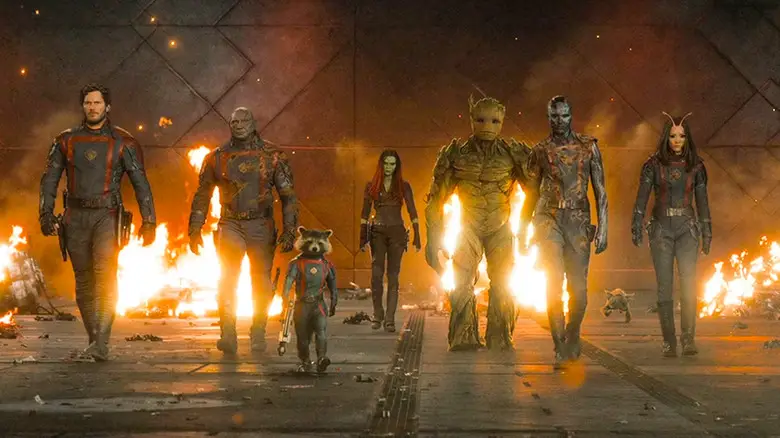 A heist of sorts on Orgocorp is a classic Guardians heist done flawlessly, and a one-take action sequence late in the game feels like it belongs in a prestige actioner rather than a big franchise movie. Scenes like these are buoyed by a surprising amount of gnarly gore (expect this movie to push the PG-13 rating to its very limits) and animal-humanoid hybrid adversaries that look like something you'd see in a hyperviolent video game like Doom Eternal. Of course, everything is backed by the best "Awesome Mix" yet, incorporating music from all eras this time around, leading to deep cuts like "We Care A Lot" by Faith No More bouncing off more recognizable hits in the vein of "Dog Days Are Over" by Florence+The Machine.
One gets the sense that everyone knew this would be their last time in the saddle, all together at least. The whole cast is so settled into their roles by this point that they could easily coast, but they don't. Pratt and Gillan communicate an effective maturity to their characters throughout the trilogy, while Drax and Mantis bring the majority of the film's zany humor to the forefront. Vin Diesel once again will deservedly earn plenty of "awww"s from the audience, too, and relative newcomer to the franchise Maria Bakalova makes for a freakin' adorable telekinetic pup in Cosmo, especially paired with the ever-sturdy Sean Gunn as Kraglin. Above all, there are two performances, and a whole aspect of the plot, that make Guardians of the Galaxy Vol. 3 into the special movie it truly is.
After all, Guardians of the Galaxy Vol. 3 is the story of Rocket and how he suffers to get over the scars of what the High Evolutionary put him through. The perfect alchemy of Bradley Cooper's vocal performance and Sean Gunn's motion capture allows the vulnerability of Rocket to come to the forefront as we see him across many eras of his life. James Gunn does not shy away from the gruesome details of what happened to Rocket in his past and how he is barely able to persevere in the face of that past coming home to roost. It's hard to watch in a way because these movies simply don't allow themselves to be anymore, thanks in no small part to the portrayal of the High Evolutionary.
Chukwudi Iwuji makes the High Evolutionary a real nasty bastard, a genocidal maniac who, in wanting to create the perfect world, subjugates those who are even slightly "imperfect" in his eyes. Now, he may not have the pomp and circumstance of a Thanos or Kang, but he's the ideal adversary for the Guardians. These heroes all started off as the Galaxy's biggest A-holes, forever tethered to their individual hang-ups. As they've grown together, they've learned having partners in misery makes it all easier. People bring out the best in each other, and by the conclusion of their story, the Guardians become the best versions of themselves. Facing the High Evolutionary is the symbol of that.
By the time the credits roll, James Gunn and his magnificent cast and crew have brought the story of the Guardians of the Galaxy to a definitive close. Whether or not they'll make more of these is up in the air, but this serves as a beyond-satisfying endpoint to this iteration of the Guardians. By wearing its heart firmly on its sleeve, embracing its singular nature, and going balls-to-the-wall in delivering the unadulterated fun missing from its contemporaries, Guardians of the Galaxy Vol. 3 concludes the Marvel Cinematic Universe's best trilogy on a tear-jerking, heavily inspiring note. It's unlikely there will ever be a Marvel movie like this again. But that's what makes it special. Thank you, Guardians, for hanging out one last time. –James Preston Poole
Rating: 10/10
---
Trending Now