'The Suicide Squad' Review: "Creative Freedom Reigns"
---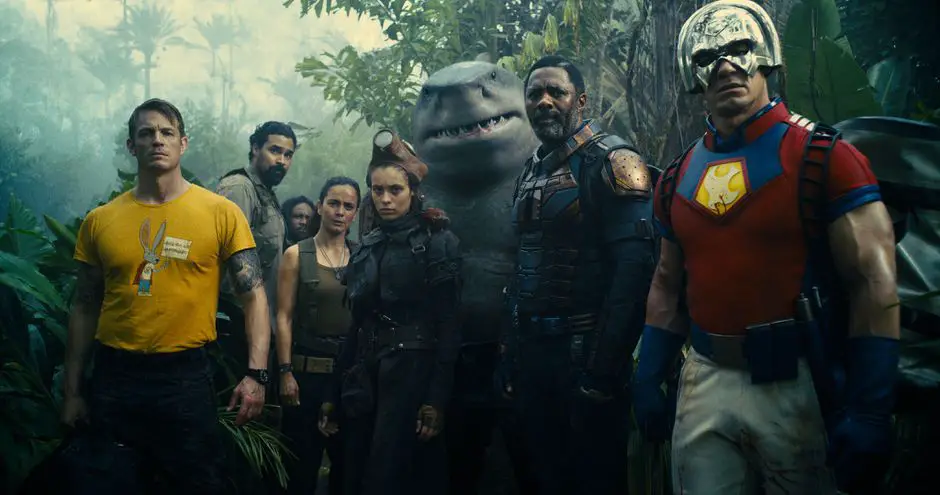 DC and Warner Bros. have come a long way since Comic-con 2015. This was when David Ayer's original Suicide Squad film was first teased. The gritty, grounded, realistic corner of the DCEU was trying to lay its groundwork. Fast forward to a a year later, and Ayer's vision in 2015 is nothing like the released 2016 Suicide Squad. In a film plagued by reshoots, studio interference and edits that didn't have the director involved in any capacity, Suicide Squad was doomed to fail critically because of its lack of freedom.
Now here we are.
Fast forward to 2021, and we have James Gunn's The Suicide Squad. In what is practically the antithesis of it's 2016 predecessor, The Suicide Squad is a passion project with all the creative freedom Gunn could possibly want. A film bolstered by its creativity and mind-blowing story. Moreover, a film that's able to successfully re introduce this iconic comic book IP on the big screen. The Suicide Squad is not only one of the best comic book films made, it's also among the best of the year. 
In a movie-going landscape that has slowly become overtaken by comic book films, The Suicide Squad manages to rise above the rest. The film does this by embracing the history and roots of the story and characters. Created by John Ostrander in 1987, the team known as 'Task Force X' is an inherently interesting comic book story. Super-powered criminals, under coercion from the U.S. Government, undertake dangerous black ops missions with plausible deniability if they fail. Missions deemed too dangerous and too controversial to be done in public, the Suicide Squad is at the Government's disposal to do their dirty work.

Writer/Director James Gunn takes this premise and runs with it. Comic book movies have become increasingly formulaic and tied down by the needs of other interconnected projects. That isn't the case with The Suicide Squad. The film is its own independent story, free from the constraints of typical comic book movie storytelling. The refreshing feeling of having real stakes and danger to our characters is ever present throughout the film. This is in no small part thanks to the films rating.
The Suicide Squad is well deserving of its 'R' rating. One of the most violent comic book films, Gunn drops our stacked cast into as hostile an environment as he could create. No one ever feels safe and there is one blood bath after another in this intense and high octane film. The Suicide Squad is not for the faint of heart. Its fast pace and bloody imagery may leave some viewers reeling. However, that is somewhat the point of the film.
James Gunn has taken a comic book IP and transformed it in his own vision and blending of genres. Part superhero film, part war film, and part horror, James Gunn weaves different tones to strike a perfect creative balance that enthralls viewers from beginning to end. This is where the tight and expertly structured script comes into play.

Gunn bounces in and out of various non linear sequences of storytelling with ease in The Suicide Squad. In another example of challenging and reshaping the genre he's telling his story in, Gunn uses various methods of flashing back in pivotal story moments. Gone are the lulls of exposition expected to come with comic book films that halt the story and slow the pace. Instead are swift transitions to different points in time to make the story more engaging than it already is. This is a smart script that knows how to keep audiences invested.
The story is only as good as the characters that are a part of it, and in The Suicide Squad's case, there isn't a single weak link. This array of benchwarmer D-list villains are as colorful as they are pathetic. The cast behind them, however, aren't pathetic at all. Alice Braga, Margot Robbie, David Dastmalchian, Idris Elba, Peter Capaldi, Joel Kinnman, Daniela Melchior, and John Cena are all part of the incredibly talented cast.
Moreover, this colorful cast of characters each have their own unique moral complexities. Sure, most of this large cast mainly serves as cannon fodder, but those that do make it through most of the duration of the film serve unique purposes. Even if on screen for only a minute, every cast member brings their A-game. While there have been some morally gray scenarios in comic book films, up to this point, nothing has reached the complexity of the characters of The Suicide Squad.
Highlights of the film are world weary and righteous leader Rick Flag, whose turn in this film is a redemption from his debut in 2016 and Daniela Melchior as Ratcatcher 2, who is without a doubt the heart of the film.

KEEP READING: Jungle Cruise Review: "Adventurous & Familiar Fun"
The film involves the squad being deployed to the fictional country of Corto Maltese in the middle of a military coup. Amanda Waller (played as ferociously as ever by Viola Davis) is looking to sweep dirty state secrets under the rug. With the concept of Task Force X comes the opportunity to play into some political commentary, and James Gunn doesn't waste it. The writer/director takes a bold, not so subtle jab at U.S. Foreign Policy in the actions of the suicide squad itself, Waller, and more specifically characters like Rick Flag and Peacemaker.
The Suicide Squad takes the dichotomy of characters like Flag and Peacemaker and puts them on display in explosive and entertaining fashion. But below the surface action and killer effects is a moving story of a group of morally corrupt individuals trying to find redemption in the murky and apprehensible operations they've been coerced into. There's so many different plot threads throughout the film. Ranging from a romantic subplot for Harley to the rivalry between Peacemaker and Bloodsport. Then there's the military coup and guerilla fighters lead by Braga's Sol Soria going against military dictatorship.
All of these plots come to a head by the end though, with everything leading to Jotunheim: a secret research base that serves as a sort of MacGuffin location for all of these plot lines and characters to intersect. The explosive ending of the film that will leave viewers exhausted, but satisfied.

It would be amiss not to mention the amazing technical achievement that is Starro the conqueror. Gunn returns to his Slither roots whenever this character's involved in the film, and the practical and CGI effects for the creature make it a truly terrifying and formidable threat. However, Starro's much like the rest of the cast of The Suicide Squad, that being a "monster" backed into a corner and used as a weapon for government purposes. James Gunn is a master of keeping a consistent theme in his films. The Suicide Squad's no exception to that. The broken characters strewn throughout this film are a testament to that.
Overall, The Suicide Squad is the DCEU's best film by a large margin. James Gunn, clearly given creative freedom to do what he does best, unabashedly shares his vision with us. The result is a beautifully scored, shot, and performed production that shows the potential of comic book films. Not to be synergistic byproducts peddled all the same. Rather, independent stories like any other film you see that doesn't come from a comic book. The opportunity to bring poignant themes while still having fun. – Ernesto Valenzuela
Grade – 10/10
The Suicide Squad is now playing in theaters and on HBO Max
---
Trending Now