'Ted Lasso' Season 3 Episode 8 "We'll Never Have Paris" Review
---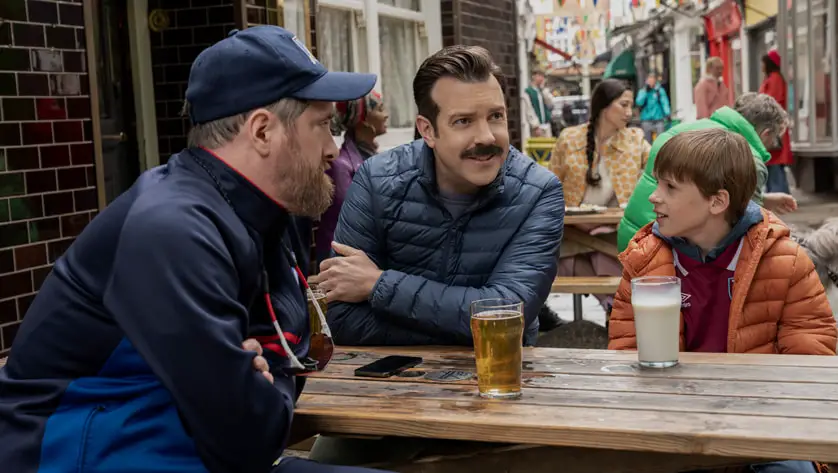 The following will contain spoilers for episode 8 of Apple TV's Ted Lasso. For a recap/review of last week's episode, click here. 
Since its inception, Ted Lasso has had several themes and motifs. The power of belief and a fish-out-of-water attempting to fit in have recurred a few times in the now three-season run of the series. However, love has always been at the heart of the show and its main characters. Love lost, love found, and the blossoming of love have centralized and humanized this series through the main characters like Ted and Rebecca. However, with an ensemble as talented as Ted Lasso, the rest of the gang was bound to get in on the action as well. Season three has been a slippery slope so far, with some of the choices made at the expense of the main characters. Especially names like Keeley Jones and Nathan Shelley as they both find themselves in new, exciting relationships.
In the case of Keeley, her new girlfriend Jack is also her primary investor in her brand-new marketing firm. While it's been hinted previously that this could come back to bite her eventually, she steadies herself and moves forward, and continues to fall in love. However, tragedy strikes in episode eight. Keeley is the victim of a sprawling hacking scenario that leaves her private messages, pictures, and videos released on the web. A heartbreaking situation to find anyone, especially someone as beloved and protected as Keeley. While she reels from the backlash of such a disgusting act, Jack reassures her by telling her that she'll take care of it. Unfortunately, her idea of taking care of it is seeking counsel with her wealthy father and his wealthy lawyers, and they deem it appropriate for Keeley to apologize. Apologize for doing nothing wrong. This points to yet another major sign that perhaps Jack and Keeley are not meant to be. It wouldn't be surprising to see Keeley take a step back from love altogether to focus on herself. Regardless, she must be protected at all costs.
Elsewhere, Nathan is navigating his own love quarrels with his newfound partner, Jade. It seems, on the surface, that the two are getting along just fine and things are going well for the former kitman of AFC Richmond. However, unsure of where they stand, Nathan attempts to ease into the dreaded boyfriend/girlfriend conversation. Awkward. He even goes as far as attempting to recreate the bond he found with Roy, Higgins, Beard, and Ted at Nelson Road with the Diamond Dogs by looking for guidance from his new coworkers. This goes about as well as one would expect. This turn of events for both Keeley and Nathan leaves them both unsure of their futures, causing a throughline of drama throughout the episode.
While Nathan and Keeley deal with their own messes to clean up, Ted is in full-on panic mode. A visit from his ex-wife Michelle and his son Henry, alongside Michelle's new boyfriend, gives Ted some much-needed one-on-one time with his kid. However, this is due to the fact that Michelle is going on a spontaneous trip to Paris with her boyfriend. Ted connects the dots and imagines a situation where Michelle is getting proposed to and spirals. Ted's battle to better his mental health has been ongoing, with a lot of ups and downs. And just as it began to look like he was over his divorce and ready to move on, this new fear triggers a lot of feelings for our hero.
Jason Sudeikis, who serves as one of the show's creators, writers, and executive producers, has sort of been understated as a performer this season, with his co-stars Hannah Waddingham and Brett Goldstein as clear standouts. However, episode 8 reminds fans why Sudeikis has won multiple Emmys and Golden Globes as a result of Ted Lasso. And his portrayal of a man witnessing the final nail in the coffin that was his former relationship is poignant and laced with realism. You can read the panic in his eyes. You can hear the fear in his trembling voice. You can easily see the guilt melting across his face as Ted attempts to get any inside knowledge from his sleepy son.
While episode eight may not be as riveting as the last few episodes of season three, it shows that the multitalented actor has not lost his connection with the character nor has he lost the ability to make Ted feel like he can exist in the real world filled with real concerns despite his overwhelming positive nature.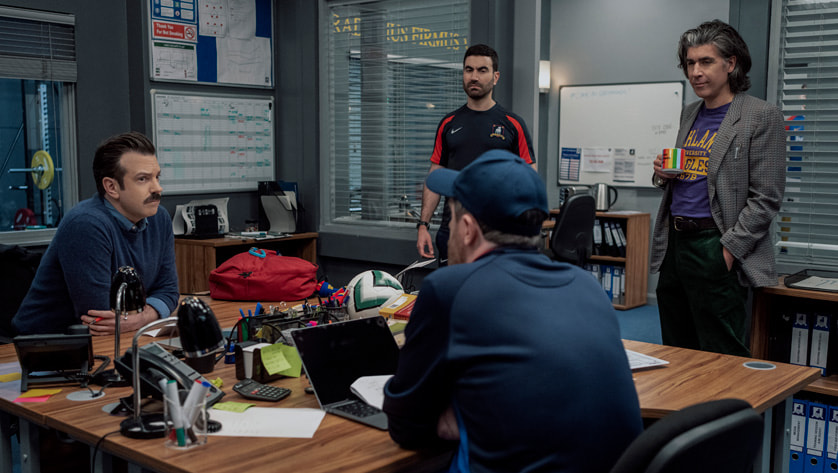 Perhaps the most important element of episode eight is the conversation surrounding Keeley's video getting leaked. Whenever this happens in real life, the victims are put on blast by people who have no idea what they are going through. It's nice to see this brought to Ted Lasso in the form of a conversation between all the boys in the locker room. However, seeing characters like Jamie and Isaac argue with and urge their teammates to delete any lingering photos they might still have is sort of refreshing. It's not a difficult concept to grasp that once a relationship ends, those sorts of intimate photos should be erased. However, seeing it play out in real time on one of the biggest shows on television feels notable. Additionally, Sam's only inclusion in this episode is explaining how he allows his partners to delete anything they want from his phone following a break-up, which feels like a less-than-ideal follow-up to his storyline last week.
When comparing episode eight to the rest of the season so far, it feels like a step back. However, this is simply because of how stellar the preceding episodes have been. A few moments push the narrative forward and keep the larger plot on course. But with only four episodes left after this one, it will be quite interesting to see how the chess pieces fall before the quickly approaching finale. – Christian Hubbard 
Rating: 8/10
Ted Lasso Season 3 Episode 8 is now streaming on Apple TV+. 
---
Trending Now