'Creed III' Review: "Total Knockout"
Posted On February 23, 2023
---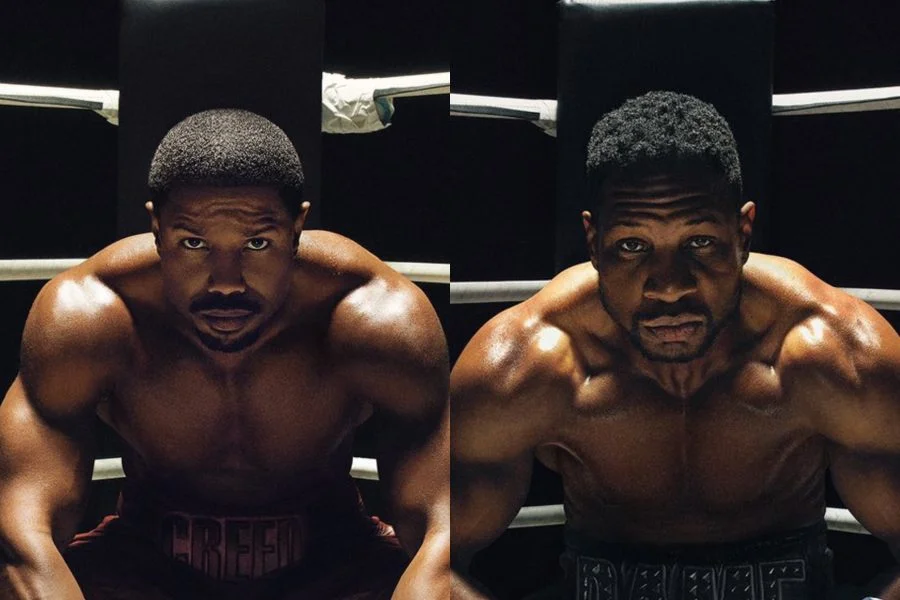 Adonis Creed has officially stepped out of the shadow of Rocky Balboa. After two wildly successful films, the Creed series, which spun out of the storied Rocky films, now makes its first move without Sylvester Stallone. A controversial move, to be sure, compounded by the helmer this time around is the film's star, Michael B. Jordan, making his directorial debut. Add in rising star Jonathan Majors as the antagonist and Creed III has a lot to prove. It's that kind of pressure that turns coal into diamonds. Creed III is a winner, making for one of the best entries that Creed and Rocky films have had, period.
Many years after the events of Creed II, Adonis Creed (Michael B. Jordan) lives a happy, if uneventful, life in retirement. His wife Bianca (Tessa Thompson) and daughter Amara (Mila Davis-Kent) are his everything, and he continues to be involved in the boxing scene as a mogul of sorts. When childhood friend Damian "Dame" Anderson (Jonathan Majors) gets out of jail, Creed is ready to help his former surrogate brother follow his dreams in the ring. However, Dame's increasing brutality in and out of fighting reveals a long-held personal vendetta. The only solution for Adonis may be stepping back into the ring one more time.
The screenplay from Keenan Coogler and Zach Baylin, based around a story co-written by the duo and Creed director/franchise shepherd Ryan Coogler, drips in melodrama. The unwinking, overwrought passion in the movie's core rivalry might turn off some audiences. However, it enhances the experience for those on its wavelength. Creed III lives up to the promise of being a personal story. Not only increased focus on Bianca and Adonis' family life, but also the past bubbling up, causing Creed's personal life to go into limbo. His internal struggle explodes out onto the screen, working because of the complete confidence the story has in itself.

Confidence is something Michael B. Jordan the director has no lack of. He tops the fights of the first two movies and then some. Working with cinematographer Kramer Morgenthau, the fights in Creed III are a much more stylized affair than before. Slow-motion allows us to see the way that Adonis processes his next move, in a way almost reminiscent of Guy Ritchie'' Sherlock Holmes pictures, before the speed ramps up and his impacts land with a decisive crunch. The diversion away from the more straightforward grit of the first two films allows the film to go into a more abstract territory never before seen in a Rocky movie, one that lets the emotions lead first. Michael B. Jordan said he was particularly inspired by anime in his approach, and these bouts feel like a shonen series. Emotions lead first.
Just as well, emotions manifest themselves in a series of exceptional performances. Once again, Tessa Thompson gets a lot more to do, and Wood Harris' Tony "Little Duke" Evans Jr. is delightful. Make no mistake, this is the Michael B. Jordan/Jonathan Majors show. Jordan effortlessly slides himself deeper into the title character here, as comfortable as Stallone playing Balboa all these many years later. He's on the outside a sturdy, honorable man, whose demons won't leave him alone. His biggest demon – Damian – stands right in front of his face. Majors is a force in this movie, a muscle-bound, rage-fueled manifestation of a chip on the shoulder. Nonetheless, Majors manages to add a degree of tragedy to this character, and as these characters grow closer and closer to conflict, Creed III reaches its apex. 

The last 30 or so minutes of Creed III are bravado. A personal battle between two men turning into a clash of titans; a modern gladiatorial event. For the many decades boxing movies have been around, never have they felt so immediate, so tense, so massive. The drama between two humans leaves one glued to the edge of the seat. It's one of the best action climaxes in recent memory, striking a delicious middle ground between the bombast of Rocky IV, the emotional grit of the prior two films, and the larger-than-life antics of Dragon Ball Super: Super Hero.
Creed III stands tall as the rare third entry of a series that fires on all cylinders. A total knockout of a blockbuster, whose closest comparisons are the heights reached by last year's Top Gun: Maverick and RRR rather than others in the shared Rocky/Creed franchise, this is going to be a film that will be talked about for a long time. Adonis Creed has firmly moved out of the shadow of Rocky Balboa, and the light has never shone so bright. – James Preston Poole
Rating: 10/10
Creed III is in theaters everywhere on March 3, 2023.
---
Trending Now