'Ant-Man & The Wasp: Quantumania' Review: "An Odd, Big Swing"
Posted On February 17, 2023
---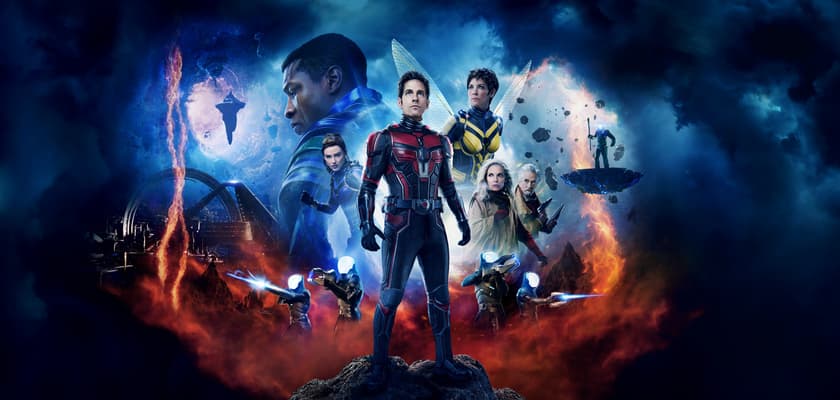 The Marvel Cinematic Universe is in a weird place. After a legendary run of critical and commercial smash-hits leading up to the juggernaut that was Avengers: Endgame, Phase 4 was a bit hit-or-miss for most. For every roaring success like Black Panther: Wakanda Forever, there was a misfire like Thor: Love and Thunder. Most of them rest in the dreading "polarizing" realm, where projects such as Doctor Strange in the Multiverse of Madness (which, for the record, is my favorite thing the MCU has done) or Moon Knight went to fester. More than anything, there's an overwhelming sense of no direction. Suffice it to say that Ant-Man & The Wasp: Quantumania has a lot of riding on it. Introducing the franchise's new big bad, kicking off Phase 5 – it's a heavy burden. How does it fare? Bizarrely… in a mostly good way.
After the small-scale (pun-intended) adventures of the prior two films, Ant-Man & The Wasp: Quantumania massively increases in scale. Incidentally, that means going smaller than ever before. Enjoying their lives as a superhero celebrity couple, Scott Lang/Ant-Man (Paul Rudd) and Hope Van Dyne/The Wasp (Evangeline Lilly) are thrown a curveball by the escapades of Scott's activist daughter Cassie (Kathryn Newton). During a stern talking-to, Cassie reveals that she's found a way to communicate with the Quantum Realm. Her discovery causes an accident that pulls herself, Scott, Hope, and Hope's parents Hank Pym (Michael Douglas) and Janet Van Dyne (Michelle Pfeiffer) into the Quantum Realm. There, they will try to find their way home, with multiversal tyrant Kang (Jonathan Majors) standing against them.
There's no way around it- Ant-Man & The Wasp: Quantumania is kind of a mess. The green screen work is incredibly shoddy, oftentimes resembling early to mid-2000s Robert Rodriguez films Spy Kids 3-D: Game Over and The Adventures of Sharkboy and Lavagirl. The humor is pervasive, even as the film painstakingly tries to set up years of forthcoming stories. Furthermore, there's so much going on at any given moment that it begins to feel like sensory overload. Yet, those same bugs recall a lot of the features that have drawn readers to comic books for innumerable decades. Once you succumb to the madness, Ant-Man & The Wasp: Quantumania is a hell of a time!

Despite the aforementioned green screen woes and a color grading that can generously be described as muddy, cinematographer William Pope (The Matrix) manages to capture some appropriately mind-bending images. Quantumania brings to life a sci-fi world unlike any quite seen on a blockbuster of this scale; a ramshackle semi-cyberpunk metropolis of sorts brimming with every kind of squishy anthropomorphic alien one can imagine. It feels ripped right out of an episode of Star Trek, or more appropriately Rick & Morty since the film's screenwriter Jeff Loveness has written for that show. It's a feast for the eyes, wholly imaginative, bordering on sensory overload in just the right way.
Through Loveness's script and returning director Peyton Reed's sturdy direction, Quantumania plays exactly the pulpy sci-fi it should be. Dividing up the cast between Scott and Cassie bonding in their new adventures and the Pyms/Van Dynes solidifying their family unit is a strong choice. Whatever insight it lacks into the characters is the film's gain in terms of displaying fun, episodic adventures. The creatures and locales are the star of the show in Ant-Man & The Wasp: Quantumania. The fan-favorite M.O.D.O.K. in particular is a wonderfully off-putting visual. As a whole, the flick comes off like more of a rip-roaring adventure than it has any right to be. And that's even before the big bad makes his appearance.

Jonathan Majors as Kang is exactly the kind of energy this film, and the franchise as a whole, need. His Shakespearean take on the villain is menacing, but, critically, not without heart. His appearance into the film nearly midway through shifts Quantumania into something far more compelling than came before. Simply put: things get weird. Not Thor: Ragnarok, Marvel brand-safe weird, but seriously oddball. All sorts of science fiction concepts are thrown at the audience, the visuals get appropriately trippy, and it becomes exactly the rollercoaster ride these movies are accused of being. In this case, though, it works. Hard. Quantumania crosses past a comic book movie threshold of no return that, frankly, needed to happen a long time ago, and it's kind of amazing to see it happen.
The biggest franchise in the world finally feels as if it's ready to embrace the inherent goofiness of the source material to its core. Ant-Man & The Wasp: Quantumania feels almost designed to vindicate those who have seen these movies as blockbuster bloat, but it's a testament to how much it embraces being intoxicating in terms of its own science fiction spectacle. Judging by the film's Rotten Tomatoes score, this is going to be one hotly contested film for a very long time. Nevertheless, it's a gonzo spectacle that breaks the mold with its sheer audacity. Consider me a fan of this odd, big swing of a superhero movie. –James Preston Poole
Rating: 7/10
Ant-Man & The Wasp: Quantumania is now in theaters.
---
Trending Now