'Black Panther: Wakanda Forever' Review: "Finding A Way To Move Forward"
Posted On November 11, 2022
---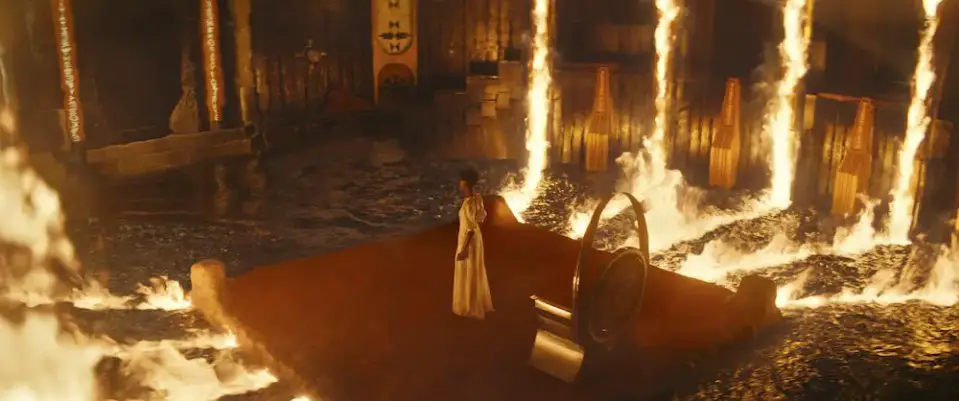 In 2018, the world came together to celebrate Black Panther as one of Marvel's greatest triumphs. Not only did the film receive critical acclaim, but it also became a phenomenon. Following the passing of Chadwick Boseman in 2020, eyes are once again fixed on Black Panther with its sequel: Wakanda Forever. Through its examination of grief and its celebration of life, director Ryan Coogler creates a living monument to the reality of love and loss.
The film begins with Queen Ramonda (Angela Bassett) and Shuri (Letitia Wright) coming face to face with the revelation that King T'Challa has passed away. The devastating finality of T'Challa's death lands as the Wakandans seek ways to move forward without their king. The honor with which Coogler presents Boseman's memory and legacy through the character is impactful. However, the film does not shy away from the grief that comes from that loss.
Wright and Bassett handle most of the emotional heavy lifting in the film. Meanwhile, Danai Gurira's Okoye serves as a stoic presence to keep the promise of protection for their country. In addition, the film introduces new characters in the form of Riri Williams/Ironheart (Dominique Thorne) and Namor (Tenoch Huerta Mejía). While Thorne brings in youthful exuberance, Huerta provides a new king to the existing hierarchy of power in the Marvel canon. The movie also allows for returning characters M'Baku (Winston Duke) and Nakia (Lupita Nyong'o) to grow in their roles. Now, they are capable of holding their own against the might of an entire army.

Along with the introduction of Namor comes Talokan, a vast, extravagant ancient civilization of underwater-dwelling people. However, to them, Namor is the feathered serpent god K'uk'ulkan. This new world allows an entirely new culture to take center stage within the film's world. Instead of Namor coming from Atlantis like his comic counterpart, he comes from a place rooted in ancient Aztec culture and beautifully designed to reflect that.
Hidden away from the surface world for much of human history, Talokan suddenly finds itself in danger of being discovered. This conflict puts Wakanda in the direct line of fire and war is suddenly inevitable. Tenoch Huerta brings a unique charm and ability to command attention within him in his depiction of Namor.
When it doesn't focus on the emotional gut punches, Wakanda Forever is a more than functional superhero blockbuster. Large-scale battles and explosive disasters offer plenty of action for fans looking for familiar Marvel tricks. However, a few aspects, such as a subplot featuring Martin Freeman's Agent Ross feel unnecessary to the main narrative. That being said, Freeman is a charming performer who gets to bounce back and forth with various scene partners.
The personal way each character deals with the loss of their hero is indicative of the creative choices made by Coogler and co-writer Joe Robert Cole. It's evident through the way Shuri handles grief versus the way her mother handles grief that the full range of the emotional spectrum was under consideration. The cast and crew of Wakanda Forever had an undeniably tough task of honoring Chadwick Boseman's legacy while continuing the story of the Black Panther and, on all fronts, it feels authentic. – Christian Hubbard
Rating: 8/10
Black Panther: Wakanda Forever is in theaters now! 
—–
Did you enjoy this article? If so, consider visiting our YouTube channel, where we discuss the latest and greatest in pop culture news.
---
Trending Now