Full Circle Flashback: 'Starship Troopers' Review: 25 Years of Sci-Fi Greatness
Posted On November 10, 2022
---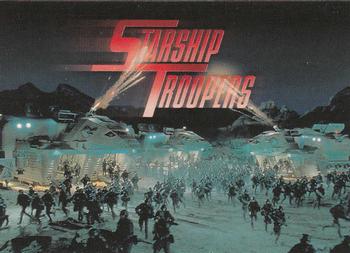 Starship Troopers has officially turned 25 years old. Paul Verhoeven's film is an action-packed sci-fi film about class, citizenship, and duty. It's also just a fun action movie that has had audiences by the throat since 1997. There's a certain nuance to the film, which makes it stand out among other high-profile action films of the time.
The film follows Johnny Rico (Casper Van Dien), a man born into a rich family that wants to be a citizen. He's caught in a love triangle with Carmen Ibanez (Denise Richards) and Dizzy Flores (Dina Meyer). The film follows these characters through this fascist futuristic dystopia as they defend the galaxy from the arachnid invasion. After they graduate, they can decide to join the military or go to college.

But in the federation, to be considered a citizen you must serve in the military. Rico, Ibanez, and Flores all join the military of course. Rico and Flores join the infantry which is their Army and Ibanez joins the fleet which is similar to the Air Force. After they lose their home in Buenos Aires, Rico and Ibanez go to fight on Klendathu and avenge their home. Things go haywire and they must recoup. Their friend Carl (Neil Patrick Harris) joins the command and helps lead a mission to take down an overrun off-world base. They must find the brain eater bug to take down the Arachnids, and defeat the enemy.
Between this, Robocop, and Total Recall, Paul Verhoeven is the king of dystopian future movies. However, while Total Recall and Robocop focus on things like corruption, Starship Troopers does not. There's a message in Edward Neumeier's script about patriotism and duty to your country which remains relevant even today. Replace Arachnids with terrorists, and the story continues to stay intact. Even though fascism isn't deeply fleshed out per se, it's there. The military product of the film and the sacrifice of life in battle are all there in the film.

The classism in Starship Troopers is only in the first act. This is where it focuses on Johnny Rico and his rich parents. Rico wants to go into the military, and his parents want him to go to Harvard. His family is rich, and they act accordingly. There's an argument about him joining, and his family disowns him. He joins the military with nothing but the clothes on his back. Then it never really comes into play again besides when the troops talk amongst each other.
Starship Troopers the film is vastly different from the book written by Robert A. Heinlein. The film is more of a satire based on the books, so it's not meant to have the serious conversations the books have. Which is different for Verhoeven because when you think of him, you think of "deep" and philosophical. Which is what the Starship Troopers book consists of. The book was a reaction to the US suspending its nuclear program in the 50s.

When you think in terms of the book's release and the film's release, times were different. Fourteen years after WWII and the atomic bomb for the book, and then six years after the Cold War for the movie. America was on severely patriotic levels at both times. Verhoeven wanted to have fun though, and that was apparent. His taste for dystopian film is bar none, but adding in satire made it all the better.
Sending kids to their deaths has been a constant criticism of the military, preying on the young. Which happens in this film. Kids aren't told to join the military, they're encouraged. They're encouraged through things like studying bugs in school and watching films about how the UCF is good. The film not being based in the U.S. also stands out considering the book is a direct reaction to U.S. activities.

This is an interesting story, and that is what sets this apart from other action films. In the sci-fi realm, it does what most sci-fi films do. Whether those conversations are deep or not is up to the writer. I admire Neumeier and Verhoeven, I also admire Heinlein. While one is extremely serious and incredibly philosophical, the other is very in-your-face and satirical. It balances.
Will we ever get a serious adaption of Starship Troopers? I doubt it. Five films and an animated series based on Rico's Roughnecks platoon, and none of them are extremely serious. That doesn't take away from the film itself or the ideology of Starship Troopers. It's all based on real-life things just in a very futuristic setting. You can't be any more direct about what it's trying to say, whether it's the film or book. Propaganda keeps fascism alive, and it seeps into every fiber of every nation in the world.

Starship Troopers has gone on to have sequels, comics, and lots more. It's a staple in pop culture. Johnny Rico is a hero we all know and remember. The sequels help drive the conversations inside the original film. Twenty-five years ago Paul Verhoeven began a franchise that would become underrated and greatly appreciated at the same time.
Overall, this is a great film if you want to see an action film play around with its subject matter. If you are seeking something more than surface level, it won't be there. That's okay though because not every film needs to be that. Twenty-five years later, the film remains an enjoyable action-packed sci-fi film. – Rascal F. Kennedy
Rating: 7/10
Starship Troopers is available on Blu-ray, Digital HD, and Paramount+.
---
Trending Now