'Spy x Family' Brings The Laughs With "Yor's Kitchen / The Informant's Great Romance Plan"
Posted On October 22, 2022
---
After the last episode of Spy x Family wrapped up Project Apple, this week settled back into the series' episodic nature with two different missions. While the three-episode-long storyline prior showed how the Forgers can balance humor and seriousness, Yor's Kitchen / The Informant's Great Romance Plan was all laughs.
The first mission opens with Loid, Anya, and Bond waiting for Yor to return home from work. But strangely, she is pretty late, which seems to be happening more and more lately, as Loid notes. When she does arrive home, Yor appears quite sullen, has mysterious cuts all over her hands, and quickly goes to bed. Things seem like they may be wrong, and given Yor's job as an assassin, it's possible this could spell trouble for the Forgers.
READ: 'Spy x Family' Has Great Tonal Balance in "A New Family Member"
The next day Yor goes out after work and arrives at her coworker Camilla's house. It is soon revealed that the reason for Yor's late nights and mysterious mood is that she is secretly taking cooking lessons to surprise Loid and Anya. The episode did a great job of leaving viewers anxious to see what could be wrong with Yor and setting up a satisfying reveal.
Yor is convinced that Loid's frequent bathroom breaks are a result of her poor cooking, but little does she know it's just one of his excuses for when he runs off on a mission. Nevertheless, she is determined to become a better fake wife and mother for the Forgers. This is easier said than done though, as she is genuinely a terrible cook, so much so that Camilla and her boyfriend had to call in Yor's brother Yuri to taste test her inedible food. Yor jumps right into her lessons only to mess up as she eviscerates the meat and slices right through the cutting board with her assassin skills.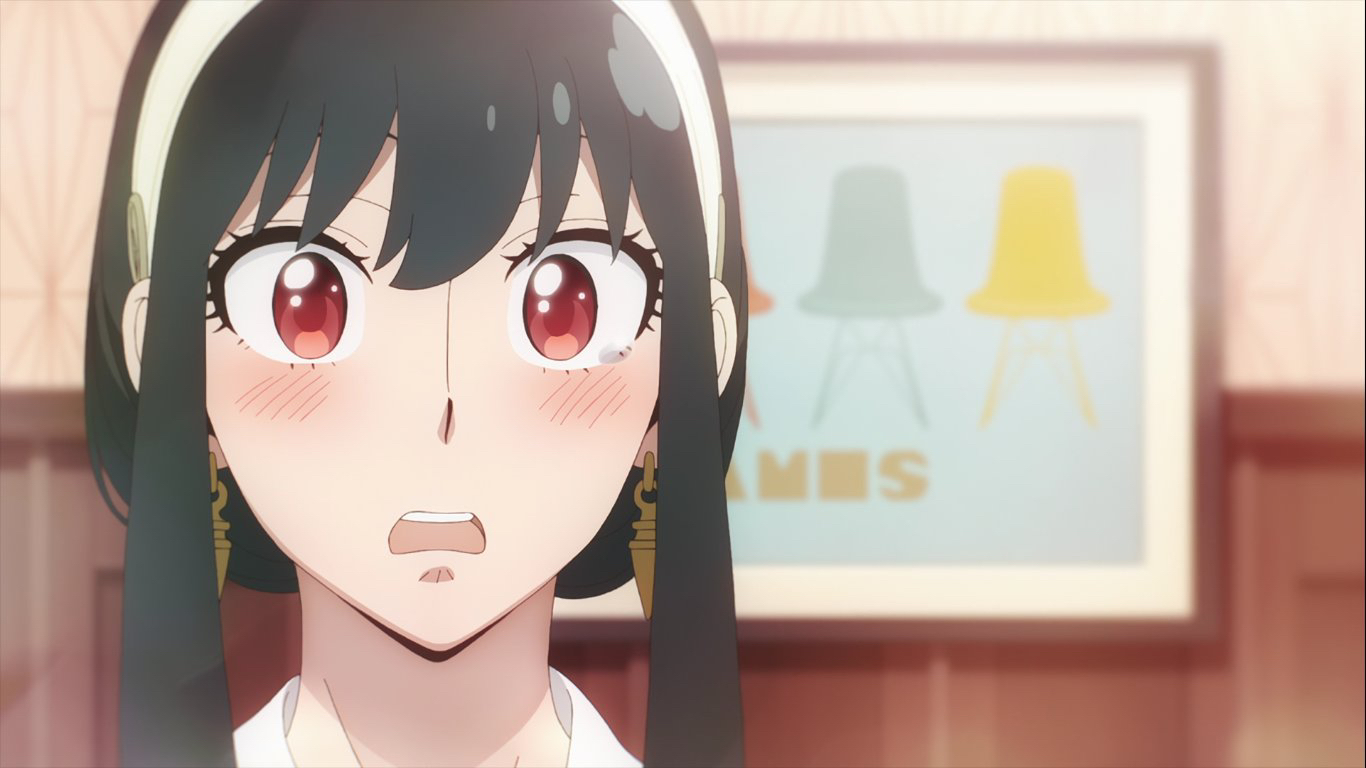 Much to Camilla's frustration, there seems to be no helping Yor but trying one more time, she tries to see if Yor or her brother remember any meals their parents made them when they were alive. The two recall a stew they ate as children, and Yor and Camilla start cooking. With the latter's help, Yor is able to complete the dish, and surprisingly it is actually edible. The whole ordeal was a great way to offer some extra depth to Camilla, who was nothing more than an antagonistic coworker in the first cour. But here, she made an effort to help Yor and showed a much more likable side.
Back at the Forger's, Yor returns home and prepares the dish for Loid and Anya. The two are naturally scared of the meal, given how well Yor's dishes typically go but are soon shocked to discover it's actually delicious. As the two praise Yor, she is brought to tears as she realizes how happy she is that they enjoyed her dish.
READ: 'Chainsaw Man' Gets Down and Gritty With "Arrival in Tokyo"
Yor is already when of the best character's in the series, so this solo mission for her was more than welcome. As she has mentioned many times before, Yor joined this family as a cover for her job as an assassin, but in this episode, she was able to find that she can also find happiness from being a wife and mother to Loid and Anya. And this is where Spy x Family excels as it shows how these crazy characters are perfect together.
Jumping to the second story in this episode, Loid is summoned by Franky, who has a mission for him. Much like the last story, the episode sets up the situation like it will be a serious matter, only to reveal Franky wants to ask out a woman at a shop and needs Loid's help. After some convincing and a fair share of bribery, Franky convinces Loid to help him with his problem.
After taking a look at the excessive amount of information Franky has collected about the woman Loid comes up with a plan on how he should approach her and ask her out. When this doesn't seem to work, the two try to roleplay the date, with Loid throwing together a perfect disguise of the woman.  So with the prep work done, Franky goes off on his mission alone.
The next day Loid and the Forgers run into Franky in town, where the latter explains that the girl had somewhere to be. After Anya reads his mind, she finds this is very far from the truth, so much so that she even does her best to console him. Franky, then leaves the Forgers and heads to a bar.
A drunk Franky then complains to the bartender about how the girl rejected him and shares his woes. But thankfully, he's not alone as Loid joins him at the bar and awkwardly consoles him. While a shorter mission, the story did a great job of strengthening Loid and Franky's friendship. In the past, the two have been portrayed as informant and spy with hints of friendship, but this showed that they are indeed quite close.– Jacob Campbell
Spy x Family Episodes Simulcast on Crunchyroll and Hulu Saturdays at 8:30 PT
—–
Did you enjoy this article? If so, consider visiting our YouTube channel, where we discuss the latest and greatest in pop culture news.
---
Trending Now