'Spy x Family' Has Great Tonal Balance in "A New Family Member"
Posted On October 16, 2022
---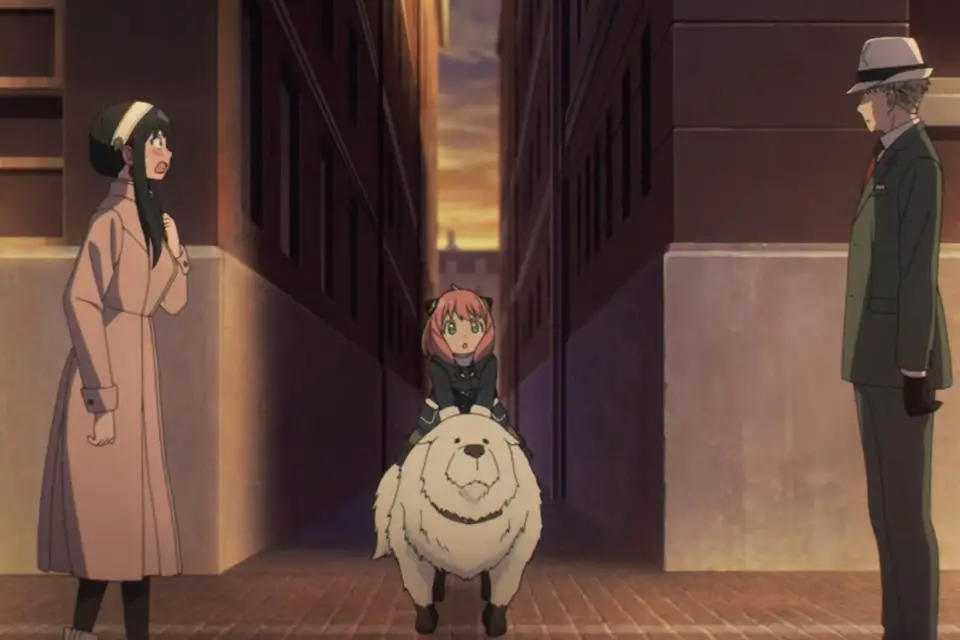 Loid Forger's latest mission comes to a close with the latest episode of Spy x Family, titled A New Family Member. If it wasn't already evident from the past two episodes, Anya's newest canine companion is set to become the latest addition to the family. Throughout the two episodes, the still-unnamed clairvoyant dog has proven to be a hilarious and adorable character that bounces off of Anya all too well. While this bond between a girl and her dog is going on, Loid successfully ends the terrorist bomb plot with a bit of unexpected help from Yor.
Part of what makes Spy x Family such an enjoyable anime is how it manages to have all the characters working in unison without them ever being aware of it (save for Anya). Seeing Loid lose the bomber in a car chase, only for Yor to send the car crashing into a pole with her otherworldly strength since she happened to be in that area looking for Anya, is incredible and hilarious. Espionage and secrecy are at the center of the premise of Spy x Family, and watching those themes seep into every aspect is admirable from a storytelling standpoint. Every character has secrets and watching each attempt to balance their double lives showcases these themes well.

WIT Studio continues to capture the kinetic energy of the action featured in the original manga by Tatsuya Endo. Spy x Family has always been a series that wasn't short on creative and visceral action while having great comedic moments. From Loid shooting the vest attached to the dog so as not to kill it to Yor's displays of strength, the translation from page to screen is done just right.
Moreover, the darker tones of last week's episode carry over into smaller parts of this week's more lighthearted episode. The balance of comedy with Anya trying to figure out a name for her new furry friend and Loid reflecting on the heartbreaking nature of his mission is everything. Loid is getting attached to this fake family, even if he doesn't know it. Loid's voiceovers throughout the series have always been enjoyably overdramatic and help set the tone. In this episode, editing Loid's monologue over a scene of Anya playing with her dog gives the scene a bittersweet feel.
It's interesting how Anya is always in a moment of enjoying her newfound family during these critical voiceovers of Loid saying this family isn't meant to last. She's usually the first to know what he's thinking, but she's blissfully ignorant of his truest intentions in these rare cases. Even telepaths aren't privy to everything in the world of Spy x Family. Whatever the case, it's a melancholic moment that shows the anime capable of balancing all sorts of tones and emotions.

Anya's dog is also finally given a name at the end of this episode, officially making him part of the family. After a hilarious encounter with another dog and retrieving Anya's gloves for her, he's given the name Bond after her favorite cartoon. Complete with a bow-tie collar, Bond becomes the clairvoyant pet dog of the family, a perfect addition to the Forgers. Watching Anya take care of Bond is some of the most wholesome moments in the series. Ending on Yor and Loid watching Anya fall asleep with Bond is the perfect calm to end the chaotic and intense doggy crisis arc.
Overall, A New Family Member is a perfect example of Spy x Family's ability to exemplify its core themes and show outstanding tonal balance. On top of reminding audiences what Loid is supposed to be doing in West Berlint, the episode gave development to other side characters, like Loid's handler, Sylvia Sherwood. It will be interesting to see how the story moves forward with this new family member joining the fray. Whatever happens, we're sure to be in for some great laughs and even better action. – Ernesto Valenzuela
Spy x Family Episodes Simulcast on Crunchyroll and Hulu Saturdays at 8:30 PT
—–
Did you enjoy this article? If so, consider visiting our YouTube channel, where we discuss the latest and greatest in pop culture news.
---
Trending Now