'Chainsaw Man': Peak Fiction Arrives With "Dog & Chainsaw"
Posted On October 11, 2022
---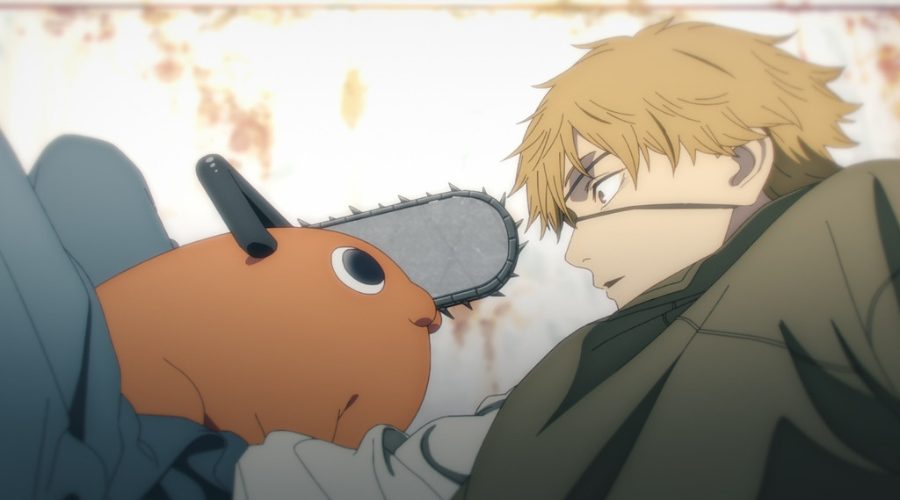 Peak fiction and potentially anime of the season have arrived with the premiere of Chainsaw Man. The first episode, Dog & Chainsaw, sets the stage for the long-awaited anime and introduces viewers to our protagonist Denji. A young amateur devil hunter, Denji is hundreds of thousands of dollars in debt and must work to survive. But thankfully, he is not alone as he has his best friend and pet chainsaw devil by his side, Pochita.
Opening with just Denji and Pochita walking to work, the episode showcases some of the anime's beautiful background art and, in a way, seems relatively peaceful, a feeling far removed from what is soon in store for Denji. The young hunter recounts the debt he inherited from his father after he died, having owed the Yakuza. To pay it off, he has completed odd jobs, hunted devils, and sold a few organs, including his right eye, a kidney, and one testicle. At this point, the episode picks up as Denji and Pochita find what they have been looking for, the Tomato Devil.
READ: 'Spy x Family' Gets Tense With "Disarm The Time Bomb"
The opening theme then kicks in, which thankfully doesn't feature too many spoilers for those that have not read the manga. Instead, it is filled with movie references, most likely meant to honor the series mangaka Tatsuki Fujimoto, who loves films. The opening is highlighted by Kenshi Yonezu's new song "KICK BACK," written for the series. It is the perfect opening for Chainsaw Man, featuring intense action and the series' trademark humor.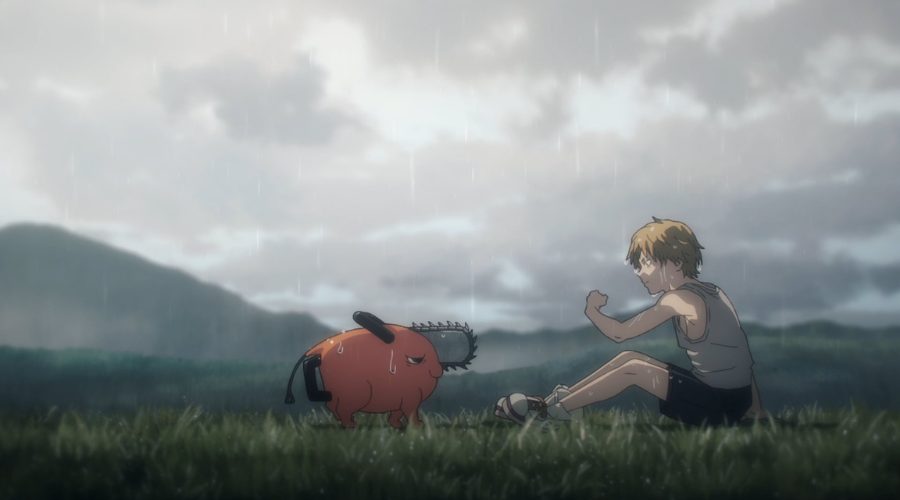 Jumping back into the story, Denji has taken care of the stray devil with Pochita. Walking home Denji is taunted by the Yakuza, who treat him like a dog. But despite their jeering, he takes it and keeps moving. A flashback then shows how Denji became indebted to the Yakuza after his father's death. At this low point, the young Denji met an injured Pochita near the grave. Denji decided to offer the devil his blood in order to help him heal, but in return, he had to stay with Denji and help him.
Back to the present, Denji and Pochita are back in their shed eating dinner, a slice of bread, as the former shares his dreams. The quiet moment between the two shows just how much they care for each other, as they are all each other has. The leader of the Yakuza arrives later and informs Denji he has a new job for him as another devil has appeared.
READ: The Top Fall 2022 Anime & Where To Watch Them
Arriving at an abandoned warehouse, Denji asks where the devil is, but the yakuza leader doesn't answer. It is then revealed that this was a trap as the latter and his group have made a contract with the Zombie Devil, who has turned all of them into its slaves. Denji and Pochita are then attacked as they try to escape. The following sequence is one of the most gruesome in the episode, as Denji and Pochita are stabbed repeatedly and killed by the zombies.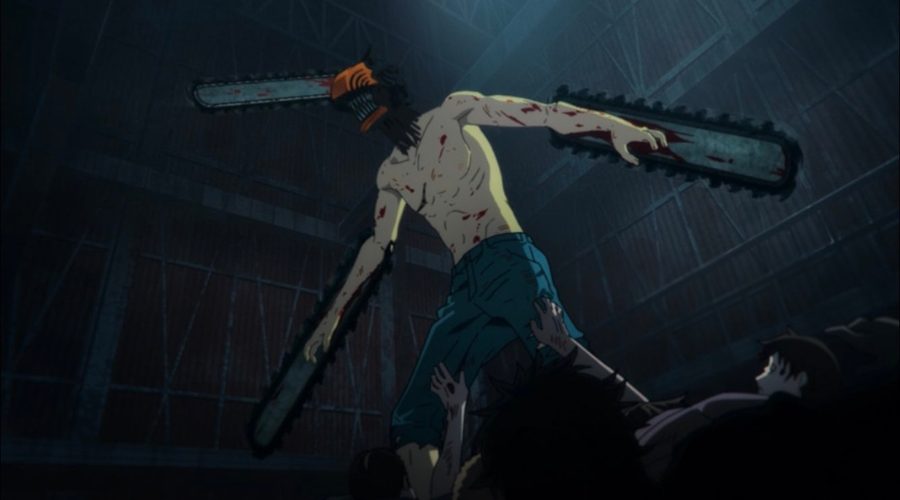 Left for dead in a dumpster, it seems that it is over for our protagonist and his pet until a drop of Denji's blood makes its way to Pochita, who is revived. Using his life to save Denji, Pochita gives him his heart asking in exchange that he lives and shows him his dream. The now-living Denji exits the dumpster and comes face to face with the Zombie devil once again. As he is swarmed by hordes of zombies, Denji, with the powers of Pochita, transforms into Chainsaw Man with blades extruding from his arms and head. An epic bloodbath follows as Denji slices through all of his enemies, taking out his revenge on the devil and the Yakuza that made his life hell.
That morning a single car arrives at the warehouse, and three unknown figures emerge. Finding Denji in the wake of bodies and blood, one of the individuals takes him into her arms, at which point the chainsaws disappear, leaving him as he originally was. The woman, who reveals herself as a devil hunter with the Public Safety division, offers him a choice, die as a devil or live as a human and work for her. A deal that Denji gladly takes.– Jacob Campbell
Chainsaw Man Episodes are Simulcast on Crunchyroll and Hulu Tuesdays at 9:00 PT
—–
Did you enjoy this article? If so, consider visiting our YouTube channel, where we discuss the latest and greatest in pop culture news.
---
Trending Now