'Don't Worry Darling' Review: "Maybe Worry Darling"
Posted On September 13, 2022
---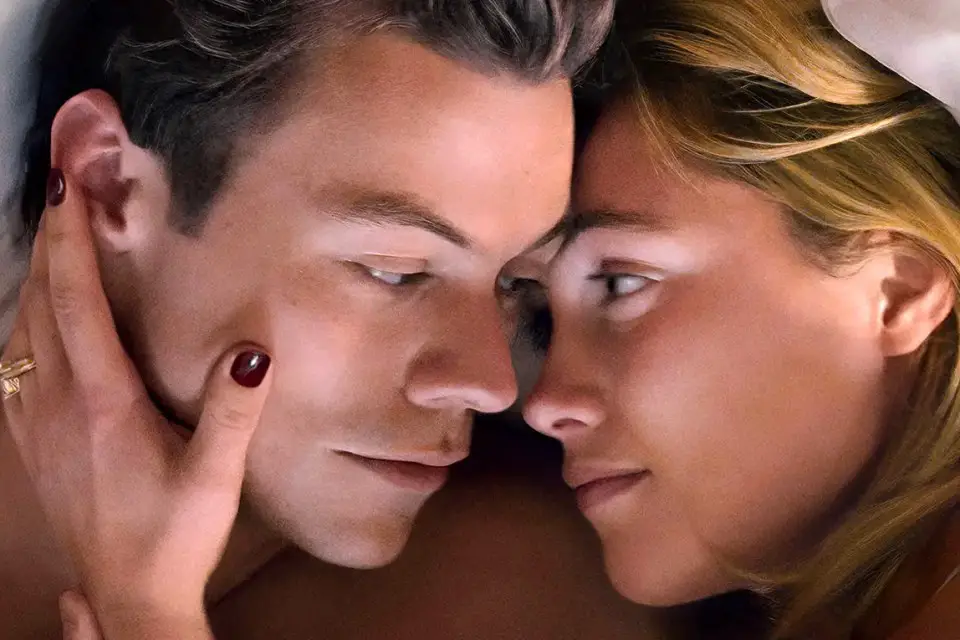 I was very excited about Don't Worry Darling. Florence Pugh, Olivia Wilde, and the "everything is not what it seems" plot were the right ingredients for a killer movie. I enjoyed her previous film Booksmart and thought Wilde was a great actress. I felt like there was no chance that this wouldn't be good! Having now seen this movie, I will readopt my tame expectations for future releases. While Don't Worry Darling isn't a bad movie, it is not a particularly good movie by any stretch.
Don't Worry Darling follows Alice (Pugh) living in the suburban paradise of Victory. The town itself reflects 1950s architecture, décor, and social hierarchy (more specifically the "placement" of husband and wife). Her husband Jack (Harry Styles) is an employee of the "Victory Project" – a tight-lipped operation occurring on the outskirts of the town. To alleviate any ennui, Alice involves herself in ballet and cooking. Meanwhile, one of Alice's friends, Margaret (Kiki Layne), begins to act irregularly. Emphasizing something is wrong with Victory, much to the chagrin of the head of the Victory Project, Frank (Chris Pine). Once Alice begins to see the tears in the proverbial seam, she goes down an existential rabbit hole to uncover what Victory really is.

While Don't Worry Darling has its problems, there is a handful of good in this movie. Pugh (as you may have read everywhere else) takes the script and rips it to shreds. Despite some naysayers, Styles delivers a pretty decent performance as well. While he never reaches the heights Pugh does, Styles manages to stand on the same ground. Additionally, the supporting cast really sells their respective roles. There is a good sense of collectivism occurring with the supporting case with their "no care in the world" act. Disappointingly, the supporting cast does not have much to work with – it is very much Pugh's and Styles' show.
The filmmaking on display was pretty astounding. Set design and costume design was firing on all cylinders. Cinematography was on point all the way through. It's a strong technical marvel and one that I'd consider to be one of the highlights of the year. But after the filmmaking and acting performances – that's really where the positives end. The bumper car script and inconsistent direction from Wilde drive this movie into a hole. Which is disappointing, it seemed like most of this production was on fire. But, a few good things with a lot of bad doesn't equate to good in this case.

The script for Don't Worry Darling is extremely irregular. It seems to be more of a collection of ideas rather than a cohesive narrative. Which can be done in an interesting way. But with the shaky dialogue, it's just surprising that the creative team settled on this draft. There are some criticisms regarding Styles' performance, but for the most part, it's due to the jacked script rather than Styles himself. Additionally, it seems to relish in forging interesting ideas and imagery while not implementing them in an interesting way. There are some really great scenes in Don't Worry Darling, but it comes off as noise when you consider how little it accomplishes.
When the movie gets into the third act, it regresses even further in quality. Don't Worry Darling has one of the most bizarre twists I have ever seen in a movie. Then certain events with certain characters confused the absolute hell out of me. While I didn't think much of the movie came together in the first two acts, the last act does a damn good job of making sure it never comes together in the end. It spent much of the time building suspense while forgetting to adhere a good narrative together. Rather than having Alice cause herself harm, MAYBE move the narrative along?

The highs of Wilde's direction really come down to the scenes where strong imagery is at play. Florence crushing eggs with no egg white or yolk in it. Florence descending into a tub full of water while her reflection stares at her. Don't Worry Darling packs itself with interesting imagery. However, her inability to adhere these ideas together really keeps this from being better.
I personally believe this movie needed to move at a steady pace. You would think Alice questioning her place and existence would be something that would be in the film's second half. But instead, Wilde makes the decision to have this character beat take place as soon as we are introduced to Victory. I know she's relatively new to directing, and I imagine this movie will succeed given the star power behind it. So hopefully this can be the "bump in the road" for her.
There is a lot to be said about romanticism, fascism, and misogyny. However, Don't Worry Darling doesn't give much for the viewer to chew on. It's as if the ingredients were cooked separately and then combined later. The film certainly has the right ingredients to make a boundary-pushing final product. Unfortunately, the only boundary it really succeeds at pushing is how frustrating a movie can be. – Jacob Mauceri
Rating: 5/10
Don't Worry Darling releases in theaters on September 23rd.
---
Trending Now