'Only Murders In The Building' Season 2 Episode 3 Spoiler Recap/Review
---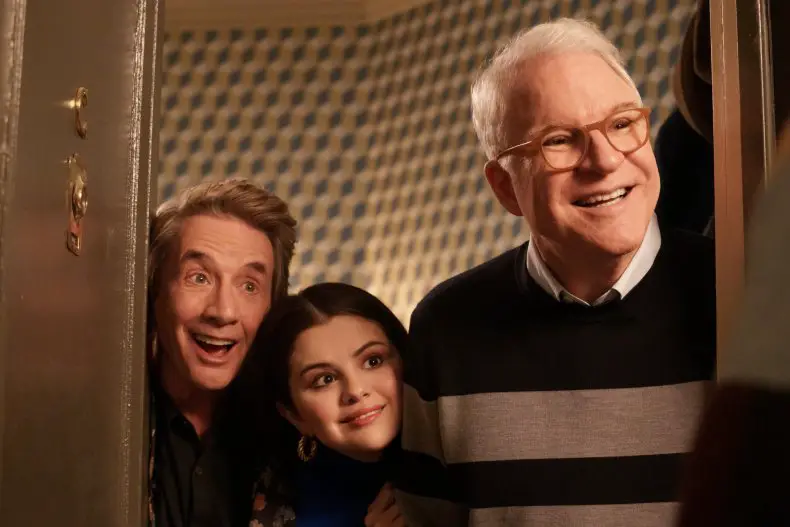 The Following Recap/Review Contains Spoilers for Episode 3 of Only Murders In The Building. Check out our review of Episodes 1 and 2 here.
Today on Only Murders in the Building, we dive into the story of Bunny Folgers' (Jayne Houdyshell) last day on planet Earth. Our sleuths Mabel (Selena Gomez), Charles (Steve Martin), and Oliver (Martin Short) cobble together what Bunny did on her last day via receipts, Mrs. Gambolini, and their memory. Gaps in the day are filled in for the audience's awareness, but this was a great exploration of Bunny's character.
We come to find out that Bunny was actually retiring as board president for the Arconia. She spends her day intermixed with scenes with the sleuth trio, but also doing her daily chores, as she completes some of them for what she thinks (and we know) is the last time. Bunny talks with Uma (Jackie Hoffman), Nina (Christine Ko), and one of her favorite people, a waiter at the local Pickle Diner about exploring Florida. Uma tells her she'll use the spare key to try on some of Bunny's things, but I wonder if she was thinking about the Savage painting she went for in the previous episodes before discovering it missing.

Throughout the day, we see the little things Bunny does for the Arconia, including being able to fix its elevators when she, Charles and Mabel get stuck in one. She returns to her flat to prepare for the board meeting, only to be surprised by the board in her apartment, using the meeting time for a retirement party! Except she realized she has no desire to retire, and that she hates the heat. This results in a showdown between Nina and herself, and Bunny declares she doesn't think Nina can succeed at the tricky job. All these things are meticulously recorded by Howard in the minutes.
Ending Bunny's day, she congratulates the sleuth trio with some real champagne, and they thank her with the sweatshirt she dies in. She looks like she wants to join the fun, but doesn't net the invite with the trio being awkward. Back in her apartment, her door is knocked on, and she answers with a "What are you doing here?" and then stab stab stab. Back in the present with the sleuth trio, Nina's picture gets placed in the main suspect portion of the chalkboard.
This is great form for Only Murders in the Building. The episode was fruitful, in terms of enjoyment, and for clues. The sleuth trio, particularly Oliver is back in great form to match on par with season one. And this episode was made even better than the last two, particularly because there was no Amy Schumer present. Well, it's also just a more narrowly focused episode. There's less to worry about introduction-wise because we met all the new people in the first two episodes.

The mystery definitely can keep you guessing. More than likely the board drama is a Red Herring meant for distraction, because why would you give away the killer this early? And while Mabel and Charles more than likely aren't the killer, there's still something suspicious there, especially with Charles' father's actions. Hulu's done really well making sure this show was kept with them at the forefront. Whodunnits are a dime a dozen, but characters this great are hard to come by.
Rating – 8.5/10
Episode Clues:
Bunny met with an unsavory character at the Pickle Diner
Bunny's been getting several phone calls about the Savage painting
Killer's silhouette looked male with glasses
Current Suspects:
Nina
Mabel
Charles
Dr. Stanley (my guess)
A Podcast Fan (Christian's guess)
Only Murders in the Building premieres Tuesdays on Hulu.
—–
Did you enjoy this article? If so, consider visiting our YouTube channel, where we discuss the latest and greatest in pop culture news.
---
Trending Now