'Only Murders In The Building' Season Review: "A Wildly Creative Whodunit"
Posted On October 20, 2021
---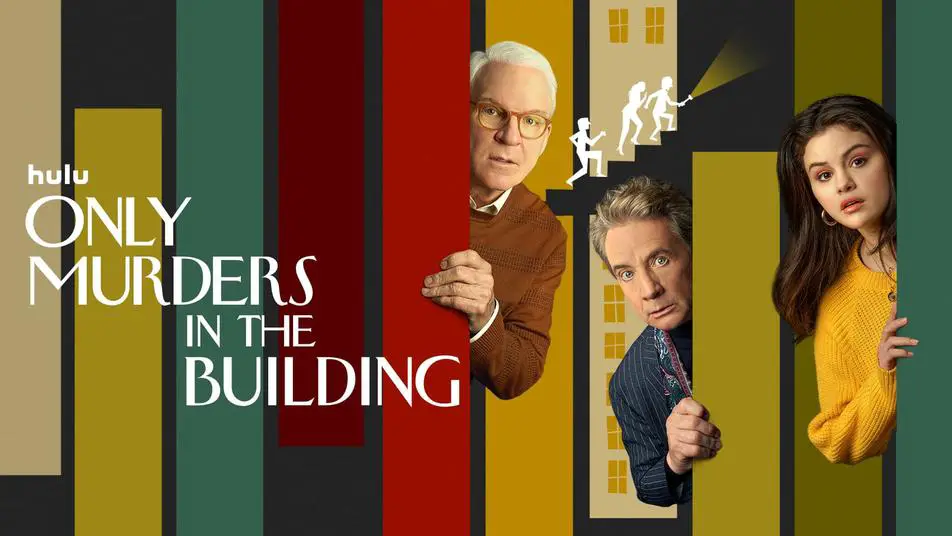 When it was first announced that Steve Martin and Martin Short were starring alongside Selena Gomez for a new comedy with the word "murder" in its title, many were understandably confused. However, over the course of the season, putting these three together has proven to be an inspired choice. Only Murders in the Building delivers genuine, gut-busting laughs that accompany a witty cast and a unique whodunit filled with clever writing and charming performances.
The story follows three unlikely allies who just happen to live in the same high-end apartment building in New York. It utilizes inner monologue so effectively that the viewer knows who they are within minutes of meeting them. For example, Mabel (Gomez, in her first major TV role since Wizards of Waverly Place) is a young woman who bears an obvious dark side. However, a looming mystery surrounds her. Moreover, Charles-Haden Savage (Martin) is a semi-retired actor who was the star of the popular 1990s detective drama TV series. However, he is clearly struggling with his sense of belonging. Finally, there's Oliver Putnam (Short), an overzealous, financially struggling Broadway director. He is flamboyant, selfish, and a bit sad.
While it appears the only thing these three strangers have in common is a living space, they all share an affinity towards true-crime podcasts. And when a mysterious death occurs right in their own building, that commonality spawns a podcast of their own – appropriately titled Only Murders in the Building – that forces the three quirky protagonists to begin forming a bond.
The death of a mysterious character named Tim Kono (Julian Cihi) is the catalyst for this comedy/murder mystery hybrid. When a gunshot rings through the halls amidst an evacuation, Mabel, Oliver, and Charles find their way back into the building. With the police writing the death off as a suicide, the true-crime-obsessed trio dives deeper. Suddenly, every tenant in the building is a suspect.
With comedy legends like Martin and Short, you know the jokes are going to be wickedly clever. You also know they will be delivered at a rapid pace. Short's embodiment of Oliver's quirky perspective of the world is a continuous highlight. On the other side of that is Martin's Charles-Haden Savage. Throughout the series, he pulls inspiration from his fictional character Brazzos, which is dripping with dry wit and false bravado. However, one might predict Gomez to serve as the underdog in this equation. However, her cynical depiction of Mabel provides several memorable bits throughout the series.
The dynamic of two aging men who found success early in life and a young millennial who has seen the worst the world has to offer shouldn't work as well as it does. Thankfully, the writer's room – which includes Pulitzer Prize finalist Madeleine George, Grace and Frankie scribe John Hoffman, and Steve Martin himself – find a way to make this unique trio's relationships feel genuine and organic.
This is a world where binge-watching reigns supreme. However, the week-to-week release of a series designed to leave people guessing is a key to its success. In that same vein, an exciting part of season one of Only Murders in the Building is seeing which famous name will pop up and make a cameo or step into a guest-starring role. Week by week, names like Tina Fey, Jane Lynch, and Nathan Lane weave in and out of the narrative. Furthermore, one of the world's best-selling music artists Sting pops up early on in the season as a potential suspect. Most notably, Amy Ryan, famous for her role in The Office, arrives later in the season and provides critical involvement in both the solution to the crime as well as a reason for character development for Charles.
Overall, Only Murders in the Building is a wildly creative whodunit with twists and turns that the viewer never sees coming. The series lays out potential outcomes and then does a sudden shift in tone. Moreover, it excels when making the world in which these characters exist feel realistic and wholesome. I am overjoyed that season two is already confirmed. Moreover, thanks to a dynamite cliffhanger at the end of the season finale, fans are clamoring for more. Look for this series to earn a bevy of nominations in major comedy categories with the 2022 awards season finally rolls around. – Christian Hubbard
Rating: 10/10
Have you watched Only Murders in the Building? What are your thoughts on the series? Let us know your thoughts in the comments below!
Only Murders in the Building season one is streaming now on Hulu!
—–
Did you like this article? If so, consider visiting our YouTube channel, where we discuss the latest and greatest in pop culture news.
---
Trending Now